Hello and welcome to The Old Summers Home. Today I want to share 39 fun print & play activities for kids to entertain your family during the COVID-19 Quarantine/ Self-isolation.
It is a difficult time for everyone right now and these will help keep the kids busy and having fun. One less thing for you to have to worry about!
I loathe screen time, my girls become crazy when using devices. Heaven forbid the battery dies someone is about to have one freaking epic state of loss of self-control!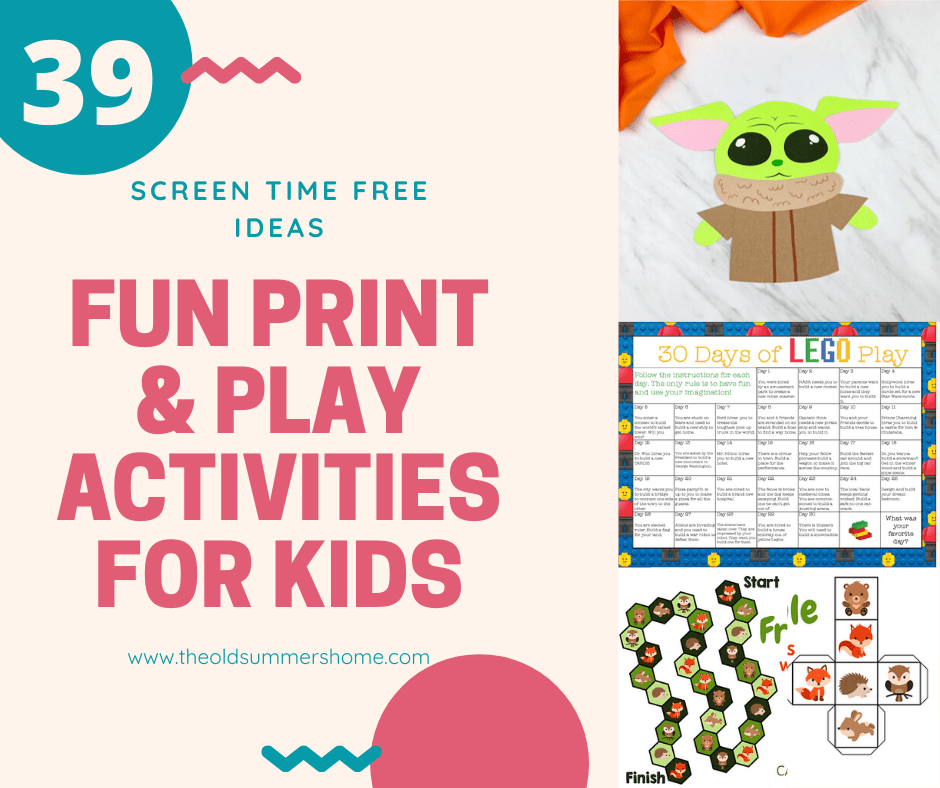 The outbursts of the behaviour that I get when I say 'ok time is up' makes me want to throw every device into the trash without a second thought.
Of course, its something we have to learn to deal with as devices are a thing in everyone's lives around the world so finding a way to control their access has become key. If you are having these sorts of troubles too you can find more here about controlling screen rage.
Alright, I'm not here to solve the world s problems in one post Moving on!
Since I have to mother up and not hide under my bed (closet and bathroom do not work anymore, been used too many times haha) I have been trying to find ways to preoccupy their boredom that they can do on their own and that does not involve a screen!
Why independent activities for kids?
Because, oh my gosh, I have gotten no work done between breaking up fights and being a snack [email protected]!!!
Mom Tip! Head to my 'back to school' (touché I know) post for snack ideas to keep the hungry children happy!
Kids are smart and they feel the tension. Their entire world has been turned upside down. They are young and impressional. Remember how you act right now during his time of crisis is something they will remember and use as a template to grow as well.
Learn more about how to help ease COVID-16 Anxiety over on My Living a boss Life Blog where I'm helping you find ways to cope and understand some of the reactions around the world.
Here Is The List Of 39 Activities For Kids:
Alright, this is what you really came here for (the activities for kids!) and I just got caught up in all the things I wanted to say.
I miss people! What can I say! (I'm one of those stay-at-home moms who never lets the mail delivery person leave without five minutes of conversation at least just saying)
Alright here are your activities for kids fun print and play list of 39 ideas!
39 Fun Print & Play Ideas For kids…..
Printables For Kids
Now that we are through our list of activities for kids that are screen-free, here are a couple of online resources for learning too. There are so many more but these are the ones I have checked out recently. We also use epic and RazKids through our school.
Share these 39 Fun Print & Play Activities For Kids with Others!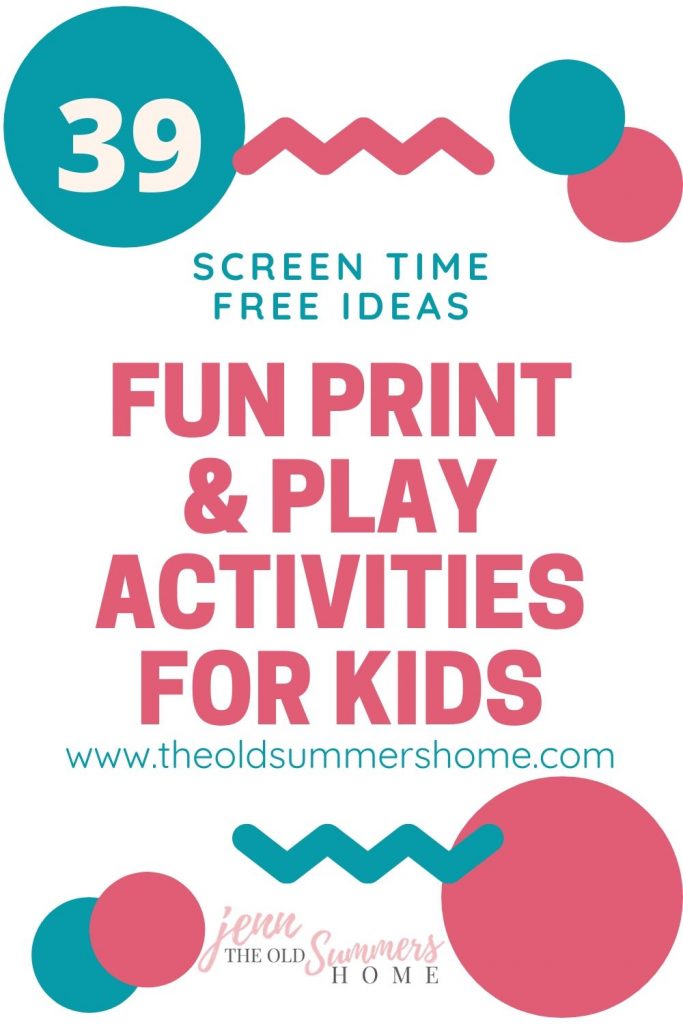 Thank you for coming to The Old Summers Home and a special thank you to all the amazing bloggers who contributed to this round up of 39 fun print & play activities for kids! I could not have done it without all of you. Stay safe out there peeps!
Until next time;
Jenn Summers
The Old Summers Home