Hello and welcome to The Old Summers Home today I thought I would share our new tree and Angel Christmas Tree Topper with you in a quick and easy tutorial post. I love farmhouse style and this year I finally had the chance to add some farmhouse decor to the tree, although our oldest protested the whole time!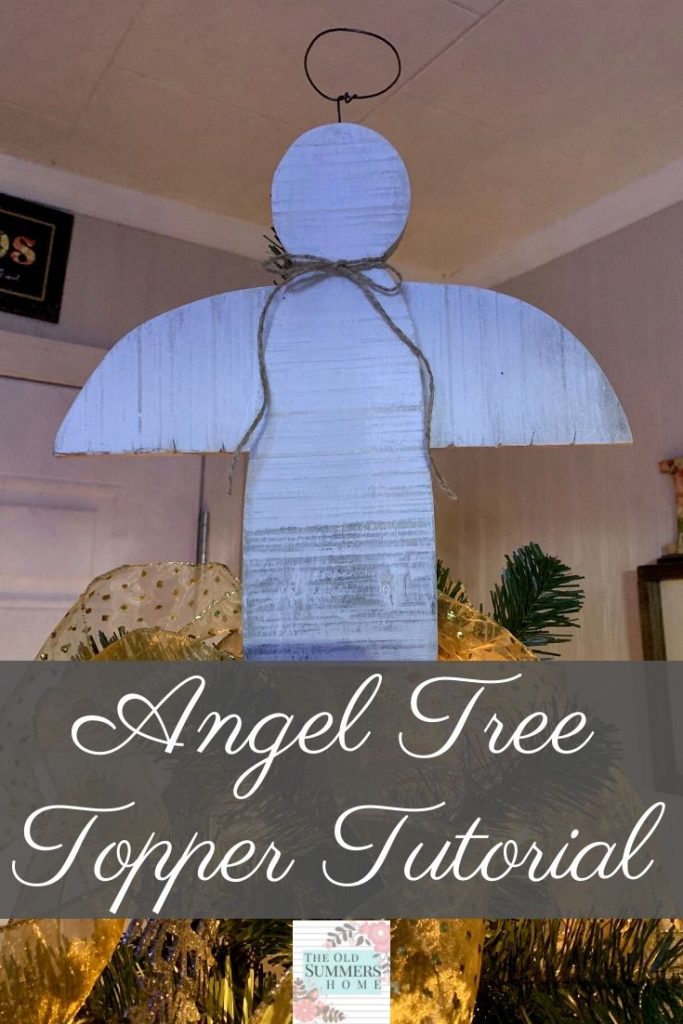 For years we have been saying we will get a new tree and well, it was a want and not a need so to the back of the list haha. This year I found a killer deal at WalMart and could not pass it up! Unfortunately, I choose to go with the unlit version to save some cash and when we got home every set of lights we had were burnt out, ugh. However, the bright side is I bought new lights and this way if the lights burn out again the tree won't be garbage too!
Our Decorated Christmas Tree
Putting lights on a Christmas Tree has got to be the worst part! I have actually watched a few videos and I think it is obvious that no one really knows what they are doing, so go for it, get your lights on hahaha! If you are adding burlap or ribbon this is the time to do so.
I wrapped burlap around my tree, top to bottom. Then I added a few spiralled piece of sheer wired ribbon to lay atop. During decorating I found some snowflake garland so I thought I would try that too. Loved it!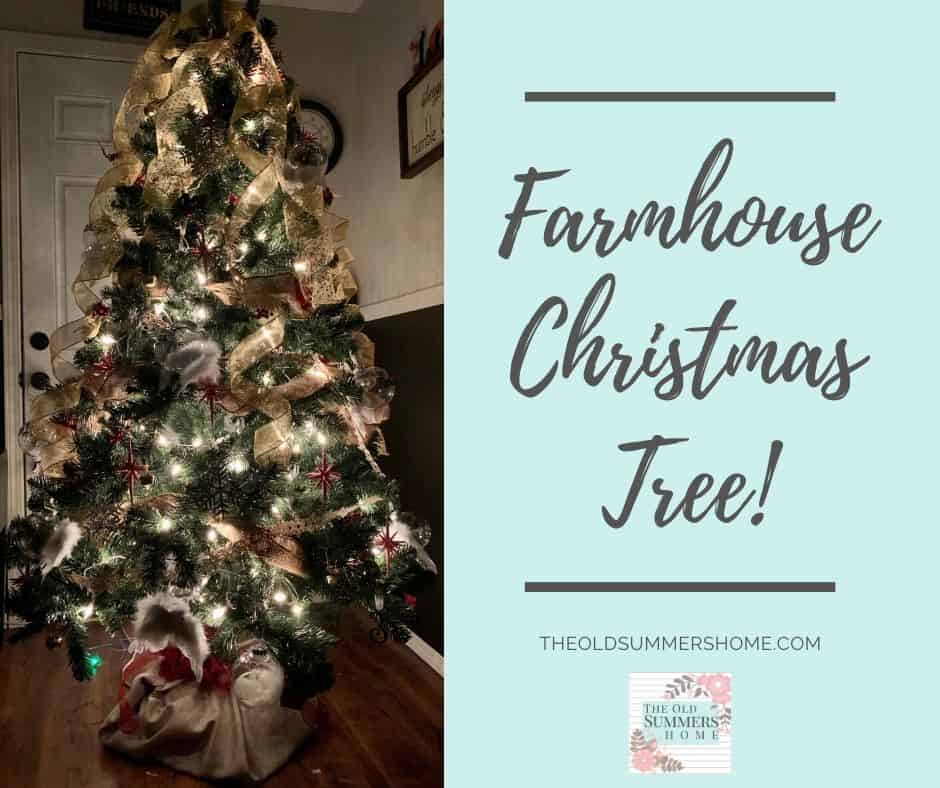 After the lights, ribbon, and garland are on it is time for the kids to have their way with the tree. DEEP BREATH!!! After 8 years I have become a bit better at this part and don't cringe the entire time haha. I hand them ornaments and they go nuts. This year they actually did quite an amazing job.
The twins are still too small to reach very high but our oldest can almost reach the top, therefore, we didn't have to move too many ornaments!
Why an Angel Tree Topper?
Now our tree was looking absolutely beautiful and radiating farmhouse flare but our tree was missing something very important! Our tree had no Angel Tree Topper! (Is it just me or would this post make a great bedtime story for the kids? hahaha)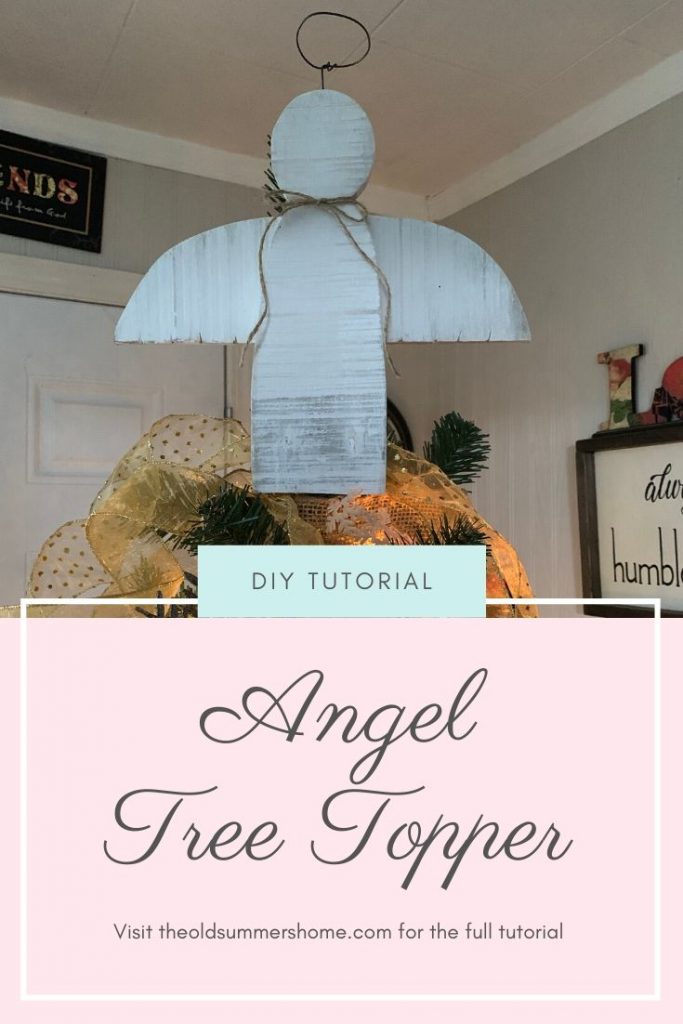 I love the idea of an angel atop our tree, like our loved ones watching over us as we celebrate our family Christmas. Knowing I could make an angel easily enough with some wood and that I could make it perfectly rustic and on a budget had me ready to start getting creative! There are tons of wooden angels on Pinterest, perhaps my tree topper tutorial will make it to the top!
Angel Tree Topper Tools & Supplies
a plank of pallet wood
jigsaw or scroll saw
sander
nailer & 1-inch nails
chalked paint & old paintbrush
sandpaper
wire
stapler
1 screw
ribbon roll cardboard centre
twine
How to Make an Angel Tree Topper!
Cut out the Angel
I'm so excited to teach you how I made my Beautiful Farmhouse Angel Christmas Tree Topper! This is such an incredibly easy project and a great way to add a bit of your own touch to your Christmas Tree! So let's get started!
First, you need to draw out your angel silhouette onto a piece of wood. I found the most darkened and aged pallet board that was still sturdy to make my angel tree topper. I wanted rustic and, of course, pallet boards are perfectly rustic! Using my coffee cup I drew a circle for the head and then drew the sides downward. Honestly not much of a shape, therefore, wing it, it is easy-peasy.
Now clamp your board to something strong and sturdy. I chose our table saw and used two clamps. The jigsaw still gave me a bit of trouble and I have decided I really need to practice using a jigsaw haha. I was going to use the scroll saw but unfortunately, that wasn't going to happen easily enough for my quick project so went ahead with the jigsaw. If you have the option of using a scroll saw then do so, it is a lot easier to maneuver and stay on course.
After the silhouette is cut out it is time to draw some wings on the remainder of the board. Set the angel in the centre and draw a curve downward. Clamp the board down nice and tight because you don't want it to jump all over the place and cut with the jigsaw.
Sand The Angel
Great news, even though my jigsaw cutting was not perfect sanding can fix a lot! Using our 1-inch delta belt sander I evened out the sides and sanded away any rough outer edges. I used the side of the sander to add a tiny bit of detail into the bottom edge of the Angels wings as well because why not.
Assemble the Silhouette and Wings
Now that the sanding is done go ahead and line up the wings onto the body and turn over. Using our Craftsman framing nailer (cordless, love it!) and 1-inch nails I secured the wings to the back using several. It was looking great!
Paint the Angel Tree Topper
Although I absolutely love the look of raw natural wood this angel tree topper needed to brighten up a bit! Using chalked paint and an old dirty paintbrush I dry rough brushed (Read more about dry rough brushing here!) the entire angel and allowed it to dry. Once dry I gave it a good sanding to remove some of the thicker spots and increase its farmhouse style.
Adding a few accessories to the Angel Tree Topper
I thought a piece of wire would make the perfect halo for our farmhouse angel. I simply cut off a chunk and shaped and twisted until I got it just right. Then I spray painted it black so it was not too shiny and new. I attached it to the back of the angels head using my stapler.
Next up a simple piece of twine tied in a bow around her neck helped pull it all together.
Wait! How do you get your Angel Tree Topper To Stay put?!?!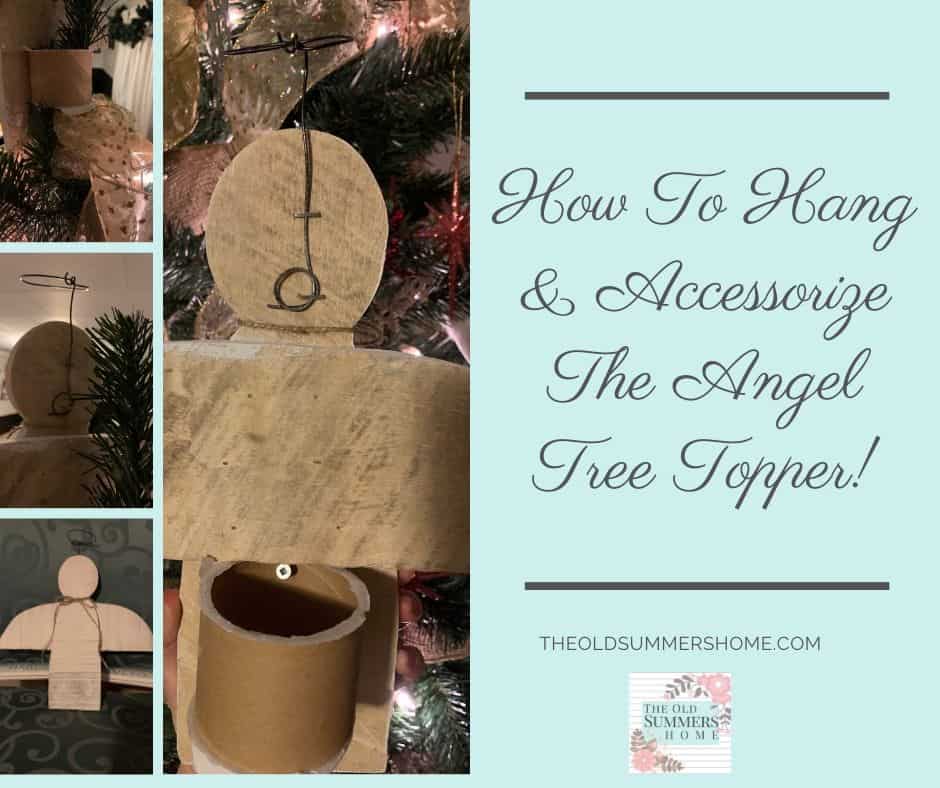 Great question and I think this was very clever on my part hahaha. I took one of the empty ribbon cardboard rolls and peeled off the top and the bottom so that I was left with the round thick inner piece. Using a drill and a small screw I drilled it to the back of the angel on an angle so that it would not go through the angel tree topper. Now it is ready to slip on top of the treetop!
How easy was that?! The perfect farmhouse angel tree topper ready to go onto our beautiful new tree! This year's tree is definitely my favourite of all time.
A bit more of our Christmas Home Decor
Here are a few other things we have added to our home this Christmas:
Our Lanterns Are seeing some Christmas Cheer Again!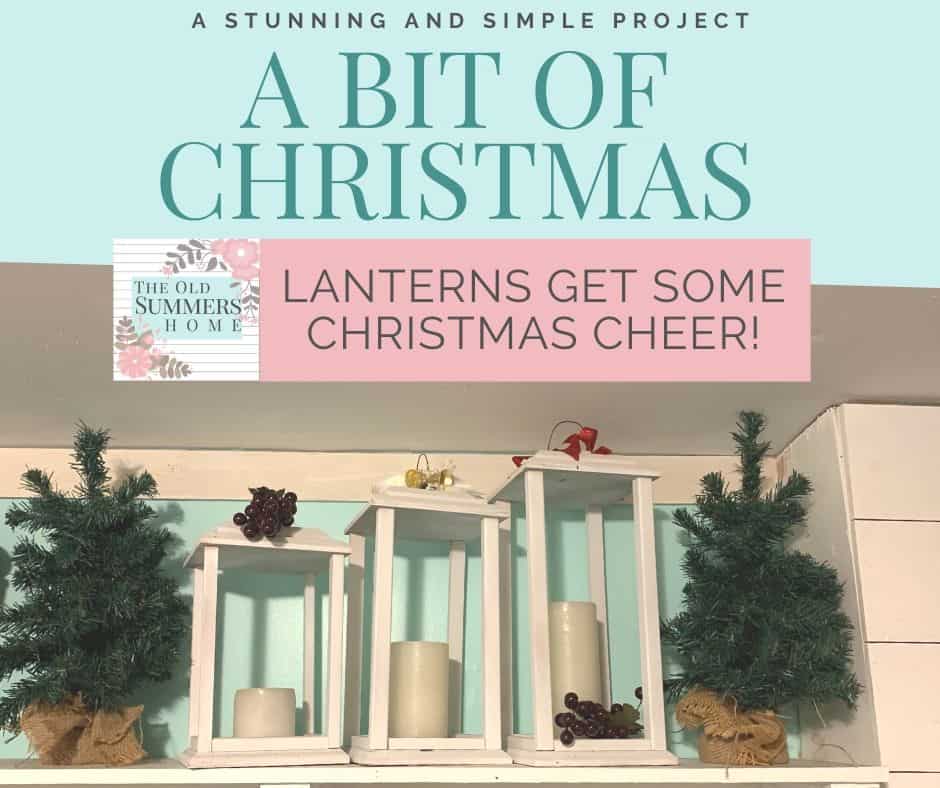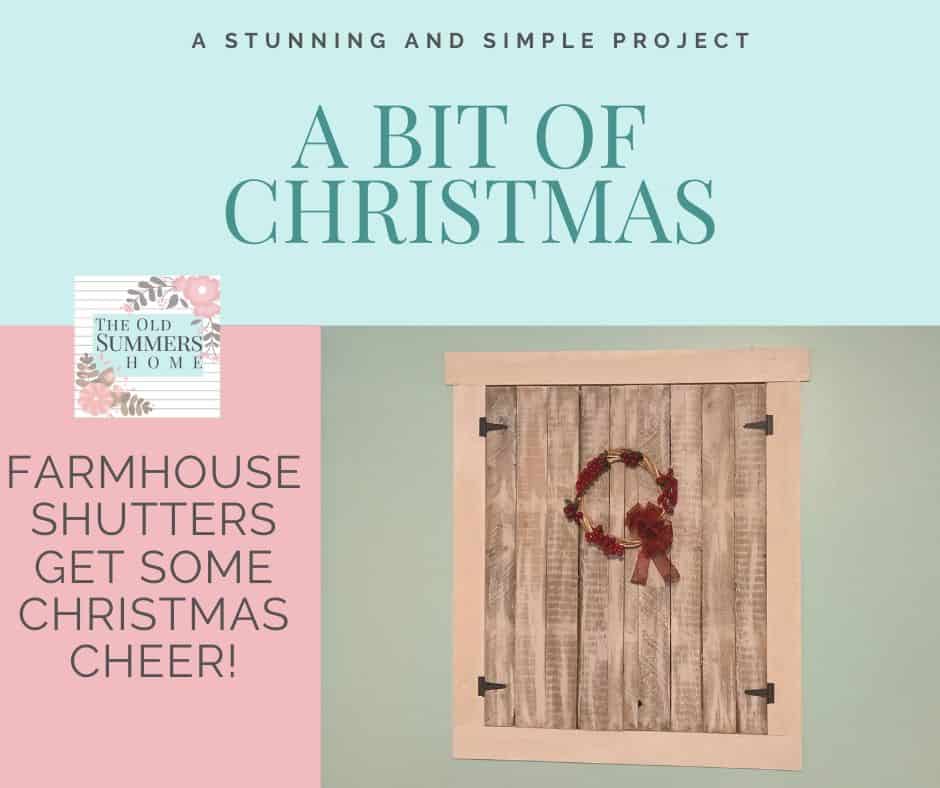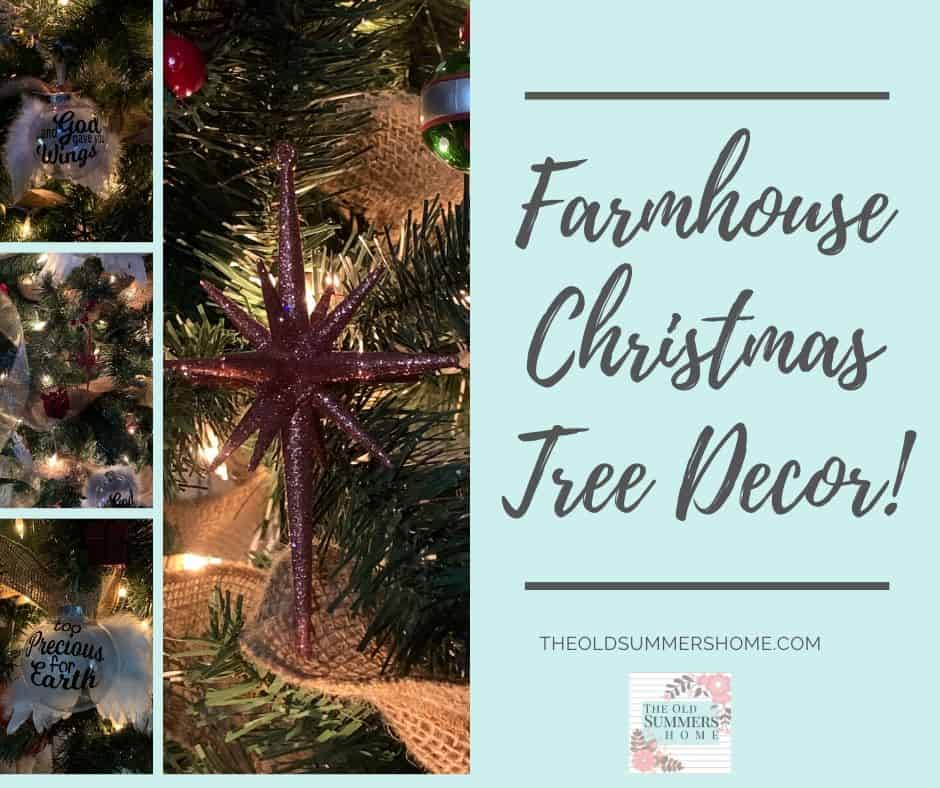 Thank you for coming to our Angel Tree Topper Tutorial!
I hope you loved this tutorial and that now you feel inspired to make your very own too so go get crafting. If you have any questions please drop them below and I will answer them asap.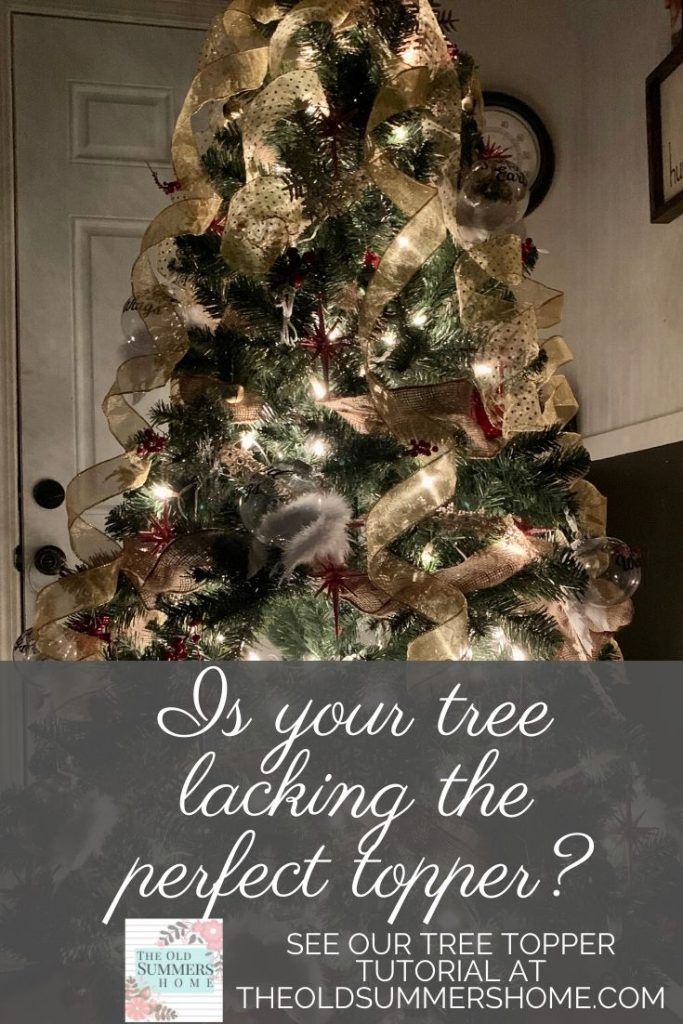 We would love for you to subscribe to our insider's newsletter so be sure to fill in the form below! When you subscribe you will be able to stay in the know and get our exclusive offers!
Have yourself a very merry Christmas: From The Old Summers Home Family to yours!
Until next time;
The Old Summers Home