Hello and welcome to The Old Summers Home. I'm so excited to announce that we are interviewing Deborah Devault of Deborah DeVault Weddings. Deborah is an ordained wedding officiant and planner how awesome is that? Everything you need for a wedding in one! She also blogs about DIY wedding crafts and uses her background in craft design and instruction to teach others how to do it too.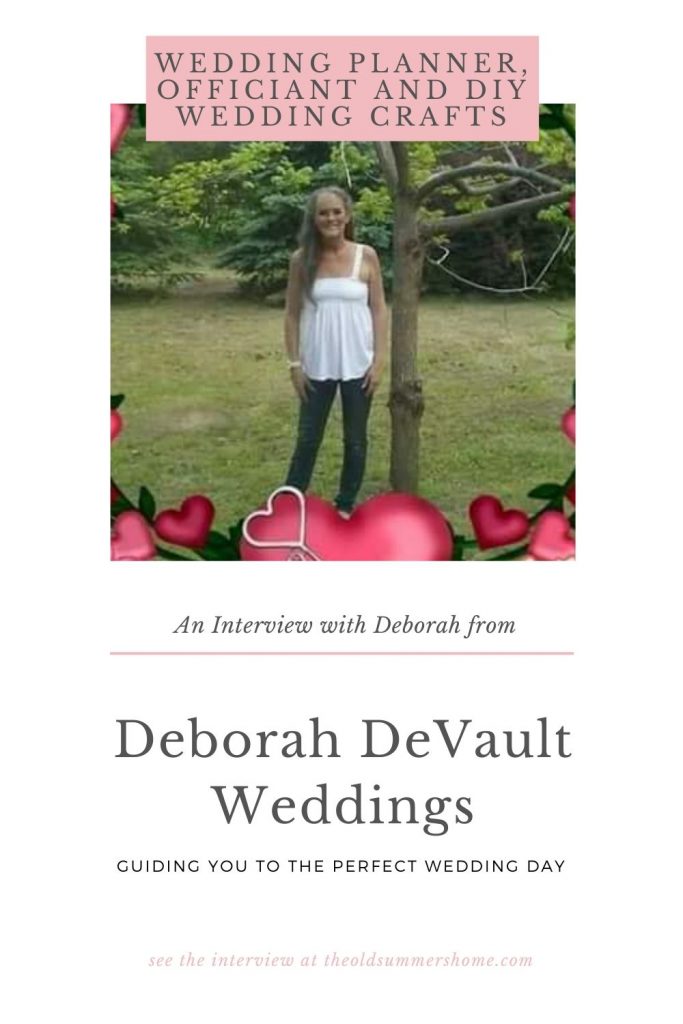 Deborah is a wife of 20 years, mother of 4, with 15 grand-babies and Number 16 on the way! So much love in this family it is no wonder she decided to build Deborah DeVault weddings and share her passion with everyone.
Introduction of Deborah Devault Weddings
Deborah DeVault Weddings offers wedding planning and officiant services for your wedding day. Working with Deborah means your wedding can be planned from start to finish ensuring a beautiful day.
Deborah has recently added a DIY wedding decor blog to her wedding planner website.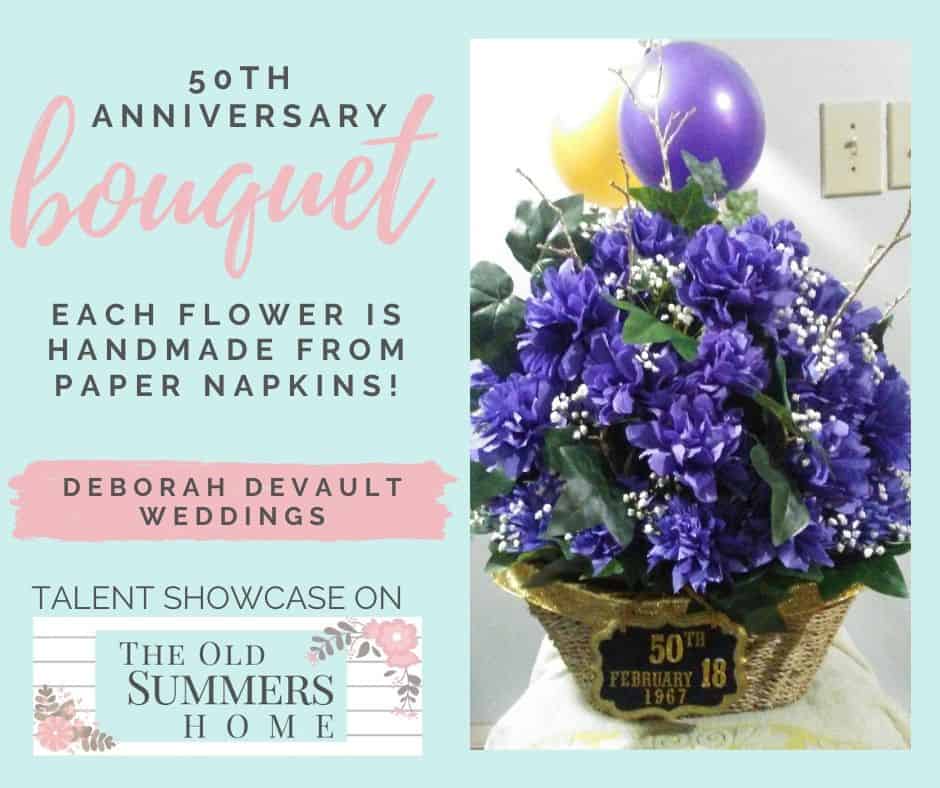 Currently, Deborah is planning a large, public, mass wedding for June 2020. The ceremony will be for anyone wanting to get married or to renew their vows and commitment to each other! It sounds like an amazing event that will be filled with love.
Deborah comes from a background in craft design and instruction, she welcomes you to check out Nest-builders on FB.
Questions & Answers
Q: How long have you been interested in wedding planning and DIY wedding decor?
A: I have been involved with crafting and planning large events for 35 years altogether but just recently, March 2019, started Deborah DeVault Weddings – a combination of DIY wedding crafting, wedding blogging, wedding planning and being a wedding officiant

Q: Do you do this full time, part-time or as a side hustle/hobby?
A: I do this full-time.

Q: What are your goals for your craft/business in the next 1-3 years?
A: Currently, I teach brides how to make beautiful wedding decor projects that can and do save them tons of money on their wedding budgets.
Passion is a huge part of her business and adding in her DIY Decor blog was just a natural way to start teaching brides to save on Wedding decor!
In the future, I plan on starting a 2nd blog called Crafting with MawMaw…a craft blog for kids and their grandmas.

Q: What is your greatest achievement /proudest accomplishment?
A: Becoming a blogger…(building my own website) I have loved to write since I was a little girl.

Q: What are your main focuses for growing your craft/business?
A: I want to teach others how to make things that they want and be able to save them a ton of money in doing so.

Q: Where do you promote your items and business (best place to find and follow you)?
A: On my Website and blog, my Facebook page and on Pinterest.
Q: Do you offer your services online URL?
A: Yes I do! Our wedding planning site has everything we offer as well as our wedding crafts too!

Q: What or who inspired you to take this path?
A: Me!
Deborah is an experienced crafter and loves to create DIY wedding decor.
Q: What is one thing completely irrelevant but interesting about you?
A: I used to be a chicken farmer, haha!
Q: Do you have any big events happening right now?
A: Attempting to plan a large, public, mass wedding in June 2020.
That sounds incredibly complicated and I am sure you will pull it off with great success! That is so absolutely exciting!
Thank you, Deborah, for the interview!
Thank you so much, Deborah, for taking part in this interview. It has been amazing to get to know a bit more about you and your business/craft. Having a wedding planner and officiant in one sure makes things easier and one less step to make when getting married. I wish you much success with your mass wedding ceremony this summer. To check out Deborah's blog and all her amazing wedding craft ideas be sure to head over to her blog!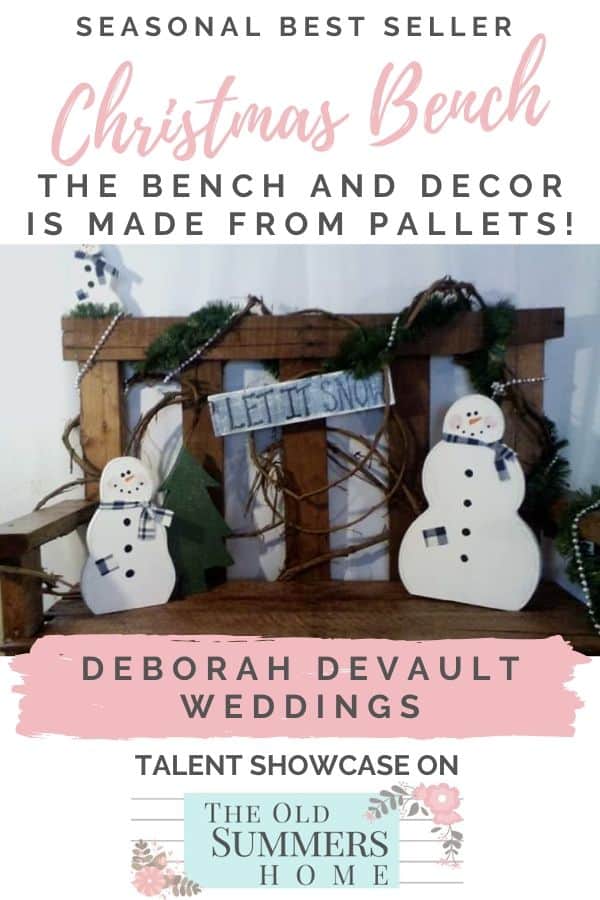 Are you looking for a showcase interview?

Are you a crafter or small business owner looking for a way to showcase your talents? Great news we are now accepting new applicants for interviews! Head on over to our Work With Me Page and sign up today!
Thank you all so much for coming today. I hope you enjoyed this interview and become inspired by Deborah's DIY wedding ideas! Stay tuned for more great interviews featuring other artists, crafters and small business owners. It has been my pleasure to share this interview with all of you!
Until next time;
Jenn Summers
The Old Summers Home