Hello and welcome to The Old Summers Home. Today I'm showing you how I made this super cute DIY Cork Board project for my office makeover in under 30 minutes!
If you are not crafty don't worry this project is so easy! All it takes is a bit of painting and gluing, this is a great first craft project.
Recently in my The Living A Boss Life Tribe Facebook Group we had a monthly challenge that either involved your office or your wardrobe. I chose my office, I'll share the full makeover one of these days too. Part of my office challenge involved turning my workspace into something more usable to me.
My old Cork Board sat against my back wall for quite some time in an unreachable spot holding my business license from back in my gift shop days. It was old and dusty and in need of a makeover too.
I decided to give to do a little DIY cork board project something easy that would not take too much time. 30 minutes is really all I can spare here and there these days.
DIY Cork Board Project Supplies
framed corkboard/ bulletin board
white paint
roller and tray
paintbrush
4 scrapbook sheets/ decorated craft paper
measuring tape/ ruler
scissors/ or rotary knife and mat
white glue
craft paintbrush
water
foam or plastic cup
fabric ribbon
Don't Have an Old Cork Board?
No worries, head over to our DIY Command Centre and see how I used corrugated plastic and old vintage frame to make one for my kitchen!
Paint the Cork Board (Bulletin Board)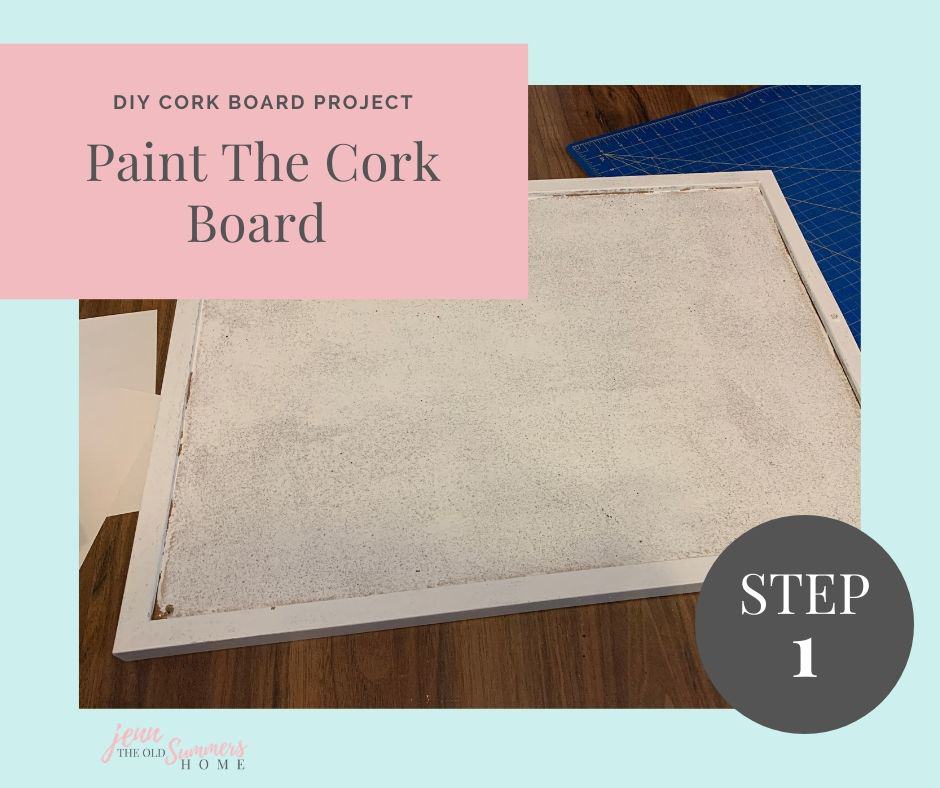 First, I washed any dust off of my Cork Board and then brought it out to the garage where I like to paint away from the kids haha.
Using a roller I gave the entire corkboard a painting of white.
I used a paintbrush to get into the spots around the frame where the roller could not get.
The Cork Board soaked up lots of paint but I was not worried I had no intention of the Cork Board being visible when done.
I painted the whole thing because I accidentally missed the frame with the roller haha. However, it does make my pinholes a bit less noticeable with the white paint underneath so extra bonus!
It took only a few minutes to do the painting and I left to dry and came back to it later.
Measure your Cork Board & Cut Paper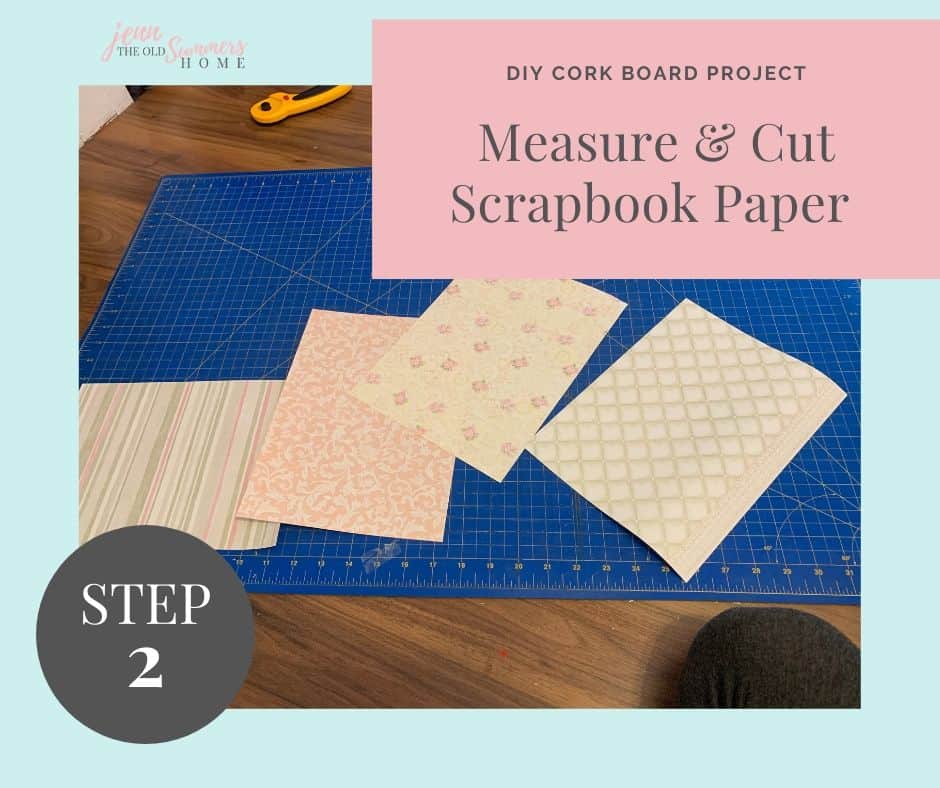 My Cork Board / Bulletin Board measures 21″ x 15″ 1/4 inside to inside. Therefore I needed 4 pieces of scrapbook paper measuring 10″ 1/2 x 7″ 5/8.
I used my quilting ruler to measure and my rotary knife to cut the scrapbook paper on my healable mat.
If you do not have these a pair of scissors works just as well.
Making A Glue Paint For The DIY Cork Board project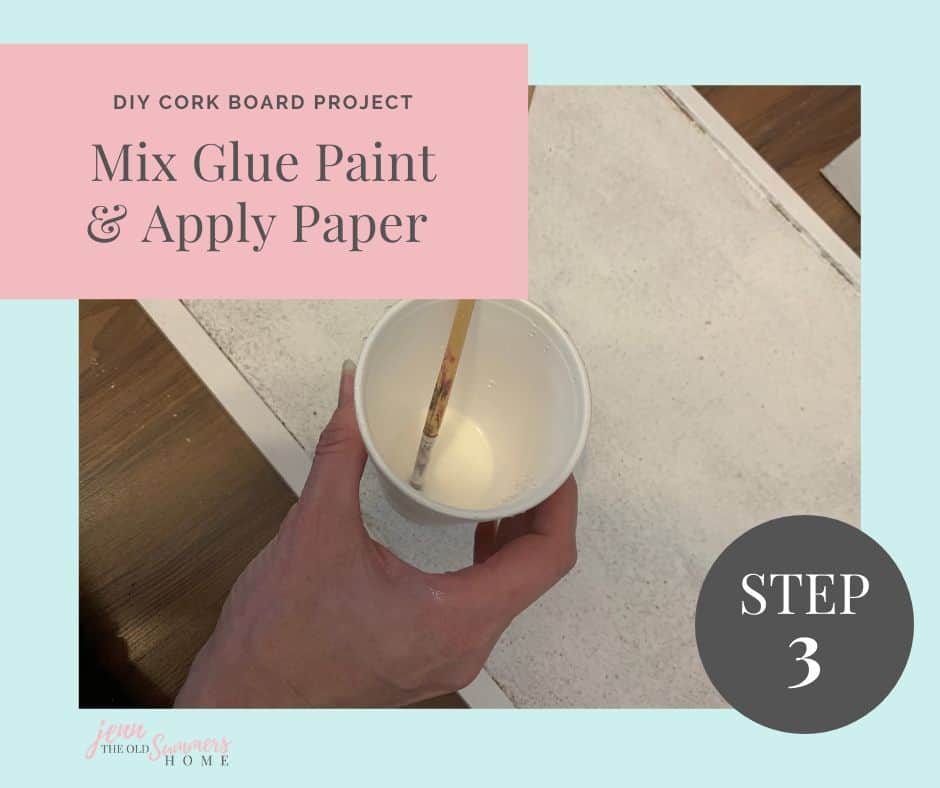 Taking the white glue and pouring it into the foam cup I slowly added water while stirring with a crat paintbrush. Add water slowly, you are looking to add just enough water to make it easy to paint with.
Apply Scrapbook Paper To Cork Board Project
After the glue paint was a decent consistency I simply flipped the scrapbook paper over and painted it with the glue-paint.
I lined up the edges of the paper with the edges of the frame as best as I could and smoothed out each paper one by one.
I painted a bit more glue around the edges of all the papers to make sure they were sticking.
Apply Ribbon to Cork Board Project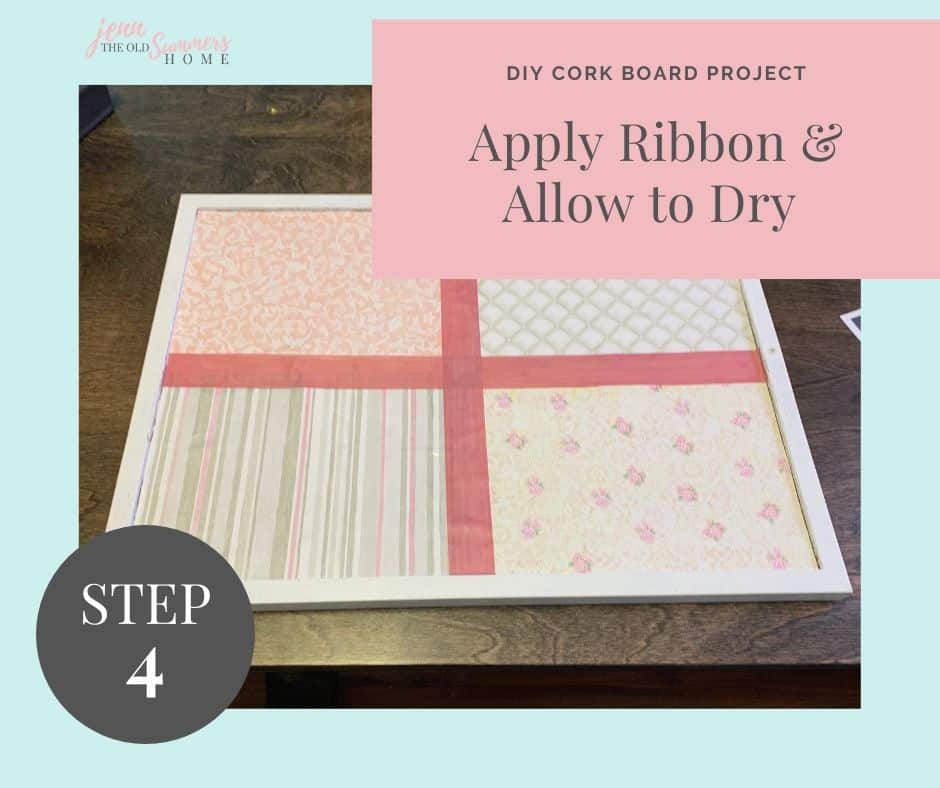 Taking some 1″ 1/2 ribbon I cut a length for the width (21″) and a strip for the length (15″ 1/4). I painted the glue right on top of the paper estimating a 1″ 1/2 area. Then I applied the ribbon.
I gave the entire thing a good smoothing with my hands and went over the edges of the ribbon with the glue.
Tada! My DIY Cork Board Makeover Project Done in Under 30 Minutes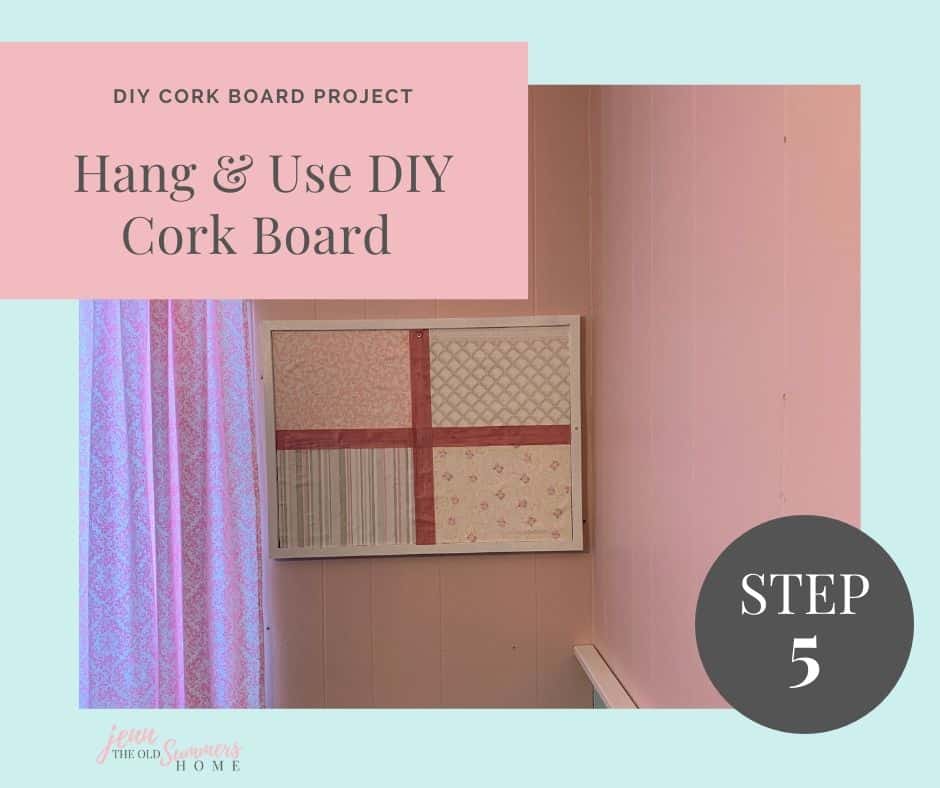 So easy to do and it's super cute. An office Cork Board can be really quite pricey so giving an old one a quick and easy makeover is well worth the 30 minutes of your time.
That's all there is to it folks. So simple and so sweet. Let me know in the comments below what you think. Are you going to give it a try?
I would love to see what you do with this tutorial
If you use this tutorial as inspiration I would love to add your photo, with credit to this post. To submit simply email me at [email protected] with DIY Cork Board Project in the subject line! I can't wait to see your projects!
If you like quick and easy projects you might also like our 10-minute vintage book set. Give your favourite books some farmhouse appeal so they fit right in, in any room!
Until next time;
Jenn Summers
The Old Summers Home