Hello and welcome to The Old Summers Home! Today I'm sharing one of my favourite DIY projects. Our DIY lanterns are incredibly quick to make and can save you loads of money by making your own. If you're not into trying to make our DIY Lanterns, don't worry you can find some of our favourite lanterns here too!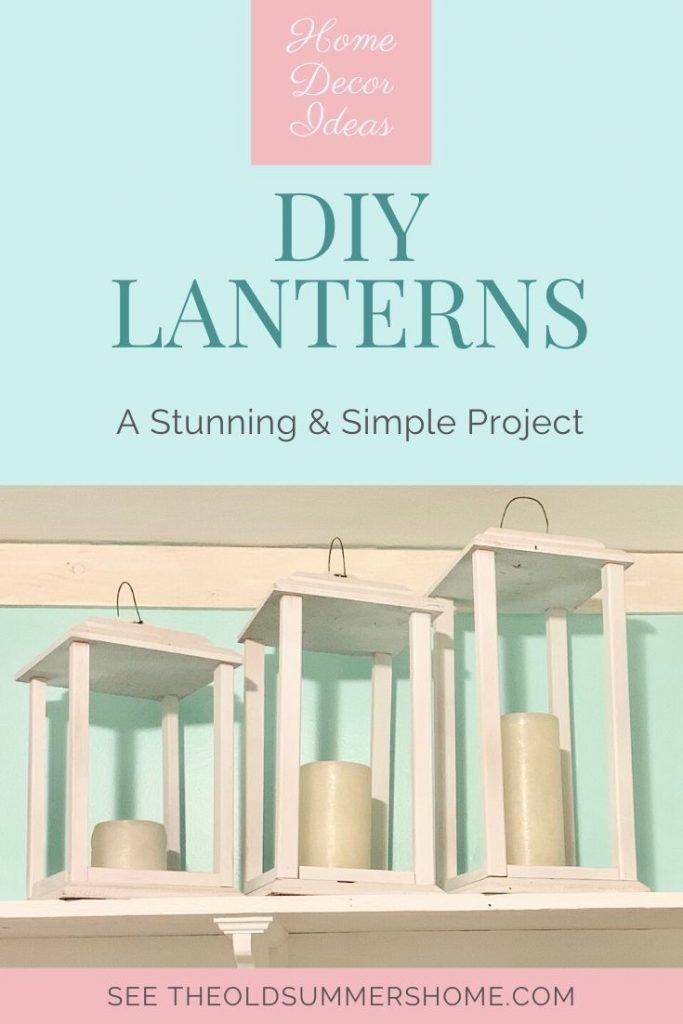 This might sound a bit crazy but I decided to build these after seeing this beautiful birdcage at our Home Hardware, I came home measured the top of my mudroom bench shelf and no way would that gorgeous cage fit.
Sigh, so I decided a set of three lanterns would be great. Wooden lanterns are all the rage right now but there is surely a lack of DIY lantern tutorials out there. No worries, I had the plans all in my head after scouring photo after photo of beautiful farmhouse decor on Pinterest.
DIY Lanterns Materials
If you're like me you have a huge pile of scrap wood you can make these from without spending an extra dime. Some may say I'm a hoarder but at least I'm frugal haha. The 1/2″ x 1/2″ pieces are actually parts from our twin girl's cribs that we ripped down on the table saw so I could repurpose them into these DIY Lanterns! These were completely constructed from the scrap pile, I love these projects!
Materials for each lantern:
2 square pieces of the same dimension
1 smaller square
4 lengths of 1/2″ x 1/2″ of the same length
4 lengths of 1/2″ x1/2″ of the same length
3 pieces of scrap wood for the tops
3 pieces of rebar tie wire (because that is what I had on hand)
I made 3 lanterns of different sizes.
Tallest lantern measures- 16 inches
Medium lantern measure – 14 inches
Shortest lantern measures – 12 inches
My dimensions for the square pieces remained the same for all three of my DIY lanterns as well as the short pieces of 1/2″ x 1/2″, they were as follows:
6 larger squares – 7″ x 7″
3 smaller squares – 5 1/4″ x 5 1/4″
12 1/2″ x1/2″ – 5 1/4″
3 top pieces- 2″ x 2″
The 1×1's for the DIY lanterns heights were as follows:
tallest lantern 1/2″ x 1/2″ lengths – 13 1/4″
medium lantern 1/2″ x 1/2″ lengths – 11 1/4″
shortest lantern 1/2″ x 1/2″ lengths – 9 1/4″
Tools used for building the DIY Lanterns
For this project, Josh and I used a variety of tools however you can use whatever you have with a few modifications to your technique.
table saw
mitre saw
stapler and air compressor
square, measuring tape, pencil
How to make your DIY Lanterns
Cut out all the lanterns wood pieces
First of all, you need to get all of your wood to the proper size. If you plan to have lanterns the same size as mine use the measurements above if you are changing sizes adjust measurements accordingly.
We ran all the square pieces through the table saw to add a bit of detail. Simply adjust the blade to cut on an angle and trim all four sides. If you are not well experienced with a table saw I would suggest asking for assistance as small pieces are more difficult to handle. You could also use a router if you like.
Once all of your pieces are cut out you can give it a quick sanding if you like.
Assemble the DIY Lanterns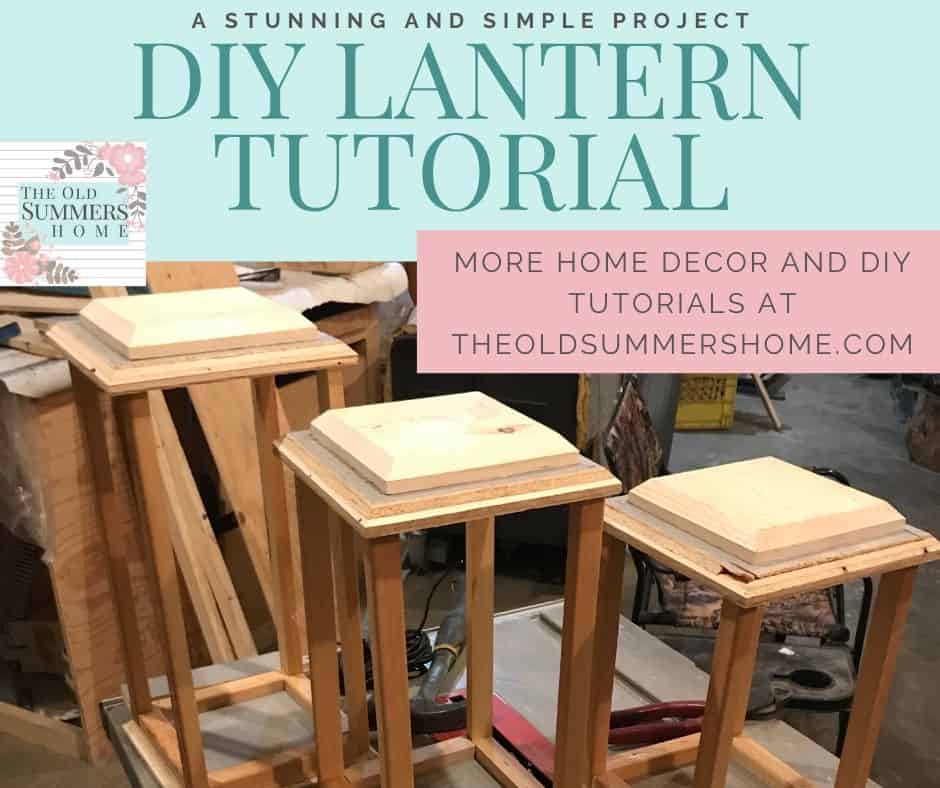 Starting from the bottom using your stapler attach one of the longest 1/2″ x 1/2″s to the base. Then attach one short 1/2″ x 1/2″. Then the next long, then next short until you have all four long and all four short in place.
Now you will attach the top, once again using your stapler. I did not deem it necessary to add any short 1/2″ x 1/2″ spacers at the top because these are mainly decorative and it is not necessary. However, you can add some to yours following the same procedure as we used for the bottom.
Once the top is secured you can add on the second top which is the smaller square and secure with the stapler.
I had a little bit of wood leftover from the corbels that Josh used the router on in our mudroom so I used that to make my very top pieces. Simply attach yours to the centre of the small square top.
Find more decor ideas in our 10 DIY Home Decor Ideas guest post!
Sand away any blemishes on the Lanterns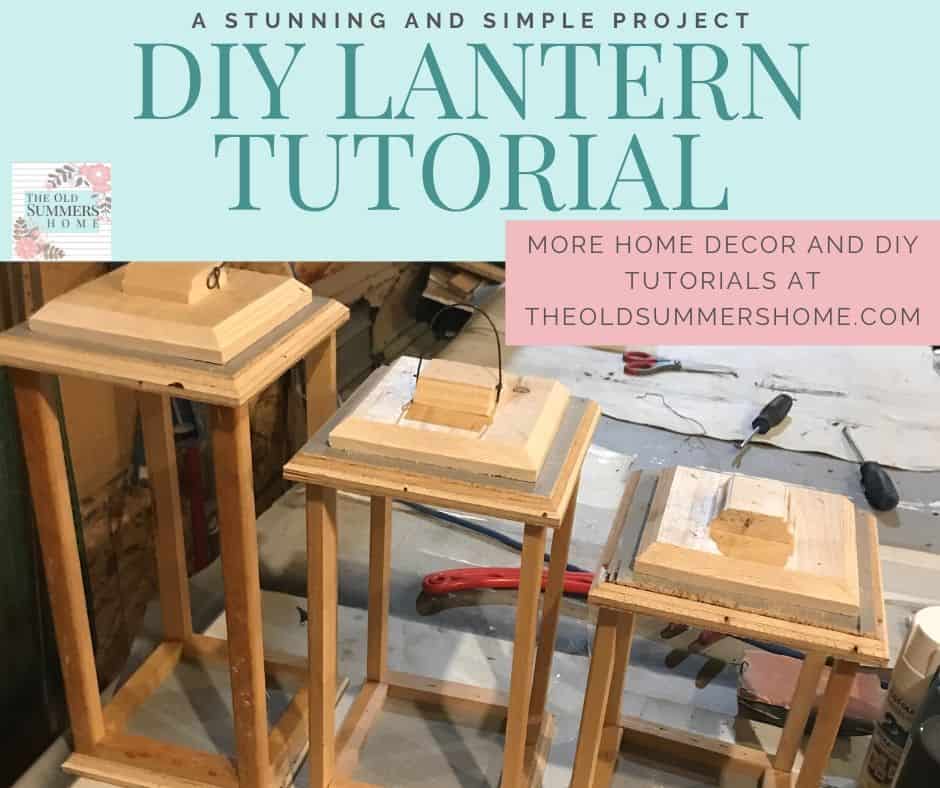 Now that the DIY Lantern is assembled it is time to give it a good sanding. Some of my pieces were previously sanded from past projects I used them for. The 1/2″ x 1/2″ pieces are actually parts from our twin girl's cribs that we ripped down on the table saw so I could repurpose them into these DIY Lanterns! This also a good time to test fit the faux handles, no need to attach them ( I got a bit ahead of myself and attached the handles at this point. I had to remove the staples so that I could paint, oops.)
Paint the DIY Lanterns
Now is the time to paint the lanterns. Oh my goodness I honestly really had a hard time with this and ultimately decided white would be the best.
I swayed back and forth between white, black and sea mist. Now just thinking about these options of paint colours I want to make a few more sets haha. I might need to make some mini ones for our Farmhouse Laundry Room!
Spray paint works amazing for getting all those hard to reach corners, nooks and crannies. I prefer to use spray paint over brushing for many reasons such as I can not stand brush strokes, it is faster, dries quicker and gives amazing results.
I used to be hesitant about spray painting because I had no experience whatsoever but now it is my favourite method! Here are some of my best tips for all your painting projects!
Be sure to pin it for later!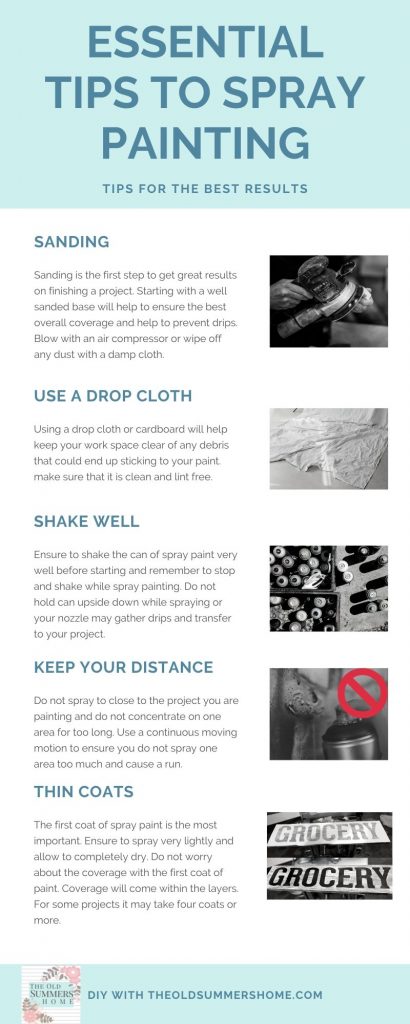 Attach the Faux Handle to the DIY Lanterns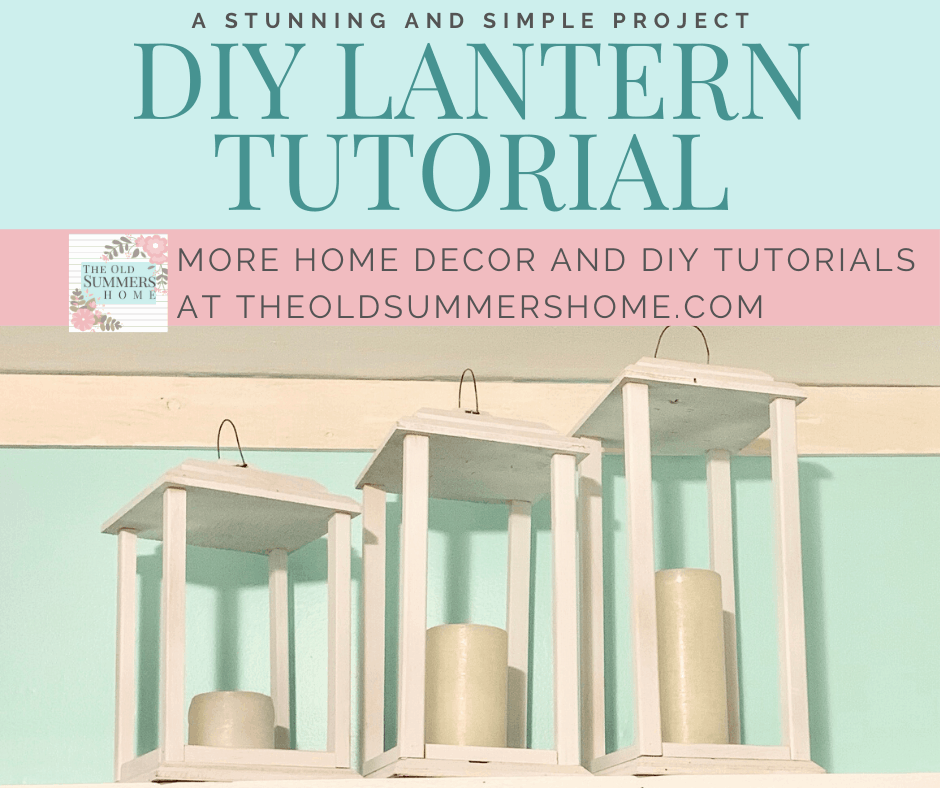 Once the lanterns are all dry use a pair of pliers to bend your rebar tie wire into a handle shape. I did not need to twist the ends or anything because that is how rebar tie wire comes, woot woot, bonus! Simply use your stapler to attach the wire to the very top (2″ x 2″) of your DIY Lantern. Now your gorgeous DIY Lantern is ready for display. Add some candles and stand back and enjoy. These are simple yet stunning and so quick to make.
Easily make seasonal decor with your DIY Lanterns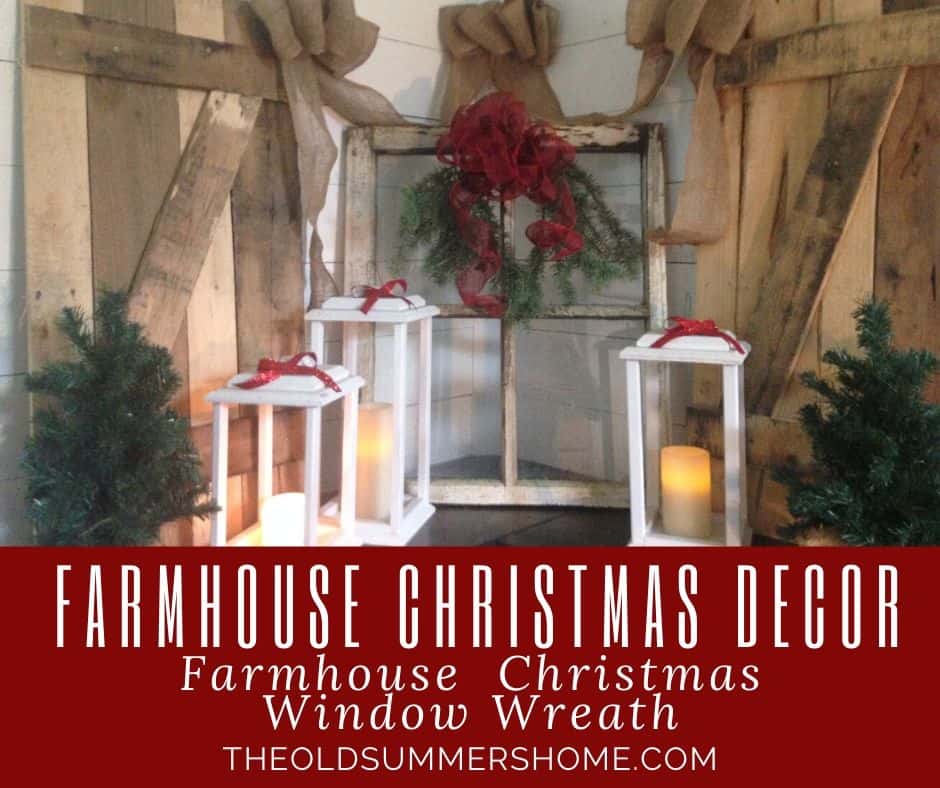 Displaying our DIY Lanterns alongside our Farmhouse Christmas wreath was a great way to enhance the holiday cheer. All it took was a simple red bow attached to the top of each lantern and turning on the no flame candles. they look amazing
If you love our DIY Lanterns You are sure to love these DIY Projects:
Checkout our Repurposed Picture Frame Lantern
This picture frame lantern requires just a few supplies and tools and is a great beginner project for the novice crafter. They look amazing in any room's home decor with a simple candle or filled with your favourite loose decor.
Command Centre Tutorial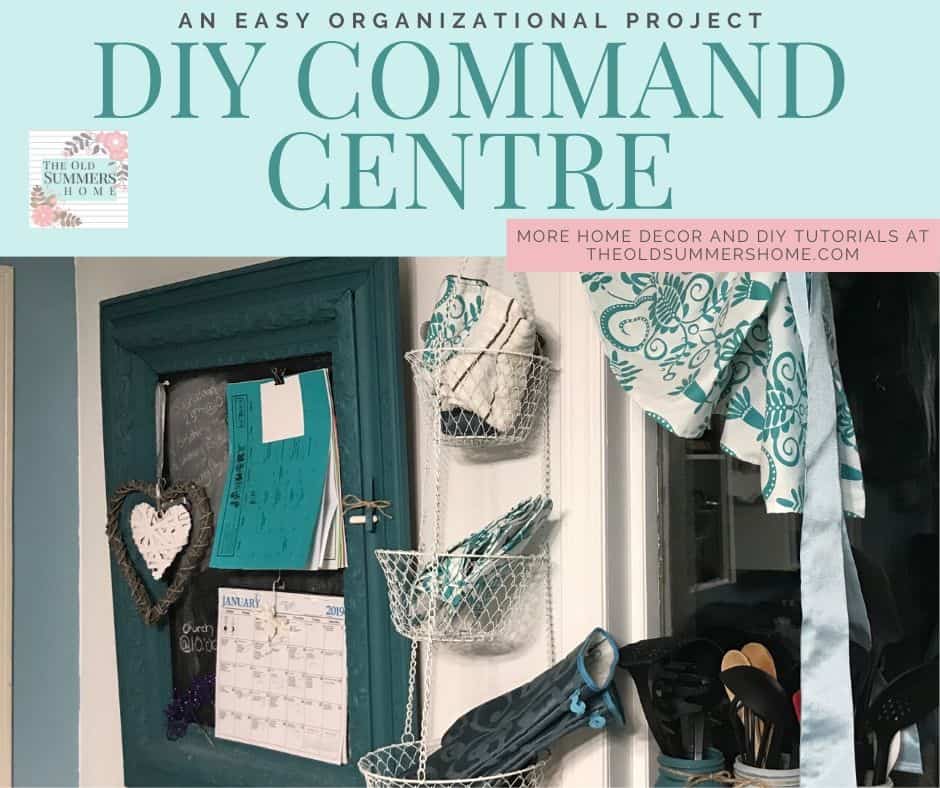 Have a large picture frame lying around? Check out this great chalkboard command centre an easy way to get your family organized with style!
Cheese Grater Up-Cycle
Let's just say in my house I'm not exactly trusted with cheese graters because I somehow have an overwhelming talent of breaking them, oops. However, I have found a great way to make use of those old cheese graters and give it some purpose too! Our vase/ towel hanger cheese grater is so simple so go and check it out!
Pin It For Later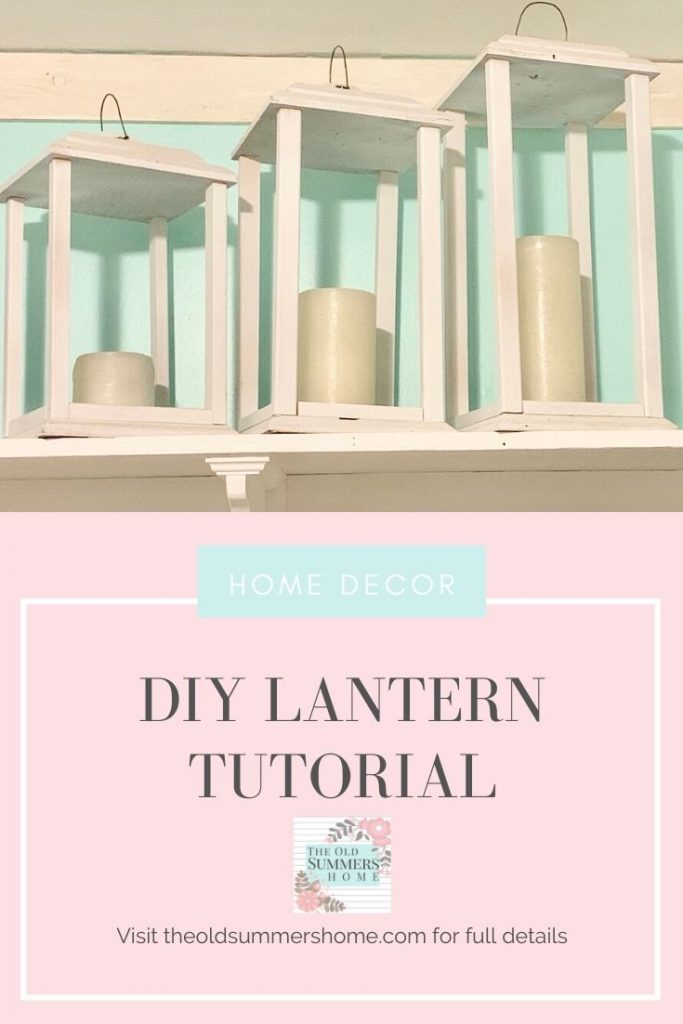 Sign up for our Newsletter to make sure you never miss a DIY project!
Thank you for coming to our DIY Lanterns Tutorial
Thank you so much for coming to The Old Summers Home. We are so happy to have you. Drop us a comment and let us know what you think about these stunning DIY Lanterns. If you have any questions be sure to drop them in the comments too!
Until next time;
The Old Summers Home