Hello and welcome to The Old Summers Home. Today we are sharing how to make our Farmhouse Christmas Wreath. This perfect DIY project is easy to make in a matter of minutes and now includes a great video to make the perfect Christmas bow!
Firstly, there are two things in this world that I officially am no good at! Wreaths and Bows. Hahaha, Yes, you read that right! Not sure which I am worse at, to be honest, but they never turn out how I envision them in my mind. So I wanted my wreath to be something I could do and do well. The Farmhouse Christmas Wreath is the perfect solution for me. Look it even has a bow on it!
Deciding on your wreath style
For me, farmhouse decor is my go-to and this Christmas I want to be able to incorporate that rustic charm into my decor. Knowing that I want rustic farmhouse makes it is pretty easy to go from here. All I need to decide is how far out of the box I want to go. Should I make it from scratch or utilize some treasures I have around the home?
I have a few sets of rustic old windows I salvaged from work one day. I love old windows and want them everywhere in our house and in our yard!
One of the perks of our construction business is all the great finds as we overhaul an old building. We do a lot of renovations and restoration projects. One man's garbage is a farmhouse decor lovers treasure!
I would love for you to check out our new facebook page, JS Overhaul Contracting, and give us a bit of love! We now have a page on the website to explain what services we provide so be sure to check it out too!
The most important thing for me was that I wanted this to be very simple, and it needed to be temporary as well. I really struggle with making and buying Christmas decorations because they are only to be used once a year. When I find something I absolutely love I really want to display it all year-round.
Farmhouse Christmas Wreath -5 Simple Steps
Clean up your farmhouse window
The first step to the Farmhouse Christmas Wreath is cleaning up this old window.
The perk to using something authentic is that it can save you a lot of time compared to taking new wood and making it look rustic.
Sometimes the farmhouse rustic look is hard to achieve. Using an authentic old rustic window straight out of an old farmhouse makes my job that much easier.
Use a wire brush to help free up any of the dirt and grime that is on the window and frame. Mine was quite covered in cobwebs as well. When wire brushing, make sure to use caution, these are old and rustic and sometimes they may crack. This one, in particular, has putty holding the window panes in place and is quite fragile and will easily fall off with scrubbing.
I had washed these a while back so they were still pretty clean minus the cobwebs. Wipe off any remaining debris.
Make a Christmas Bough for the Farmhouse Window Wreath
To add some green to my Christmas wreath I wanted to incorporates some spruce tree branches. I simply trimmed a bit off our tree.
Try to pick ones that have a bit of hang to them so they droop when arranged.
Gather 4 branches approximately 12 inches in length. You can adjust the size to fit your project.
Pick your fullest two branches and lay them in opposite directions to create the back of the bough. Now, lay the two remaining ones on top. Arrange until you are satisfied with how they look.
Lastly, use some gardening twine to wrap and hold it together. I used an extra-long piece of the twine in the very center of the bough of spruce so it would be easily hidden. Leaving it long allows me to do the next steps, therefore I do not cut off the excess. Simple and fast this step should take just a minute or so.
Making the Bow for the Farmhouse Christmas Wreath
The part that normally scares me and makes me run for the hills- THE BOW! I honestly have no idea where I came up with this easy bow, it just came to me while I was staring at my piles of ribbon trying to decide what to do next. This is the easiest bow of all time!
I recommend using Wired Christmas Ribbon for this bow, I'm not sure how it would work with regular ribbon.
Update! It works well with regular ribbon too depending on the fabric. Practice makes perfect!
Start by leaving about 12 inches of ribbon hanging and fold the ribbon over and over until you are left with another 12 inches at the end. Take both ends and make a simple knot and pull tight. Starting from the center lift and open each fold and work your way out, give them a slight twist in a new direction every now and again. Once all are fluffed attach to your bough of spruce using that extra length of gardening wire. Do not cut the wire, we are still going to use it.
Farmhouse Christmas Wreath Bow Update
Since I wrote this post I also have done a fall decor project using this same bow. I decided to do a facebook live to make it easier to understand what I'm trying to show you above in the photos. Therefore I'm including the video here.
Not gonna lie to y'all, I'm a tad camera shy and my little bloopers are all courtesy of my nervous shaking hahaha.
Attach your Bow Bough to The Farmhouse Christmas Wreath
Now it is time to attach your bow bough, I could not help myself haha. I simply took a small Robertson screw and using a screwdriver sunk it in through a hole that was already center of this window.
I didn't want to add any new holes since I plan on using this farmhouse window for other decor purposes as well.
Do not screw in all the way just yet. Take that leftover twine and wrap it around the screw several times until the bow bough is good and tight. Now finish screwing it in.
Hanging your Farmhouse Christmas Wreath
To hang your window wreath you will need to make sure you use something strong and sturdy. These old farmhouse windows are rather heavy and mine still has the panes of glass in them.
To reduce weight use windows without glass panes.
You can use a couple of eye hooks at the top of your window wreath to hang a nice twine rope or something equally rustic for hanging purposes.
I think I will use my Farmhouse Christmas Wreath piece in our Mudroom or on our front porch rather than hanging on the door itself. We have a screen door on both of our outside doors so it would not work well.
We also have little children around the house who like to slam doors, therefore, for safety purposes, I would prefer it to hang or display somewhere that is stationary.
An unused front door would also be a great place. I used our old shed door to take some of these photos and I have to admit I kinda love it.
Farmhouse Christmas Wreath That's a Wrap!
That is all there is to it! A simple farmhouse Christmas wreath project complete in a matter of minutes. I don't know about you but I love a quick project that makes an impact! Best of all In can reuse this farmhouse window for many projects to come until I decide on a permanent use!
I hope you enjoy this simple farmhouse Christmas wreath and that you are inspired to try something new. After all, I always say I cannot make a wreath or a bow and yet here we are with this little piece of rustic farmhouse perfection!
Check out all our DIY Decor Projects, from basic to intermediate we have a little something special for everyone!
The Old Summers Home Farmhouse Christmas!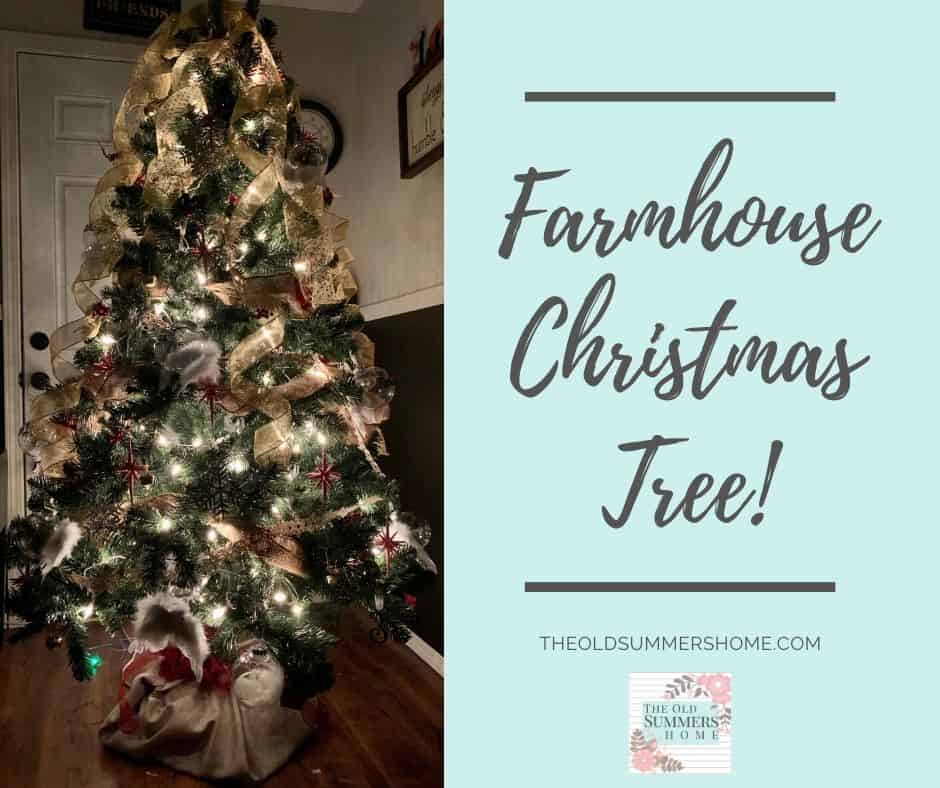 We love everything Farmhouse including our Christmas tree! Filled with burlap, snowflake ribbon and gold translucent ribbon makes this tree a breathtaking feature for the season.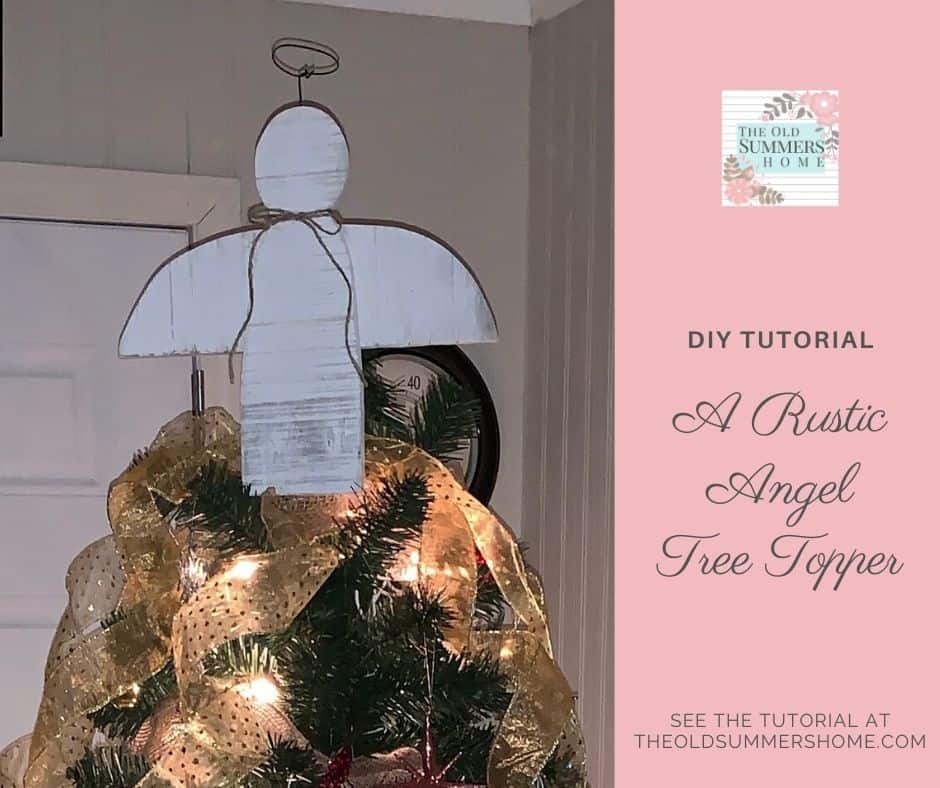 If you love farmhouse Christmas ideas you will love our Farmhouse Angel Tree Topper which is the perfect way to finish off our Farmhouse tree!
Check out all 7 of our handmade Christmas ornaments!
Now let's go see some other Fall & Christmas Wreaths…
6 of us have come together to give you a Wreath frenzy! we all have our own unique versions of wreaths whether it be Fall Wreaths, Christmas Wreaths or Multi-Seasonal! Therefore you're bound to find one for every season and occasion!
Trina from Redneck Rhapsody has a Christmas Wreath made from Star Wars collectables that will blow your mind! This could also make a great Halloween wreath too! So remember the Star Wars lovers if you're looking to impress.
Lia from Southern Yankee DIY has a beautiful Floral Wreath for you to check out. I absolutely love the purple flowers, this could work for spring, summer and lead into fall!
Ashley from The Irish Twins Momma brings you a seasonal wreath. Perfect for fall and Christmas with a few quick adjustments. Make sure to check out her Multi- Seasonal Wreath which is a great way to get the most bang for your buck! Such a great way to utilize one wreath into more than one time of the year. Love it!
Kippi from Kippi at Home has a stunning Christmas Wreath that's sure to capture your heart. It easily transitions from Fall to Christmas when the time comes too!
Agnes from Just That Perfect Piece has a Fall Wreath that is simple and natural! This timeless wreath is perfect for any occasion because of its simple yet elegant burlap wrap.
If you love what you see and want to see more, then we would love to have you sign up for our insider newsletter! When you become an insider you get access to our Resource Library of Freebies too!
Thank you so much for joining us on the Fall/Christmas Wreath Tour. I hope you have found some inspiration for decorating your home's door. Be sure to pin for later!
Until next time,
The Old Summers Home