Hi and welcome to The Old Summers Home! One of my very favourite things to do is to take something old and turn it into something new. When I look at something that maybe just doesn't work for my style or need anymore I try to think if I could repurpose or give it a makeover. This Cookie Jar is one of those things, we hardly ever used it. It sat high on the back of the shelf for months and months on end. I was about to toss it when I realized Santa was removable! And so begins our Farmhouse Cookie Jar tutorial…
Farmhouse Cookie Jar Before The Makeover
This is what our cookie jar looked like to start with. Now don't get me wrong it has an adorable Country Home Christmas vibe to it that is great and all. BUT we have 6 months of winter in Saskatchewan ;)I don't need another reminder! ( Not literally but it is too long!)
This Christmas jar needed an upgrade and some year-round use. So I pulled it off the back of the shelf and begin to inspect it and where I should begin. Because this Cookie Jar is designed especially for the Holiday season it has been formed that way in its process and is not removable. The snowflakes also would show as well.
How to Up-Cycle Your Own Farmhouse Cookie Jar!
Prepping the Cookie Jar
At The Old Summers Home, we may use affiliate links to show you the products we use and/or recommend, which means we may get compensated at no extra cost to you if you make a purchase through a link.
First off, I started with washing the jar inside and out making sure I gave it a really good scrub. Ensuring your jar is free of any debris, such as oils, is essential when you are going to paint. Many paints suggest using a cleaner such as TSP for this reason.
I removed the old plaid bow from the top and slowly and carefully removed Santa so that my children did not let out their horrific screams as they watched on in horror. 😉 Later we used him for a Christmas wreath the girls and I made as a craft together. After that, I made sure to scrape off any of the residues from the glue that remained using a razor blade scraper. There is a hollow spot from removing Santa, therefore, that has become the back of the cookie jar haha.
Time to give your Cookie Jar some Fresh Paint
I love to use Rust-Oleum 2X ultra cover spray paint for a quick perfect finish. For this project, I used Satin Blossom White and Rust-Oleum Chalked in Serenity blue. These paint colours are perfect for creating your farmhouse cookie jar and adding black font at the end will pull it all together!
I took the soon to be farmhouse cookie jar to the garage to give it a few fresh coats of spray paint. All the while being careful not to spray the inside of the jar. I also removed the rubber seal so that it did not get any over-spray on it (it simply just slips on and off).
When spray painting I always spray a very light coat to start with to ensure that I do not get any runs or drips. It does not take long to dry when you do light coats so you can quickly add your second, third and fourth coats. I painted the cookie jar in the flat white and the lid in the serenity blue. As you can see below I spray painted a few more things at the same time. I may or may not spray paint everything haha.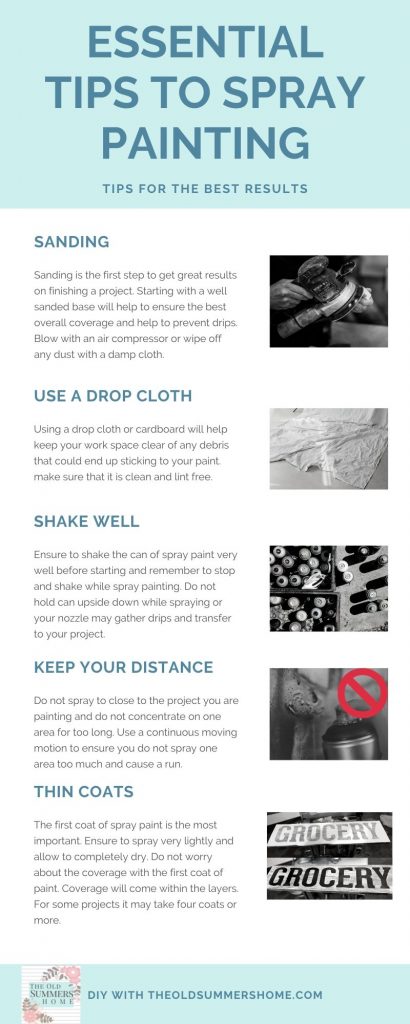 Making the Farmhouse Cookie Jar Decals
Meanwhile, I went inside to use my cutting machine (a cutting machine is a machine that is much like a printer. Instead of printing things out it uses a small blade to cut different mediums. You can cut different types of vinyl, Cardstock and even fabric to name a few. There is much more to this machine but just a tidbit so you know what I am talking about).
I love fonts and have so many to choose from. This one I already had in mind from my other kitchen decor projects. So I just wrote it up, sized it and cut it out on matte black oracle 651(a permanent adhesive vinyl that lasts years).
I knew this font would be perfect for my Farmhouse Cookie Jar!
Adding the Label To your farmhouse Cookie Jar
Once the jar is good and dry, (I think I waited a day or two), apply the vinyl. I like to eyeball where I want it to be rather than marking it up with a pencil line. That is a reason why I only use clear/transparent contact paper or transfer tape when applying decals.
If you do not have a cutting machine (and not in the market to buy one soon) there are still some options available for you.
You can order custom decals or you can make your self a stencil and trace it onto the jar, then paint it in. Or if you have a steady hand you can freehand it.
Farmhouse Cookie Jar Shop the Look
Don't have a cookie jar needing an overhaul? No problem! These are our favourite cookie jars that you can purchase online and in-store!
Farmhouse Cookie Jar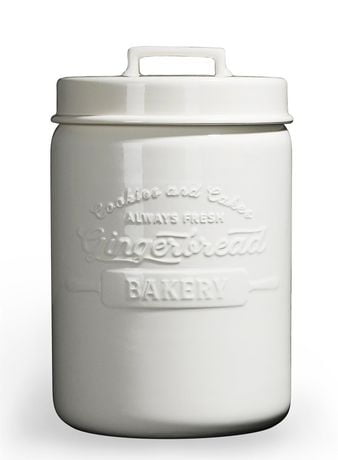 I absolutely love the look of this Farmhouse Cookie Jar from Walmart! Walmarts price is unbeatable making this beautiful farmhouse style cookie jar perfect for every budget! I might need to get one for my secret cookies hahaha.
Heritage Hill Cookie Jar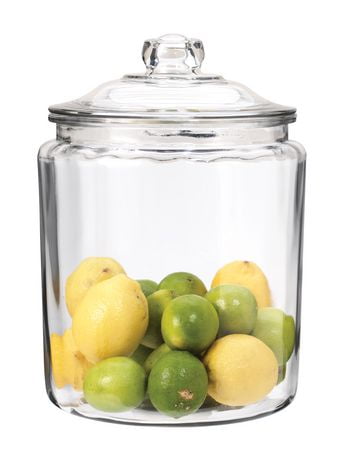 This Heritage Hill Cookie Jar is airtight and absolute perfection! Large enough for other items when the cookies run out and they are always running out here in our home! Not only is this cookie jar perfect for a farmhouse kitchen with it's 'vintage vibe' but also goes well in a modern touched kitchen too
Enamel Kitchen Canisters Set
Y'all have three guesses why I love this set so much, and the first two don't count, haha. The elegance of this Canister Set is incredibly eye-catching and makes perfect countertop decor! Of course, given that it's my favourite farmhouse style, that probably stole my heart too! Either size would make the perfect farmhouse cookie jar!
Apothecary Jar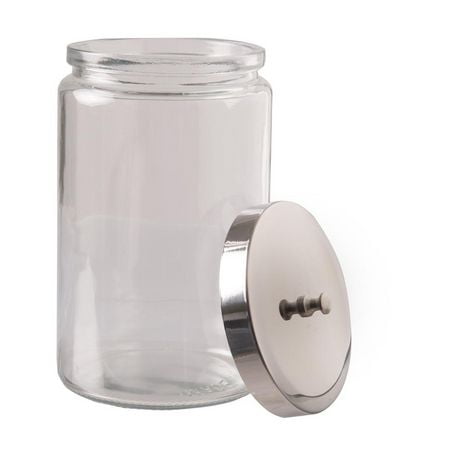 This Apothecary Cookie Jar is perfect for a modern look that ties into every kitchen. This reminds of an old general store which makes me really love these for all things kitchen storage!
And that folks, is all there is to it. Now you need to go bake up some of your favourite cookies and fill your latest addition. Someday I will add our favourite Chocolate Chip Cookies to our Easy Recipes Section but until then be sure to check out our other great recipes like our Sugar Cookies! Enjoy!
Pin for later!
I hope you enjoyed Farmhouse Cookie Jar Up-cycle. This simple project adds an elegant farmhouse element to our kitchen countertop. It is no longer hidden away until the Christmas Season.
Recently I came across this beautiful mason jar set and my husband surprised me with my own set. They go absolutely amazing with the colour scheme of this cookie jar and our kitchen!
Be sure to check out how we refreshed our Kitchen cabinets to give new life to our dark and dreary kitchen!
For more DIY projects and inspiration be sure to sign up for our Newsletter. When you become an Insider you not only exclusive content you also get a Free item of your choice from the Old Summers Home Shop. The perfect way to get your cookie jar label at no cost to you!
You can find and follow us on Pinterest!
Until next time,
Jenn Summers
The Old Summers Home