Are you looking to add a touch of mystery and allure to your bedroom? Look no further than gothic design! With its dark and dramatic aesthetic, gothic style can bring a unique and striking look to any room, and the bedroom is the perfect place to incorporate it. From gothic furniture to spooky accessories, there are plenty of ways to incorporate gothic bedroom decor that is both eerie and inviting.
Whether you're a fan of gothic literature, horror movies, the new Wednesday television series, or just appreciate all things dark and mysterious, this decorating style is sure to add a touch of eerie elegance to your bedroom.
Here we will explore some gorgeous gothic bedroom ideas from furniture to accessories to color schemes.
This post may contain affiliate links. If you make a purchase, I may earn a small commission at no extra cost to you. As an Amazon Associate, I earn from qualifying purchases. Read more about these links in my disclosure policy.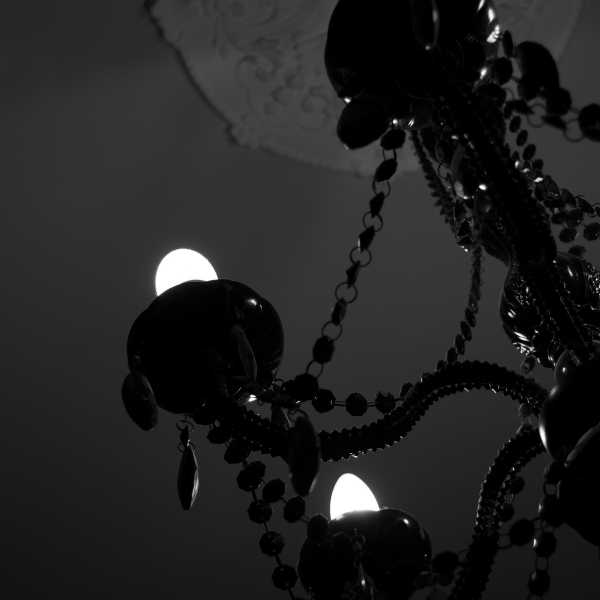 Gothic Colors
Gothic decor is characterized by its dark and mysterious aesthetic, and a few different colors play a big role in creating this look. Gothic color schemes typically consist of deep, rich hues that evoke a sense of mystery and intrigue.
The primary color seen in gothic decor is black, while we also commonly see deep purples and dark reds. These colors are often used to create a moody and dramatic atmosphere, and can be incorporated through paint, textiles, and accessories. Black is often used as a base color on large surfaces as walls, floors, or ceilings, to create a sense of drama and depth in a room.
Dark purple and dark red also are commonly used in gothic decor. These colors are often used to add a touch of old luxury and elegance to the room (as these colors are also commonly associated with royalty). They can be incorporated through curtains, bedding, accessories, or a statement piece of furniture, such as a vintage velvet armchair.
Vibrant colors aren't very common, but can sometimes be seen in accessories or in details such as stained glass. Of course, in the modern gothic room many of the traditional "rules" don't apply; personal preferences are more important when choosing your decor!
It's also worth mentioning that gothic decorating does not mean everything should be black and dark. It's important to balance out the dark hues with lighter accents and elements, such as white candles, or lighter-colored bedding, to create a sense of contrast and interest in the room.
These colors along with elements such as stained glass, gothic archways, metal, glass, all work together to create a stunning gothic-style space.
Gothic Bedding
Satin Sheets
These black satin sheets are the perfect addition to any gothic bedroom. These sheets are made from high-quality satin material that is smooth and silky to the touch. The black color gives off a sense of drama and elegance, making it a perfect match for gothic bedroom décor. The satin material also has a subtle sheen that adds to the overall luxurious feel of the sheets.
The set comes with a fitted sheet, a flat sheet, and two pillowcases, allowing you to completely change the look of your bed in minutes. The fitted sheet has a deep pocket design that fits most mattress sizes and is elasticized all around to ensure a secure fit. And most importantly – this set is machine washable and is more durable than your typical cotton sheets!
Textured Duvet Cover
This pinch pleated duvet cover is crafted from high-quality Egyptian cotton material, giving it a textured and subtle pattern that adds depth and interest to the focal point of your bedroom: the bed itself.
This duvet cover is perfect for those who want to add a touch of texture and dimension to their bedroom without overwhelming it with a bold pattern. It's ideal for bedrooms with a minimalist gothic aesthetic, as it provides subtle interest to the bed while still keeping it elegant and simple.
The cover comes in various colors such as dark gray and navy blue (as well as lighter colors), but we prefer this deep burgundy shade.
Damask Throw Blanket
This cozy microfleece throw blanket has a distinct gothic feel with its Victorian damask design. It is perfect for draping over the foot of a bed or a chair, or for snuggling up on a chilly evening. Its generous size (this one is 80″x60″) and plush texture makes it ideal for displaying on top of your bed.
The blanket is also machine-washable and durable, making it easy to clean and maintain. it's perfect for adding a touch of elegance and luxury to any room, and makes a great option if you're looking for gothic gifts for the holidays!
Gothic Bedroom Furniture
Victorian Bed Frame
This black metal bed frame is good far a simple overall look. With its Victorian design, the metal bars resemble an old gothic style gate. If you're shopping for a sleeping space on a budget, this may be the best choice – especially since it doesn't require a box spring under the mattress.
Add in some gothic room decor and some old furniture from your local thrift store and you'll have the gothic ambiance you're looking for!
Black Coffin Shaped Shelf and Brush Set
For the girls who are into more of the "goth" side of gothic decor, this piece is a must have. This dark wood coffin shelf is good for a room with a dark color palette or a gothic bedroom style. It also comes with a holder for makeup brushes (or even pens/pencils if you aren't a makeup person).
I get very much Wednesday vibes from this, and I love it. This little shelf isn't big (certainly wouldn't hold books or anything of that size), but it's the perfect accessory for even a small room without much space.
Victorian Bedside Table
This Victorian style bedside table would be a great option if you're going for traditional gothic bedroom design without going all black. Many pieces of furniture from the Victorian gothic era are made of heavy woods and have decorative flourishes — and it's easy to incorporate that style in wooden furniture accent pieces like this one.
This bedside table would be best styled beside big beds for a truly gothic and romantic look.
Related: Check out these Steampunk Bathroom ideas too!
Gothic Wall Art and Decor
Edgar Allen Poe Quote Sign
Oh my 15 year old self would've loved an emo print on my bedroom wall such as this Edgar Allen Poe quote. This great piece of gothic home decor should be great for any cemetery dweller – I mean angsty teen – I mean goth kid.
E.A. Poe is the debated father of goth, so I'm sure any "The world hates me most out of the 8 billion people" person would certainly enjoy it.
Gothic Bedroom Lighting
Black Chandelier
This wondrous piece of gothic décor is certainly a bold statement for anyone who is into luxurious bedrooms. Made of glass and crystal, adding a bold piece like this smoky gray chandelier is one of the best ways to take your bedroom from drab to fab. Even without other gothic bedroom furniture, this elegant lighting can really set the tone for your room.
A black chandelier like this one is another good option, if the above chandelier is too classic for your liking. You can't really go wrong either way.
Grim Reaper Table Lamp
If you're looking more into the macabre side of gothic interior design, table lamps like this one deserve a closer look. Hand painted and made of high quality resin, this lamp has an awesome moon shaped light on top of this grim reaper.
Want to elevate the gothic vibe with this piece? Swap out a white color bulb for dark colors like deep reds or blues.
Black Candle Holders
One of the easiest ways to create a specific vibe to a space is by adding special accents like these matte black pillar candle holders. Along with a few candles and a dark room, this set would make the perfect accessory for a gothic makeover.
Set of Electric Candles
This set of deep burgundy flameless candles would be a nice (and safe) addition to a gothic-themed bedroom. This would go nicely with the matte black candleholders for a macabre look.
Gothic Bedroom Decor and Accessories
You've Been Poisoned Teacup and Saucer Set
For any non-coffee drinking goth, this teacup with a less than fun message at the bottom is an effective way to get a smile (smile not included nor guaranteed). Good for a living room or a dorm room
Renaissance Gothic Arts and Architecture Book
This Renaissance time book, similar to Victorian era and Victorian style, shows the history of gothic architecture in the middle ages. An excellent choice for someone interested in the history of goth. Though, Renaissance era goth and modern goth fashion are very different, so disclaimer.
Black Skull Organization Holder
This skull with a strong black color is a great idea for a gift or for gothic theme decor. It is shown as a storage caddy for makeup brushes but it can hold anything you want – such as writing utensils or paintbrushes. A great choice of modern gothic style for a dark artist.
Skeleton Lovers Keepsake Box
This little jewelry box would be a great addition to a Victorian nightstand or vanity/dresser. It's simply a small black box shaped like a heart with two skeletons embracing on top. Super cute!
Which of these gothic bedroom decor ideas is your favorite?
When you're going for a gothic look in your bedroom, you really can't go wrong with a dark color scheme — whether that means all black walls or maybe white walls with a darker accent wall. Add in some different shades of deep, rich colors, some accessories that match your gothic theme, and you're on your way to the bedroom of your dreams!