Hi and welcome to The Old Summers Home! Since I've started blogging I've been working on my laptop all over the house. And not in the best postural positions. Today I decided I needed to make myself a lap desk. I asked for some opinions on facebook and took what I learned and what I wanted to incorporate and made myself a No-Sew Lap Desk. This post right here is its maiden voyage, so far so good haha!
Key Features for Lap Desk
When it came to planning what I wanted I tried to make sure I covered every aspect and looked at all the pros and cons. I definitely wanted to be able to work at an angle. I wanted a wooden top to help keep it solid and cool. It would need to have a ledge for computer and notebook as well as one for my phone. I wanted to ensure it would not slide between cushions on the couch. Last but not least it needed to be light enough.
No-Sew Lap Desk Supplies
At The Old Summers Home, we provide links to products to help you find what we used to create ours some of these links may be affiliate links. An affiliate link pays us a small commission if you make a purchase using our link. In no way will this affect the price in which you pay for your item.
table saw or circular saw, mitre saw
Sander and sandpaper
Stain, gloves, rag
Polyurethane spray sealer
Trim board
Paint (I used Cyan Blue by Beauti-Tone)
Foam (I used 6-inch foam)
Sharpie
Olfa Knife (Exacto knife)
1/2 yard upholstery fabric
T-50 Stapler and staples
Laminated Pine Shelving
Laminated pine shelving is one of my absolute favourite types of wood to buy. The wood is so gorgeous stained and has a butcher block look to it. I have used it all over our home to renovate like in our pantry and our mudroom. Best of all this wood is good both sides and needs minimal sanding. Cut your desired length on a table saw or using a circular saw. My top is 24″ long x 16″ wide. Oddly enough 16″ pine comes in 16″ yet 12″ inch comes in 11 3/4″ just a bit of useless information I found interesting enough to share with you all haha. Now you can give it a quick sanding, you pretty much just need to sand the cut edges.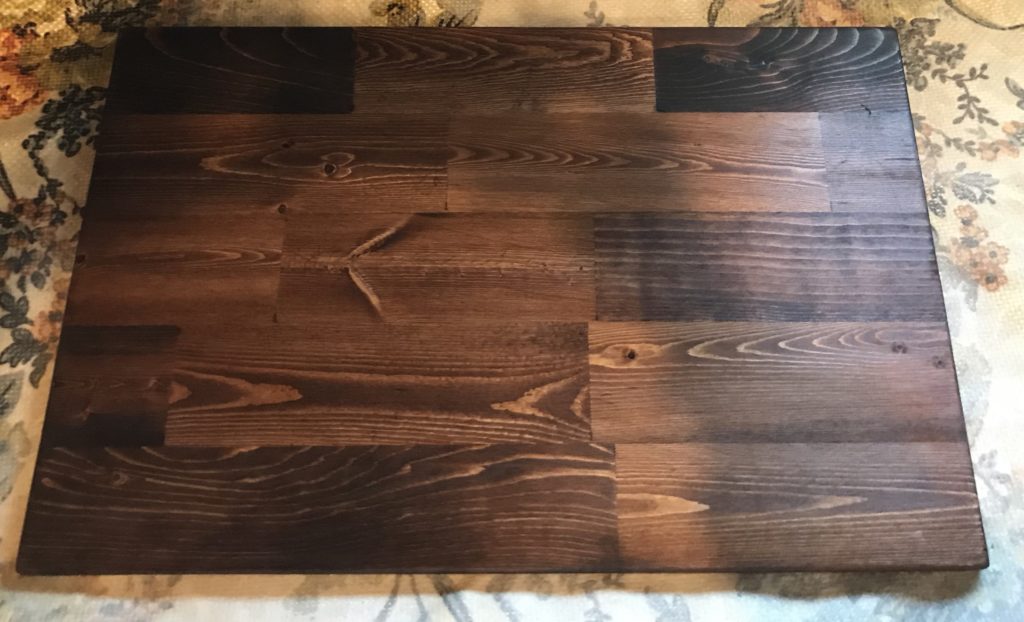 Give it a couple of coats of stain (red mahogany by Minwax was my stain colour). I always apply thin coats and it dries extremely fast. After your stain is dry, seal it with polyurethane spray to protect it. Just dip a rag into your stain a bit and rub it on and off ensuring no excess stain is left on the wood. I keep a few pieces of wood stored like this in various lengths and colours for when inspiration hits. It just so happened that I already had a board stained and sealed ready to be made into something fabulous like my no-sew lap desk!
Ledges for your electronics
Next, I took a decorative piece of trim and cut it into two pieces. These would be the ledges for my phone and my laptop to rest on. I made my laptop ledge extra long which allows me to set my notebook and pen there as well. My phone ledge is approximately 5 inches higher. I simply marked a line 4.5 inches from the bottom for the longer ledge and used my phone as a guide for the second ledge.
After sanding the cut edges I painted them Cyan Sky by Beauti-Tone, the same colour I used in my Kitchen Cupboards Update.
Cutting the foam
This step is a bit tricky but necessary because I was working with a large piece of foam and seeking an angled shaped. I had a big chunk of six-inch foam leftover from a pontoon boat I had upholstered a few years back. It was pretty dirty from being stored in the garage that we heat with wood and not covered but it would do the job. I used a sharpie to trace my board on to the foam. Then I worked in layers with my Olfa knife to cut it straight down on both sides to make it square.
The secret to buying foam at this thickness is to purchase a foam mattress it will save you so much money especially if you are needing lots. I believe this foam was about $150 for approximately a twin size but here is a link to amazon for a better deal than that: foam mattress
Once I had a square I measured one inch on one end of the sides of the foam. I used a square to go from my one-inch mark to the very tip of the other side so I would have a slope of 6 inches to 1 inch. I used a square and a sharpie to mark my line then repeated on the opposite end of the foam. This is the most difficult cut to make because it is a long area to cut. But it only took a few minutes of careful slices. I worked my way from side to side meeting in the middle until through. Once I had my angle cut I placed the board on top and cut off the excess on my high sloped side which created a bit of an angle.
Upholster your No-Sew Lap Desk
I used approximately 1/2 a yard of fabric for this project. I already had it on hand and well since it was teal and brown it was perfect haha. This is upholstery fabric, by the way, it is much thicker than regular fabric and more resistant to wear and tear. Holds up much better when stapling fabric and stretching well worth the extra dollars its cost. I believe I bought this at Fabricland a few years back.
I laid my foam and board on top of the fabric and ensured there was enough overlap on each to reach the top of the board and have about a 1 1/2 inch excess on each side.
Then I laid my board right side down and fabric right side down with a bit of overlap on the upper edge of the board and stapled it in place. This would be the side where the 6-inch slope will be placed.
Now place your board with attached upholstery fabric onto your foam. I had a bit of excess that I now trimmed off so I could have nice neat folds.
Folding your sides
Tuck the top corner of your fabric underneath your board and smooth out your fabric creating a nice crisp corner like you would when gift wrapping.
For myself, I found it easier to flip it onto the foam and tuck my edge up under the board making sure I had a nice crisp fold. I did this for both sides.
Using my stapler I put a few staples in to hold the fabric in place while I worked on my last and final side.
For the final side, I folded the fabric creating another envelope cornered flap going underneath the board again.
Pressing the fabric down to the board I stapled it to the board and managed not to get any fingers in the process haha. Then I went around with my stapler and made sure all three sides were nice and secure.
Attach your ledges
This next step took a whole two minutes setting up the air compressor and those took most of that time. I simply put a few nails into each ledge along the lines I marked on the board earlier.
My ledge for the laptop I used on the side that gave me the most height and flat for my phone ledge. I had no rhyme or reason for this, just thought it looked kinda cool.
Enjoy your new No-Sew Lap Desk!
That is the complete tutorial on how to make your own No-Sew Lap Desk. All in all this project was done well within an afternoon from facebook post to complete. However, add a bit more time for your wood prep as mine was already stained and sealed to start with.
No-Sew Lap Desk Overview of Features
Now that my maiden voyage of testing out my new lap desk is complete I must say it definitely makes a huge difference for this awful back pain and shoulder neck knots. Although the board is quite large it is still lightweight and comfortable on my lap. The ledges do not get in the way while I'm typing. The slope helps me work at a better angle. Because there are no legs I don't need to worry about them slipping between the couch cushions. Not to mention that it is made with my favourite colour haha. Thank you to everyone who shared what they liked best about their own personal desks. Now I can blog in style and comfort in any room of my house. Because I'm a hoarder my total cost was $0 since I had everything on hand.
Thanks so much for joining us today at The Old Summers Home, I hope you enjoyed this post. Let us know if you try out this project or any of our others. We always love to hear feedback! Sign up for our mailing list to be kept up to date on all our new projects and products.
Update on my No-Sew Lap Desk!
I have been using this desk every single day since it has been made and I absolutely love it! I use it on the couch, in bed or at the kitchen table. I'm no longer glued to my office desk and my back and shoulders are much better in relation to all the hours I put in on the laptop. I could not be happier with this project! It has definitely become a major instrument in my everyday blogging career!
Until next time,
Jenn Summers
The Old Summers Home