If you work from home full time or even just on occasion, it's important to have a comfortable space dedicated as your work environment even if you don't have an entire room as a small home office. Getting into the groove can be difficult when you work at home so making your office space inviting and comfortable makes it easier to go to work (even if you are just traveling down the hall). We've gathered a few tips, products and office decorating ideas on a budget to help you find cheap ways to make your work space feel awesome in your own home – no interior designer needed!
This post may contain affiliate links. If you make a purchase, I may earn a small commission at no extra cost to you. As an Amazon Associate, I earn from qualifying purchases. Read more about these links in my disclosure policy.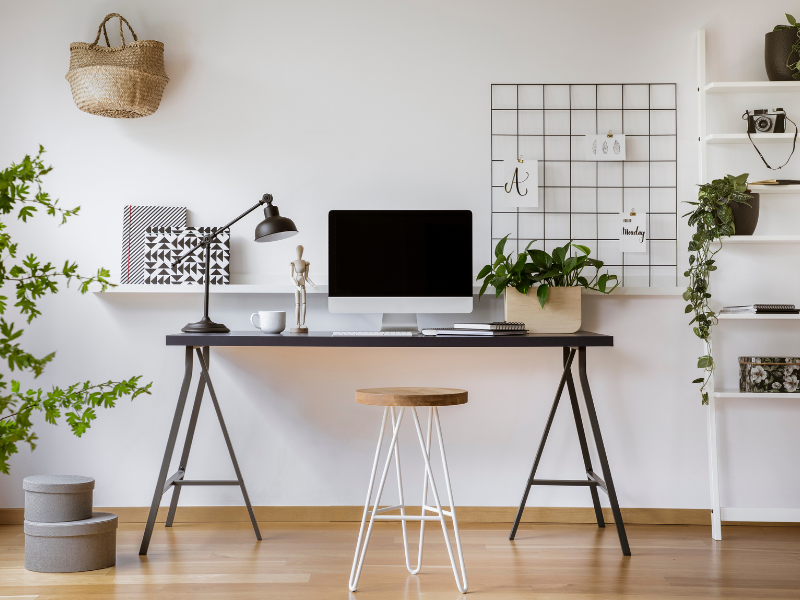 10 Home Office Theme Ideas
When decorating a home office, choosing a theme and color scheme can help you select decor and stick to a budget. There is no right or wrong when it comes to selecting a theme but it should be something that fits the nature of your work.
The space should also make you feel comfortable since you'll be spending up to 8 hours a day in your office space.
Monochromatic – Choose a color and decorate with the many tints and shades of that color.
Neutral – Select black, white, brown, beige or grey as your main theme. For some excitement add a pop of bright color here and there.
Greenery – Adding live plants throughout your office or plant themes in your decor can make the space bright and cheery.
Beachy – Make each trip to the office feel like a mini-vacation when you decorate with beach decor and light colors. (These beach themed bedroom ideas may give you some home office decor ideas!)
Geometric – Geometric decor with hard lines and shapes like circles, triangles and hexagons can give your home office a modern and eye-catching look.
Bohemian – This eclectic style mixes old with new, patterns and solids and pairs vintage pieces with bright colors and flowing fabrics.
Scandinavian – IKEA fans will be familiar with this crisp clean style. A Scandinavian office is organized, every piece has a function and nothing feels cluttered.
Start With Office Essentials
Regardless of your type of business, there are a few essentials that every office needs. Additionally, if you are having trouble settling on a theme, selecting your office essentials can help you narrow that down.
Desk
Every office needs a workspace. A more traditional desk often includes storage along with a large workspace. You can keep your essential papers right at your fingertips.
If your home office is a shared space in your home this adjustable sofa desk may be the perfect solution. Easily rotate out the desk when needed and it tucks away as an end table when the workday is done.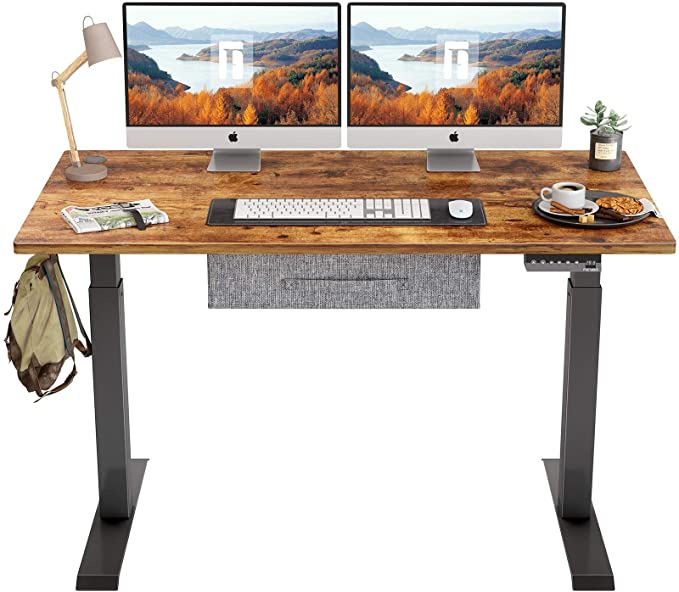 Photo Credit: FEZIBO on Amazon
This adjustable height standing desk has 4 preprogrammed settings and lets you select the workspace height with the touch of the button. You'll feel comfortable no matter what you are working on.
Shelving
If you have books and important papers that you need easy access to, you may need a bookshelf or storage space specifically devoted to your home office needs. Standard bookshelves and a filing cabinet are functional essentials for a home office.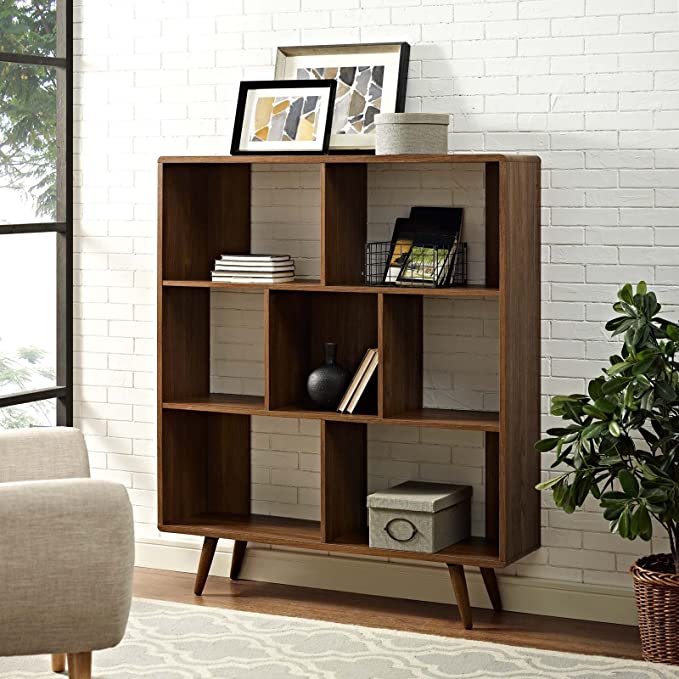 Photo Credit: Modway on Amazon
If you're looking for something more stylish, this mid-century style bookcase has clean lines and plenty of open storage. Pair the shelf with some canvas boxes so you can tuck away less frequently used objects.
Second-Hand Office Decor
Buying brand new furniture and office décor isn't always feasible. One of the best ways to save on essential pieces and find cheap office decor for your home is to repurpose items or shop second-hand.
Check Your Own Basement – You might be surprised what you have in your own basement, garage or attic that could be repurposed in your office space. A coffee table can be used as a creative space, an old crate and throw pillows can provide extra seating, and spare area rugs can help define your office environment within a large space.
Yard Sales and Thrift Shops – You can often come across some fabulous bargains at yard sales, garage sales, and thrift stores. Items may need a little TLC but if you can get a great price a little elbow grease can really pay off.
Ask Friends – Check with your besties. They may have a hidden jewel they've been meaning to get rid of. Offer a fair price or suggest a trade.
5 Essential Office Decor Items To Shop For
Once you have your main furniture pieces in place, it's time to make the space beautiful and stylish. These office decor items are functional, beautiful, and can increase productivity.
Desk lamps – If the lighting in your office isn't appropriate it can cause eye strain which leads to exhaustion. A great lamp can make a huge difference towards a productive day.
Clock – While you don't want to watch the clock all day, you will need to know the time every now and then. A gorgeous clock can really brighten your space while also serving as wall art.
Memo Board – Whether you prefer a whiteboard, a corkboard or something else, your memo board can serve as the hub for your workday and keep all of your tasks organized.
Photos – Personal touches can help to reduce stress so adding some framed photos of your family, friends or favorite places can be a smart move. A digital picture frame is a great option if space is limited. You can also repurpose old picture frames and fill them with motivational quotes to keep you motivated!
Plants – Greenery and fresh flowers can really liven up a room. Buy plants that can thrive indoors can make you feel more productive. No sun for the real thing? Use mason jars and faux greenery to give the illusion of a little bit of life.
DIY Office Decor Ideas
Once you get going, you may find that you've caught the DIY bug and want to DIY your entire office.
DIY Office Decorating Ideas
Make sure you check out our creative under desk storage ideas for creative ways to keep your work desk and small space looking neat!