When it comes to the bathroom, it seems there is never enough storage. With makeup, toiletries, towels, cleaning supplies, medicine, and more, the bathroom can quickly become cluttered, especially when several members of your household share the same space. Take note of any unused space and turn it into efficient storage to make your bathroom look more organized.
Even if your bathroom is on the small side, you likely have space available that can be used for additional storage. The space over the toilet can provide ample space and it's often overlooked.
From stand-alone toilet storage units to open shelves and towel bars, we've gathered up some of the best tips and tricks to help you get your bathroom organized. While you are here, be sure to check out our closet shelf ideas and give your closets new life. You are going to love these over the toilet storage ideas.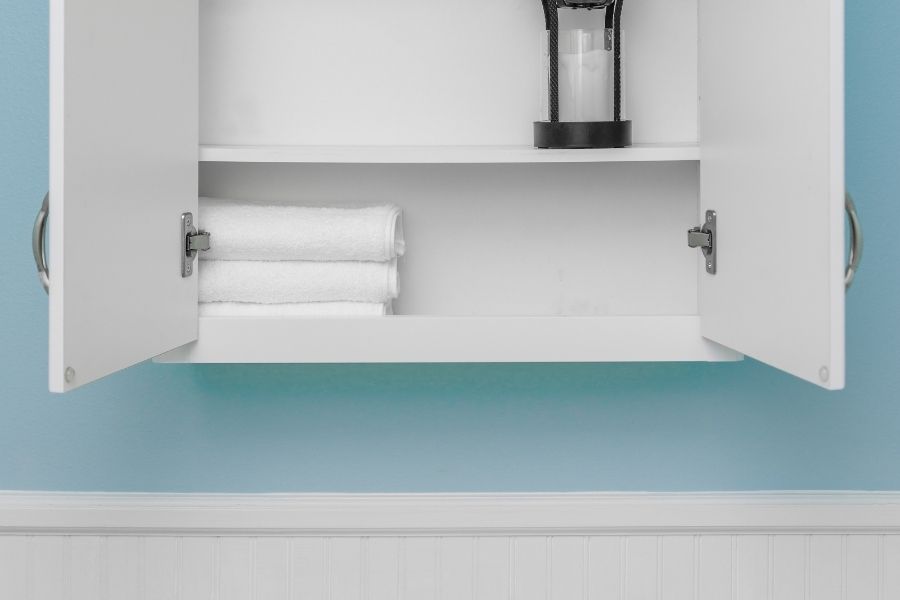 This post may contain affiliate links. If you make a purchase, I may earn a small commission at no extra cost to you. As an Amazon Associate, I earn from qualifying purchases. Read more about these links in my disclosure policy.
How To Keep An Organized Bathroom
Even if you have all the storage space in the world, keeping an organized bathroom requires a bit of work. Here are a few tips to keep your bathroom space organized.
Daily Tasks
Clear The Counter – Clear the counter top of anything that doesn't belong.
Hang Towels – Don't let wet towels pile up on the floor. Hang them on hooks or a towel rack so they can dry and be reused.
Close the Shower Curtain – Closing the shower curtain hides the mess thats on the shower shelves. The shower curtain will also dry quicker leading to less mildew which makes deep cleaning easier.
Weekly Tasks
Wash Towel – Wash any towels that didn't make it into the hamper earlier in the week.
Change Hand Towels – Swap out hand towels for clean towels.
Empty Trash – Empty the bathroom trash and throw away any empty products.
Quick Clean – Give the toilet, sink and shower a quick scrub down.
Monthly Tasks
Declutter – At least once a month remove unused hair products, medicine or makeup that's no longer being used.
Deep Clean – Deep clean the sink, toilet, shower, tub and sweep and mop the floors.
Once you've developed a regular schedule for cleaning and decluttering, you can tackle your bathroom storage issue.
Toilet Storage Units
Freestanding toilet storage units are great because they are portable and come in different styles. Over the toilet storage units don't have to be attached to the wall, so they are a great option for apartments where mounting a medicine cabinet isn't feasible.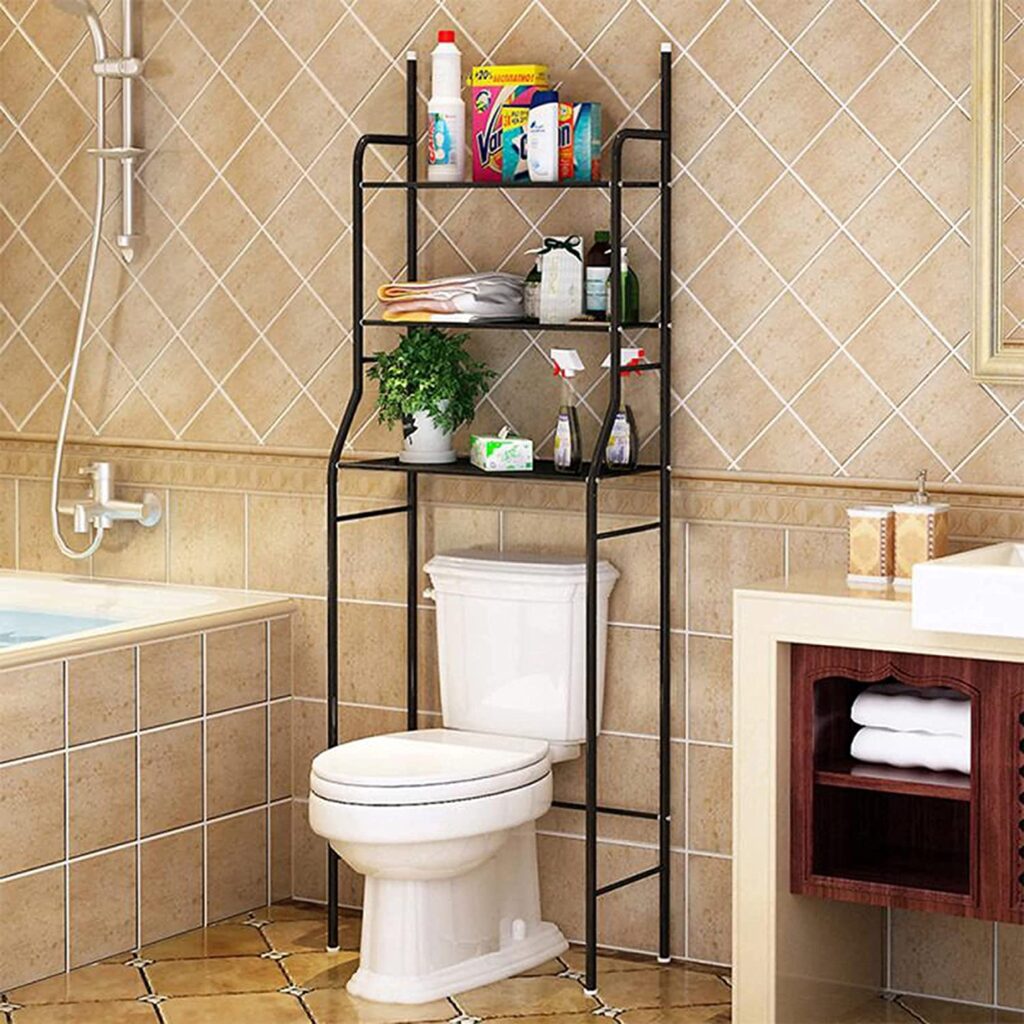 Metal storage units are inexpensive but practical. Easily store cleaning supplies, extra towels and rolls of extra toilet paper right where you need them.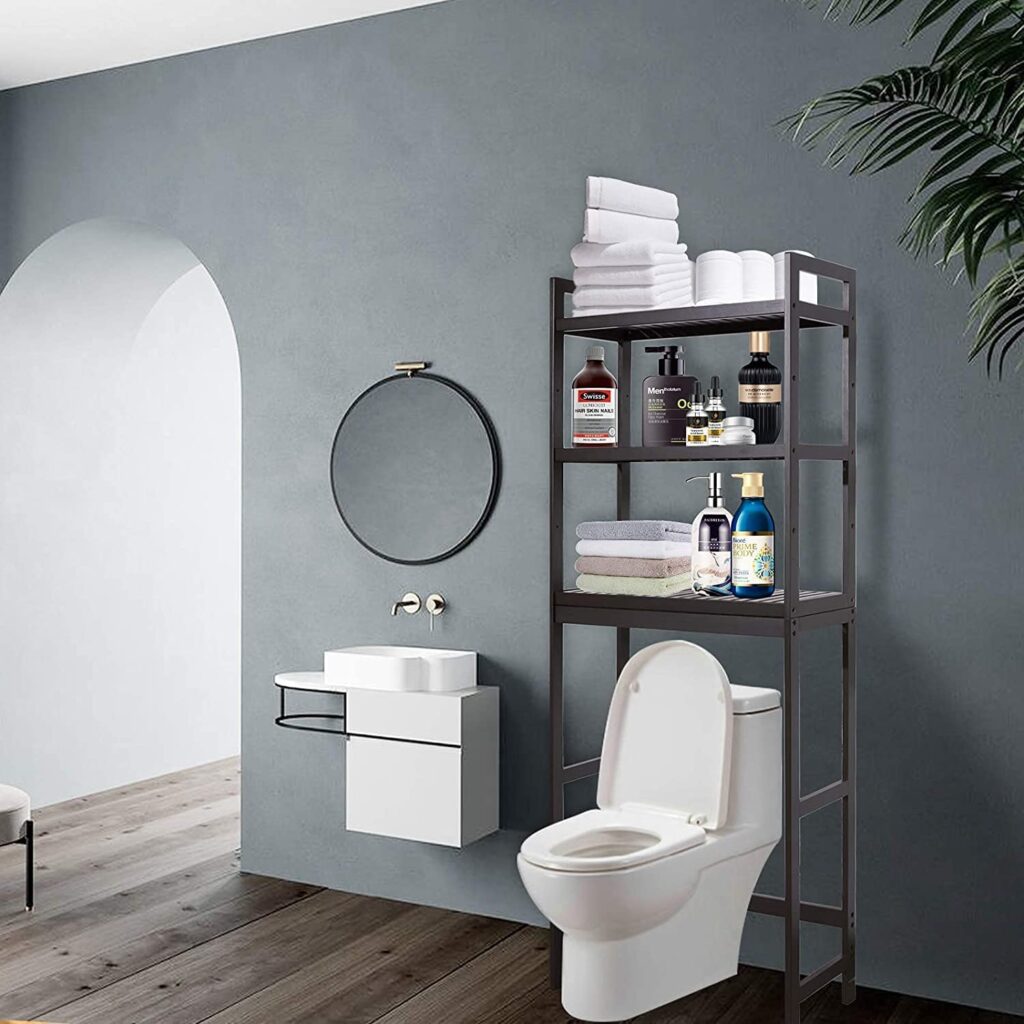 If you are looking for something a little more decorative but still prefer not to spend a lot of money, a freestanding unit with bamboo shelves provides a classy look. Consider adding a plant or decorative items to brighten up the space.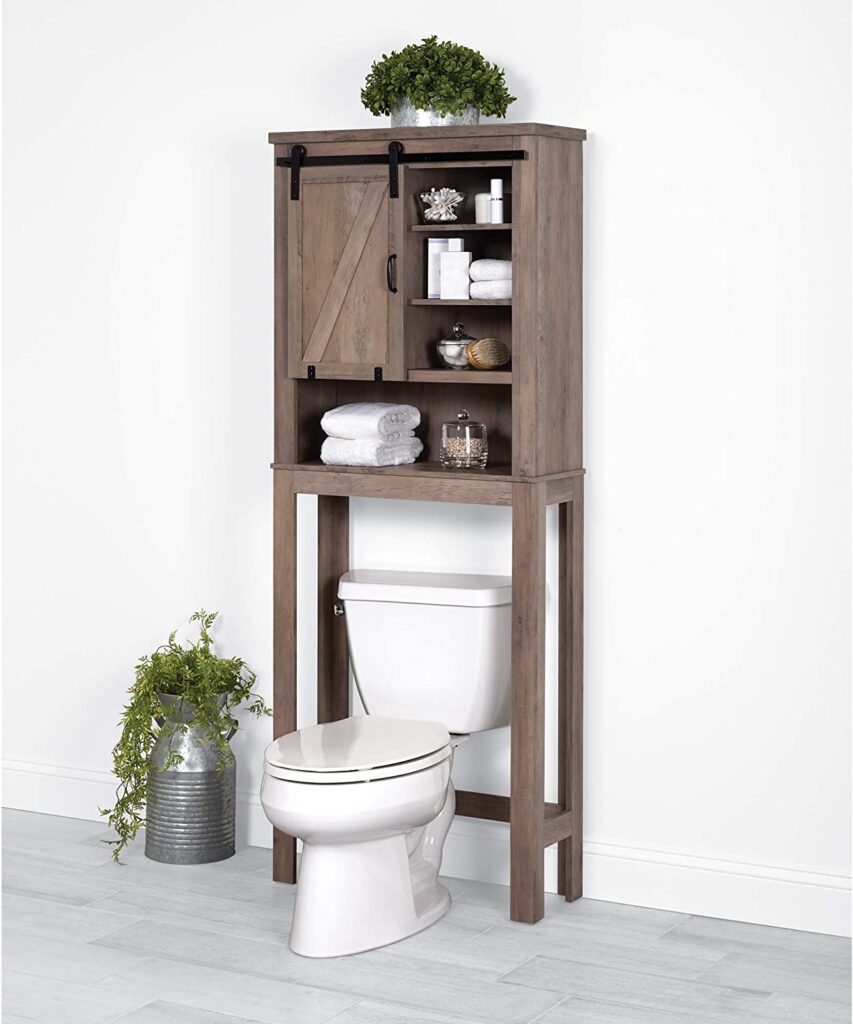 This barn-style toilet storage unit has several shelves and a cabinet to hide more personal items for a more rustic look that provides ample storage in a small space.
Open Shelving
Open Shelving is a great option for toilet storage solutions when you have a large wall space to utilize. Vertical space is often overlooked when trying to find good options for storing a lot of things.
Open shelving comes in so many great styles and can be practical or decorative. I love that it provides easy access to everyday items, and is a great place for a little bathroom decor.
Here are some of my favorite open shelf units: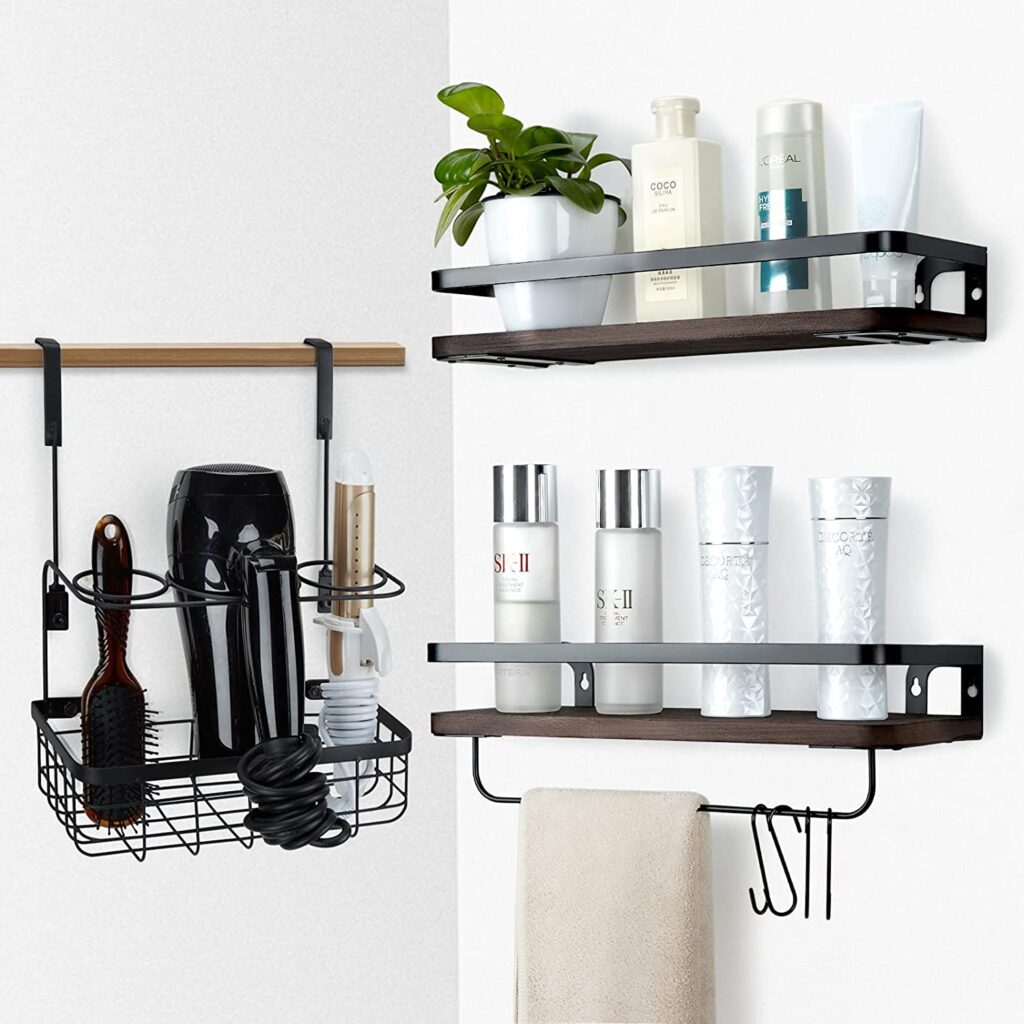 These rustic shelves have a clean look, and I love the built-in towel bar and hooks for brushes or a hairdryer. These could hand over the toilet or on any available wall in your bathroom.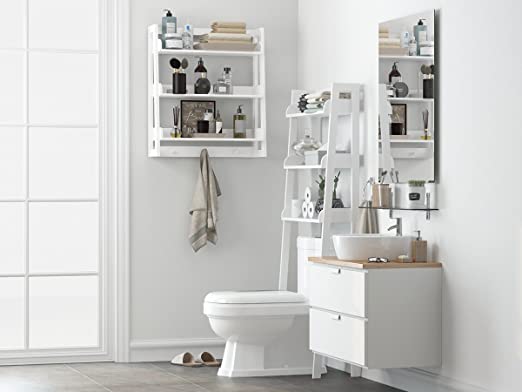 This wood shelving unit has three fixed shelves that are perfect for storing toiletries. The towel hooks on the bottom are a nice bonus feature.
If you are looking for something more decorative, this honeycomb shelf offers 5 shelves with a classy, modern look.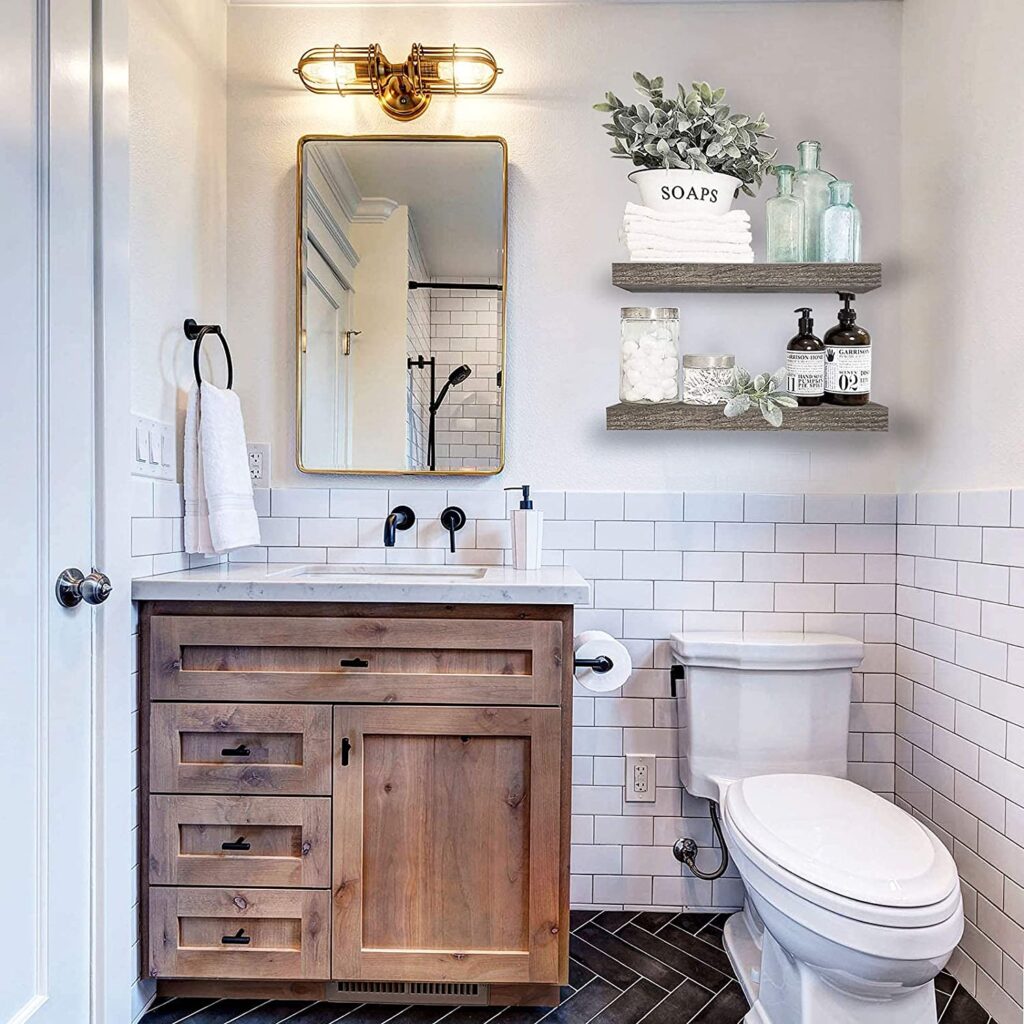 For ultimate flexibility, floating shelves are the perfect open shelving solution. They can be positioned and spaced according to your specific bathroom storage needs.
I have a similar design in my half bathroom, and have a set of wood shelves like these in the empty space over the toilet tank. It's the perfect place for lotion, hand sanitizer, and some seasonal decor!
Beside the Toilet Storage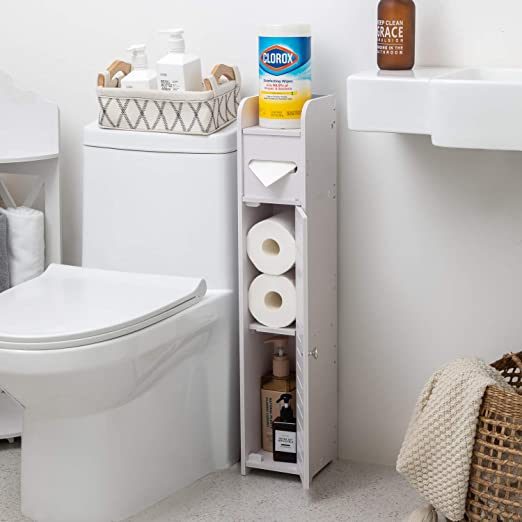 The space between your toilet and the sink, wall, or shower may be narrow, so it's often overlooked. This valuable piece of bathroom real estate is perfect for a narrow storage unit like this thin cabinet that can hold toilet paper rolls, cleaning supplies and a few towels.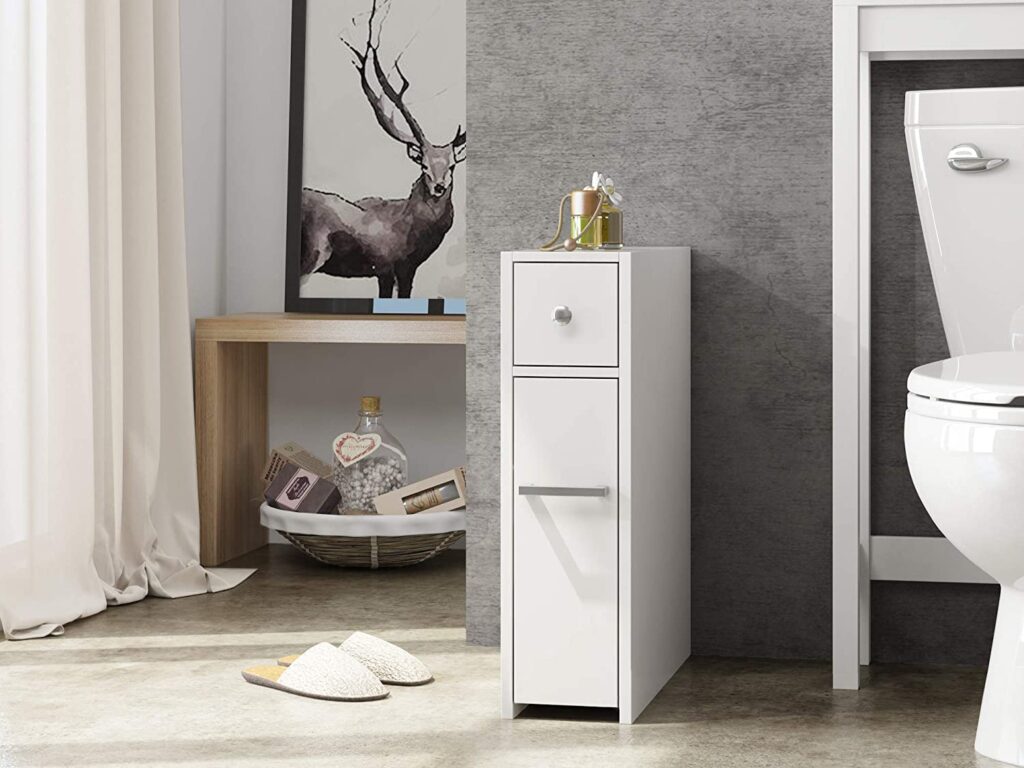 This slim cabinet will tuck into a narrow space, but the drawers make it super functional. The large storage capacity makes it perfect for small bathrooms.
Medicine Cabinets
Medicine cabinets have improved greatly over the years. The tiny mirrored-front containers designed to hold pill bottles and such have received an upgrade and medicine cabinets are now a thing of beauty. When mounted above the toilet, you gain storage space for shampoo, cleaning supplies, beauty products, medicine and other toiletries.
I love using small glass containers to organize my cotton balls and cotton swabs, too!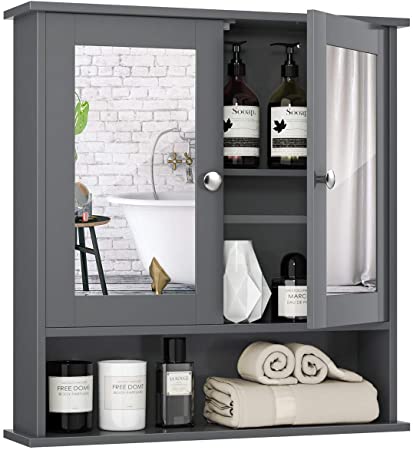 A wall-mounted cabinet with doors is a great way to hide things you don't want visible to everyone who walks into the bathroom. I love how this medicine cabinet also has a small display shelf at the bottom and the mirrored doors are perfect for making a small bathroom appear larger.
Additional Bathroom Storage Accessories
We've discovered a few more bathroom and toilet storage essentials that you may not have considered.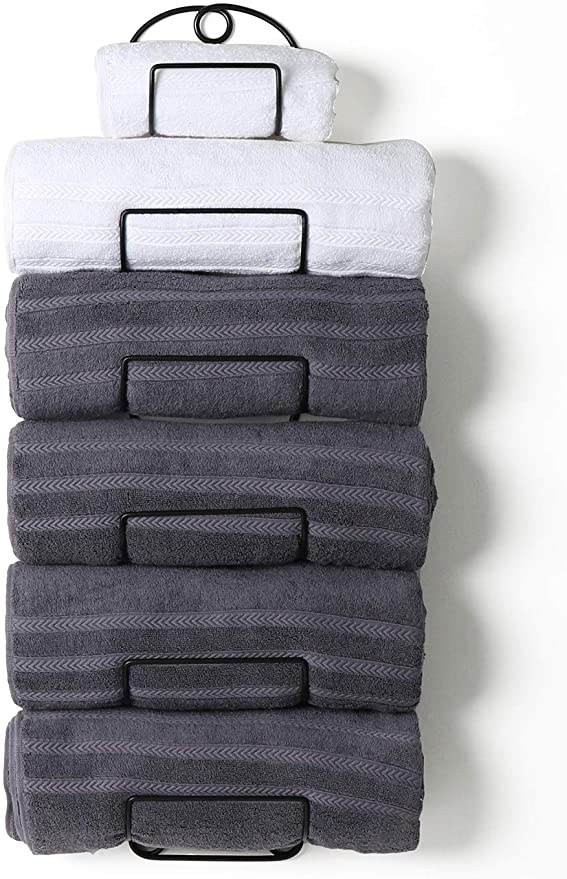 Raise your hand if towel storage is a struggle! This wine rack-style towel holder can be mounted about the toilet or on free wall space. Easily grab a towel when you need it.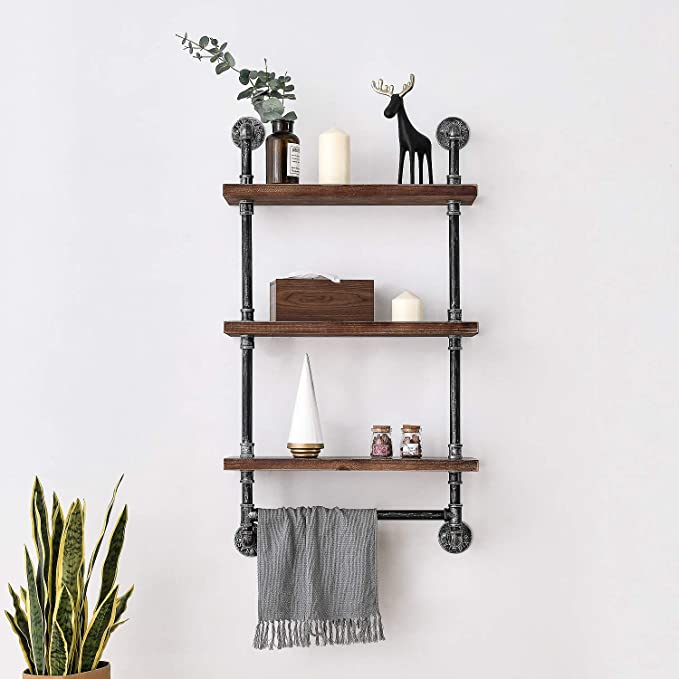 Industrial Style shelving with wide shelves is perfect for storing towels and this unit has a towel bar at the bottom for hanging used towels.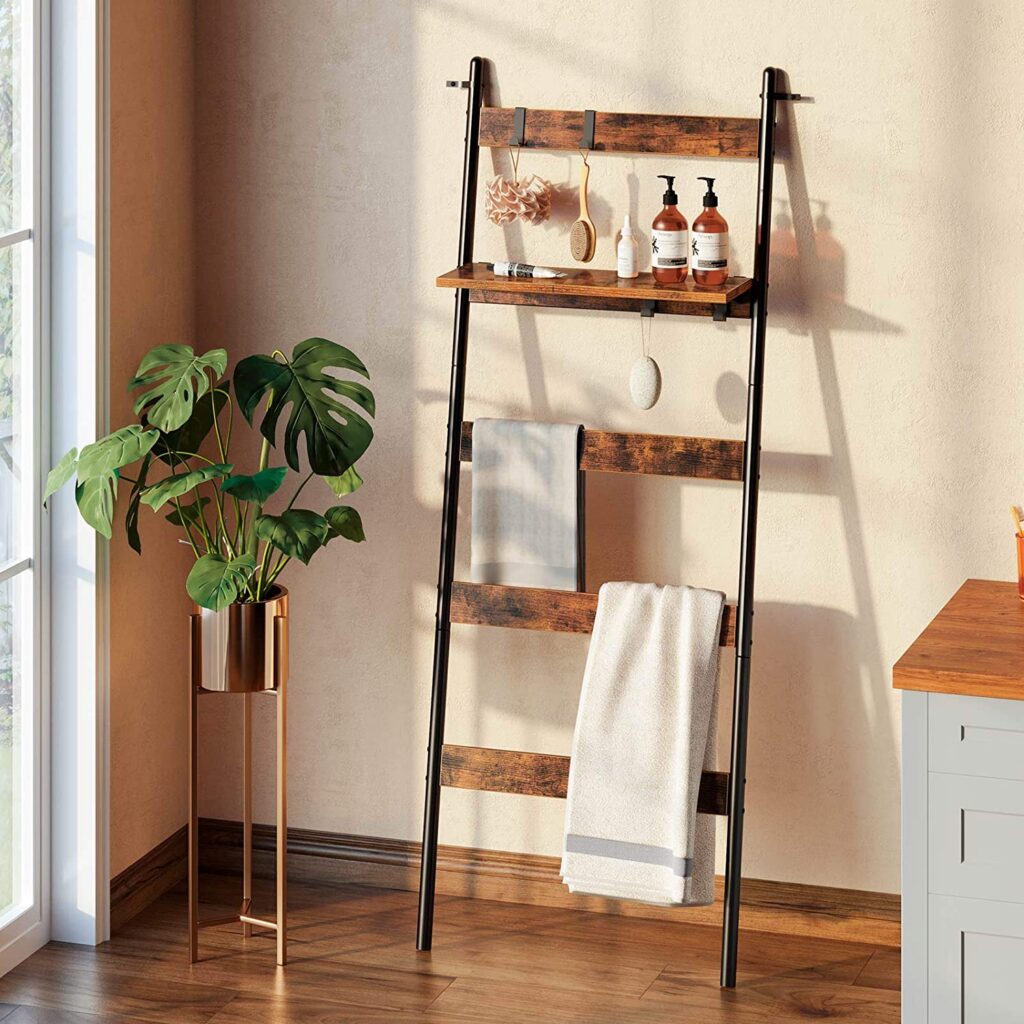 A ladder shelf requires more floor space, but can be the perfect solution for additional storage, especially when you can't or don't want to mount something to a wall.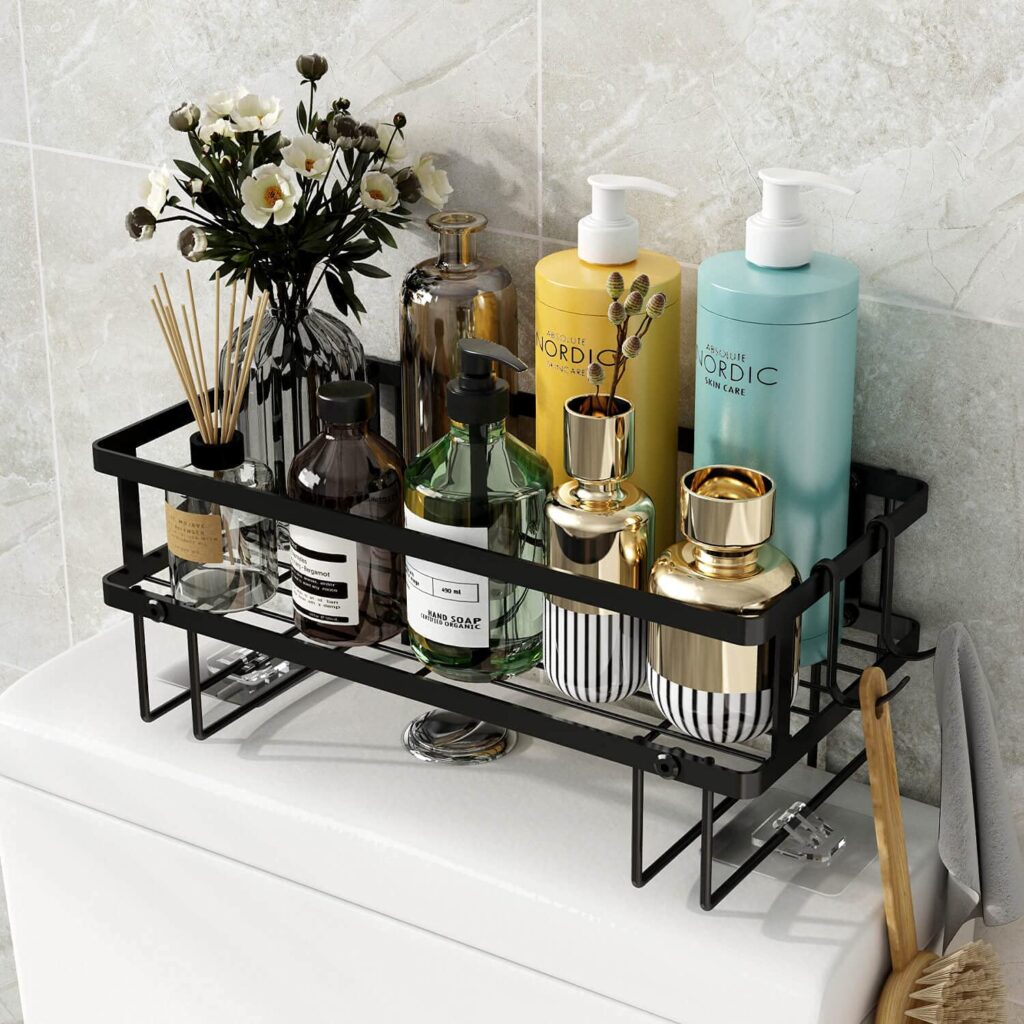 Don't overlook the back of the toilet when you are looking for more storage. This back of the toilet shelf provides ample space and secures to the toilet so it won't go sliding away.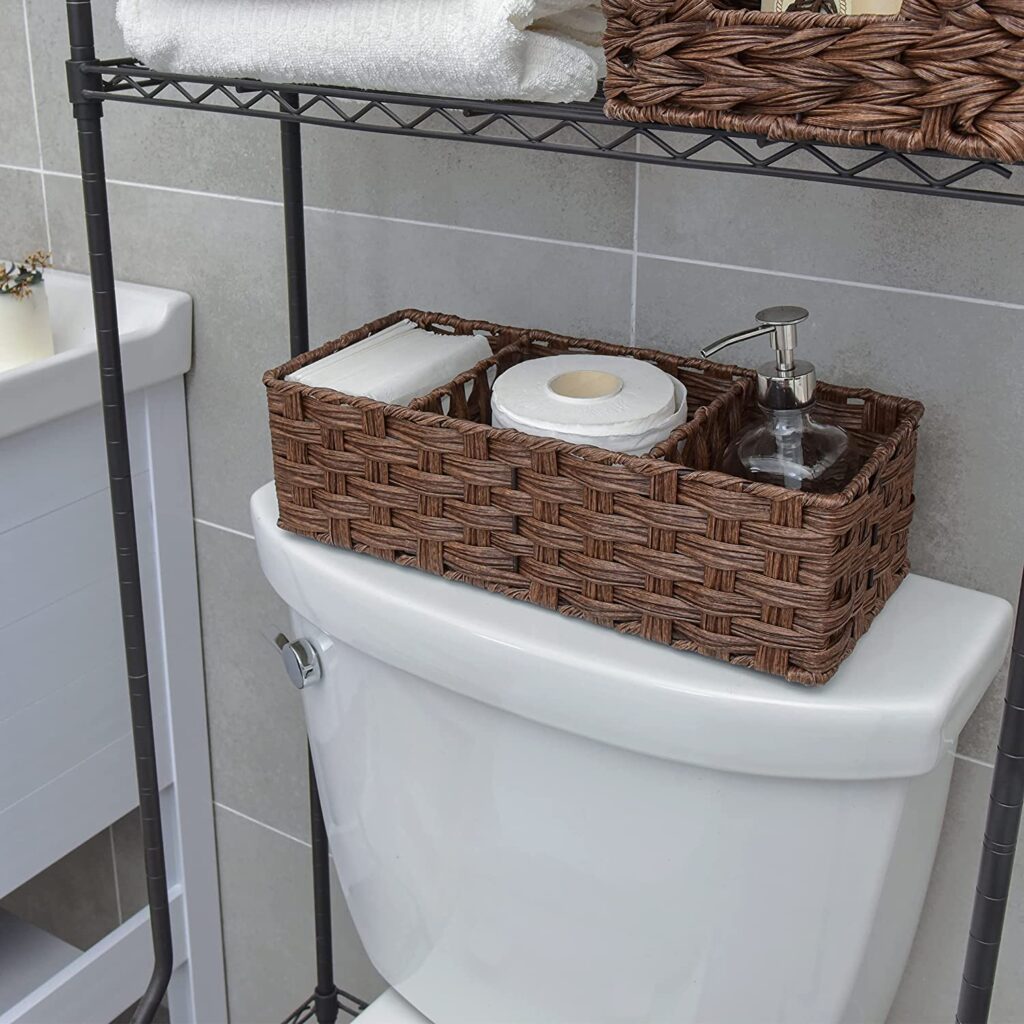 Wicker baskets are another great way to add storage to the holding tank or to keep items contained on bathroom shelving units. They have a classic look and a functional and affordable.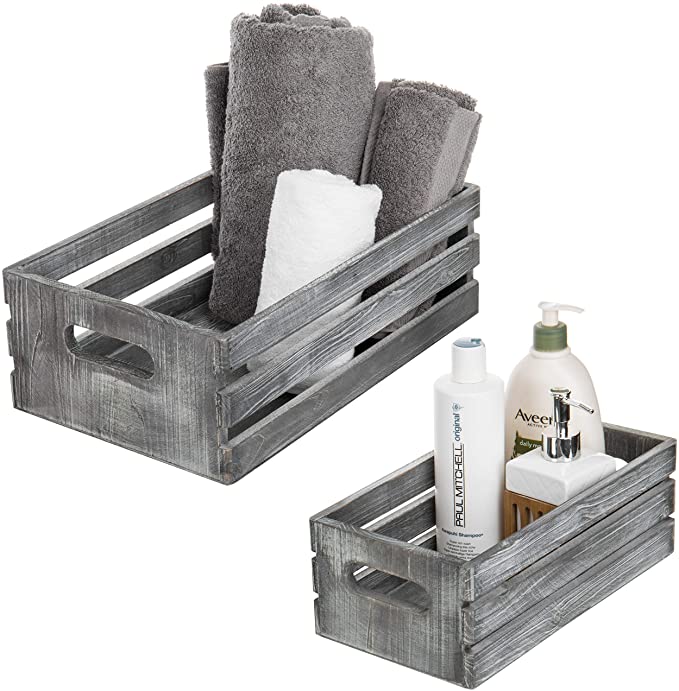 Wooden crates are another lovely way to add additional toilet storage, and they come in a variety of sizes and colors, so you can select ones that match your decor.
Extra storage space is so important in a bathroom and one of the things homeowners struggle with most. In addition to having ample storage, the pieces you select can make your bathroom look beautiful and feel like a sanctuary. No matter what type of storage you select, choose something that makes you happy.