If you need a little help with how to organize shoes or how to store your shoe collection, you have come to the right place. We've gathered up a list of suggestions, products and DIY projects to help you with a practical solution to organize shoes in the best way.
The right pair of shoes can totally make an outfit and the wrong shoes are just… well, wrong! Most of us have several pairs of shoes in our collection and some of us (I'm not pointing any fingers) have A LOT of shoes in our collection. Add in a few family members and it seems like shoes have taken over the house.
Keeping all the shoes organized for easy access can make your house look neater and can make mornings easier. There isn't much worse then getting ready to head out the door and realizing one of your shoes is missing!
Now I'm no professional organizer, but I have a large family and we are all shoe lovers. We've also lived in many places – from apartments with small spaces and a small closet to a house with ample space but still tiny closets. I've learned a bit along the way about finding a shoe storage solution that works for the entire family.
So kick your own high heels off and get ready to find a good option that fits your living situation. I think you're going to love these shoe organization ideas for your home.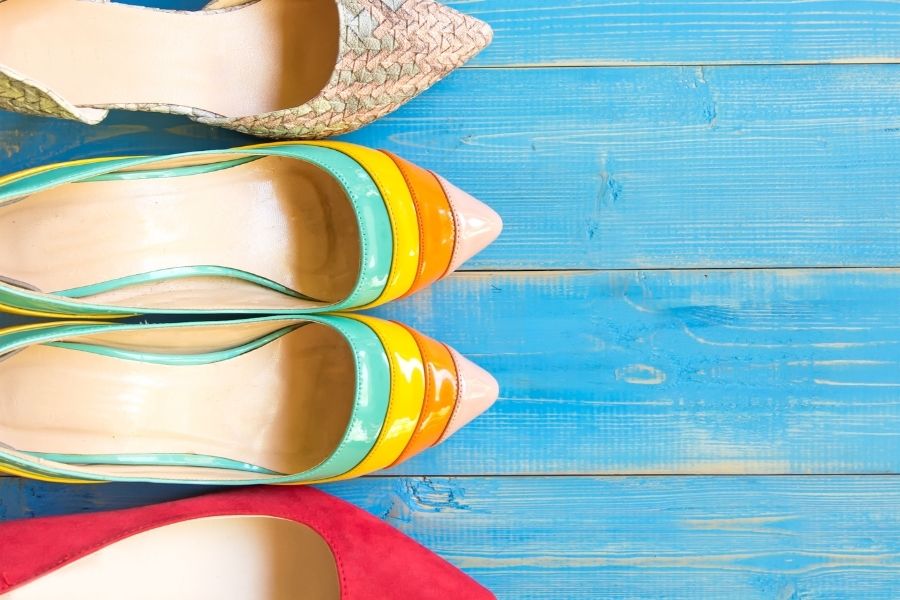 This post may contain affiliate links. If you make a purchase, I may earn a small commission at no extra cost to you. As an Amazon Associate, I earn from qualifying purchases. Read more about these links in my disclosure policy.
4 Shoe Storage Problems to Tackle
Bedroom – Whether you kick your shoes off at your bedroom door, shove them under your bed, or place them in the bottom of your closet, the bedroom is a black hole for lots of shoes that need organizing.
Kids Bedroom – Kids love to get dirty and since they can also be rough on shoes, chances are you probably have several pairs of shoes devoted only to a single task. Church shoes, play shoes, mud shoes, etc. Not to mention the fact kids seem to outgrow shoes in the blink of an eye, so you probably have a few pairs in the next size for those mornings when they wake up and their shoes magically don't fit anymore. All of that makes for a mess of shoes that need to be contained.
Entryway – Everyone walks in and kicks off their shoes. Sure keeping the shoes in the entryway cuts down on the dust and dirt that gets tracked through the house but a mountain of shoes in the living room of a small apartment isn't very attractive.
Car – If you plan to hit the gym before work or the kids have sports practice after school the back of your car is probably full of assorted shoes.
Seasonal Shoes – Tall boots and flip flops are rarely used in the same week but both are important to have in your wardrobe, and organizing or storing your seasonal shoes and special occasion shoes is a necessity.
How To Organize Shoes
We've all seen the designer walk-in closets with floor to ceiling shoe organization cabinets that can store 100 or more pairs of shoes. Unfortunately, we don't all have enough room or access to that kind of space so keeping your shoes organized not only looks nice but is a necessity so you use your space well.
Being able to contain your shoes while also still being able to see what you have makes coordinating an outfit easier. Take a look at these good ideas for organizing shoes.
DIY Wall Mounted Organization
Most of us have usable wall space that's perfect for organization and often overlooked. This clever DIY shoe rack is a smart idea made by repurposing inexpensive curtain rods. Move your shoes off the floor and onto the wall where they are easy to find. Get all the details from Repurpose and Upcycle.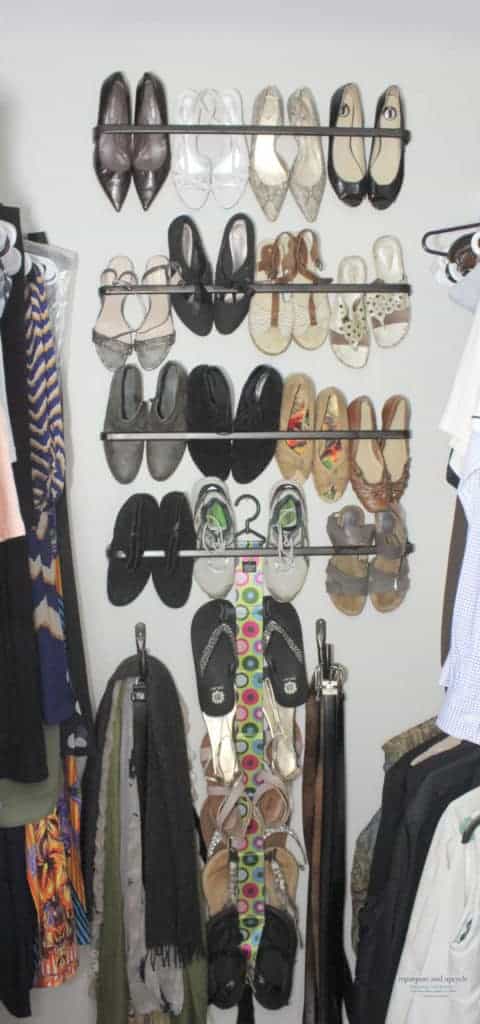 Cardboard Cubbies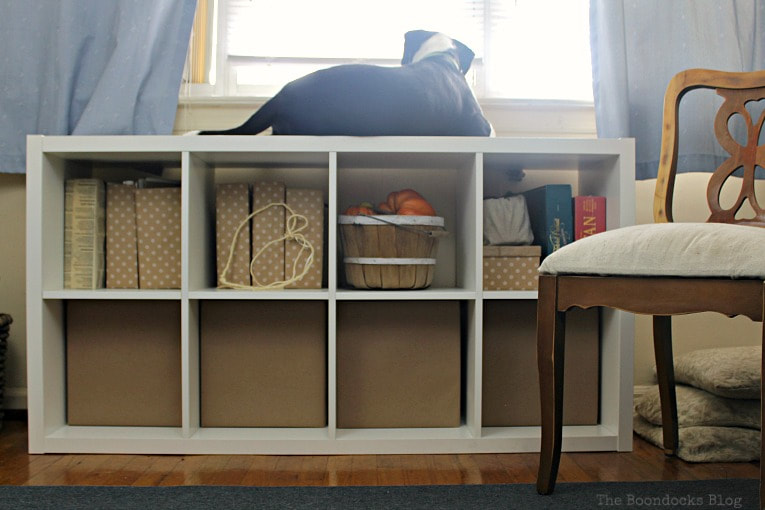 When it comes to clutter such as piles of shoes, sometimes getting the mess covered is the best solution. These simple cardboard cubbies are perfect for organizing shoes in your kids room but would also work well in the entryway to your home. Assign each family member a cubby and organization is a breeze. Learn more from The Boondocks Blog.
Shoe Slots Organizer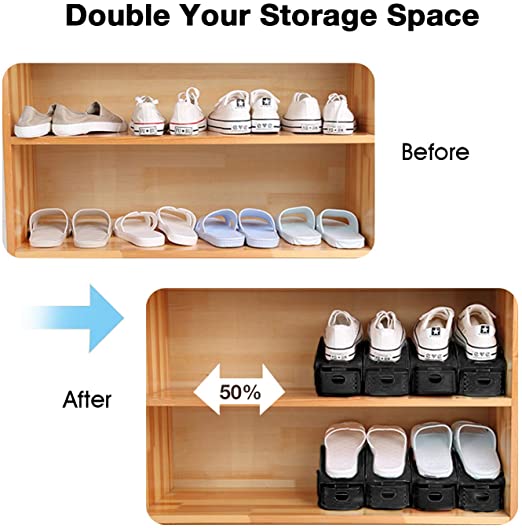 This adjustable space saving organization tool can almost double your usable space on your closet shelves. Click to buy on Amazon.
Shoe Tower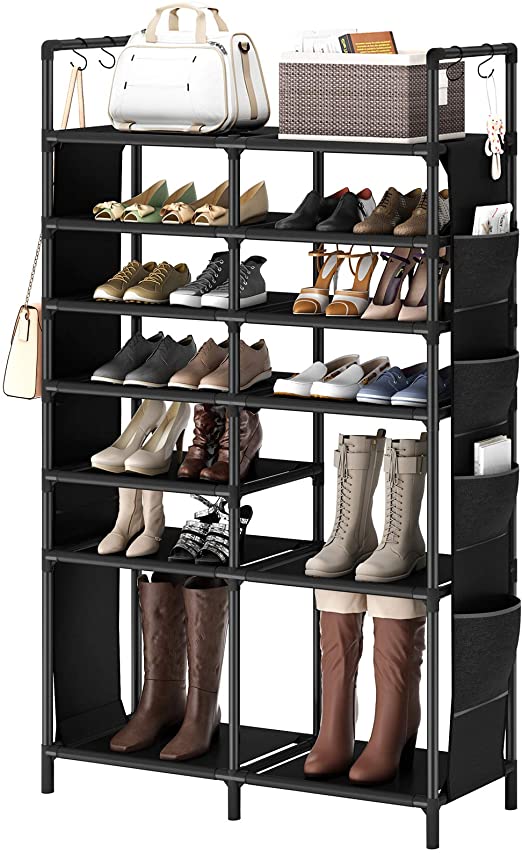 This shoe tower can hold up to 35 pairs of shoes and boots and has pockets and hooks for storing purses and other accessories. Click here to buy on Amazon.
Shoe Organization Bench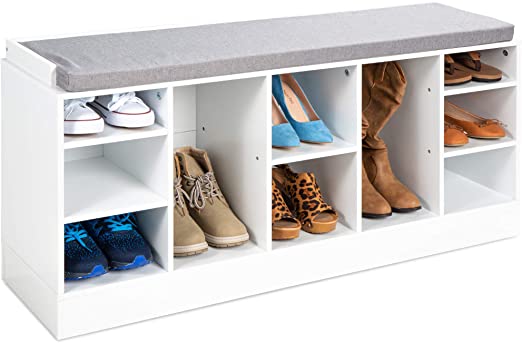 This is actually a storage space that we use in the entryway of my home. This storage bench will keep your shoes organized and also provide you with a comfy place to sit while you put on your shoes. Click here to buy on Amazon.
Related: Amazing Small Bedroom Organization Ideas
How To Store Shoes
You may choose to store your snow boots and other seasonal shoes away from your everyday collection and swap out with the seasons. Check out these shoe storage ideas that will protect your shoes and help you find what you need when the time is right.
Garage Shoe Rack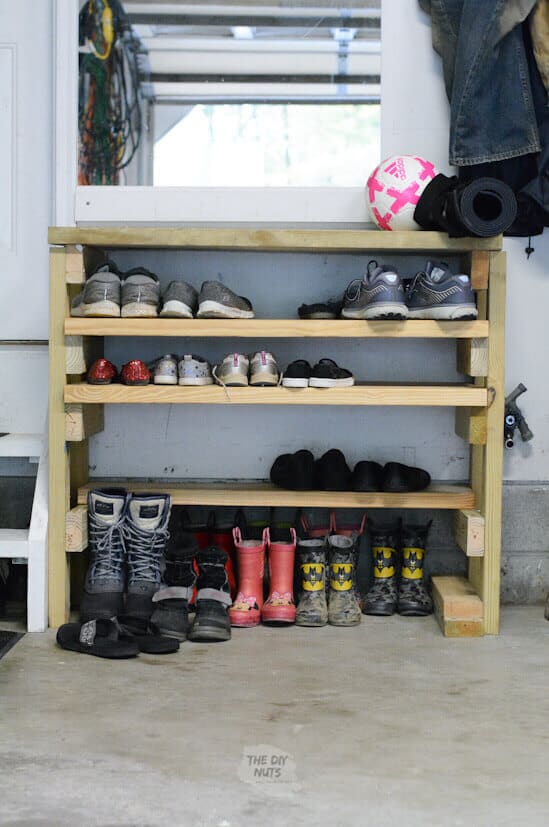 The garage is a great place to store your play shoes and boots when you aren't using them. Learn how to build a simple storage rack from The DIY Nuts.
Shoe Cubbies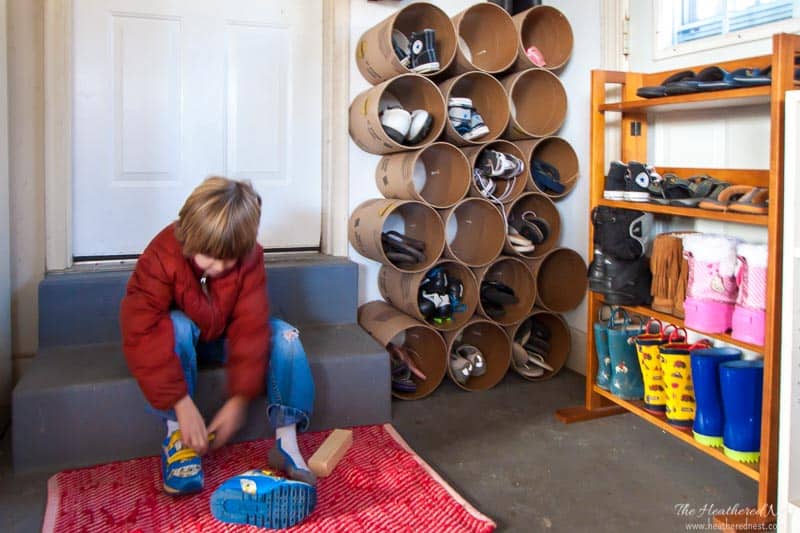 If most of your shoes live in the garage, function is more important that aesthetics when it comes to storing them out of the way. This simple, yet clever shoe cubby is a great way to free up some closet space, and is made using concrete form tubes and zip ties. Get all the details on this great solution from Heathered Nest.
Storage Lockers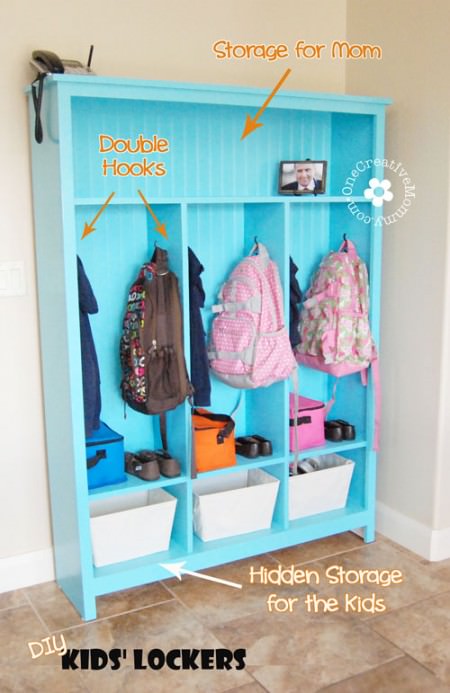 Storage lockers are a fun and practical way to store all those things that seem to pile up by the front door. It's basically a coat rack and a shoe cabinet all in one. Contain backpacks, coats and of course, shoes with this easy DIY project from One Creative Mommy.
Under Bed Shoe Organizer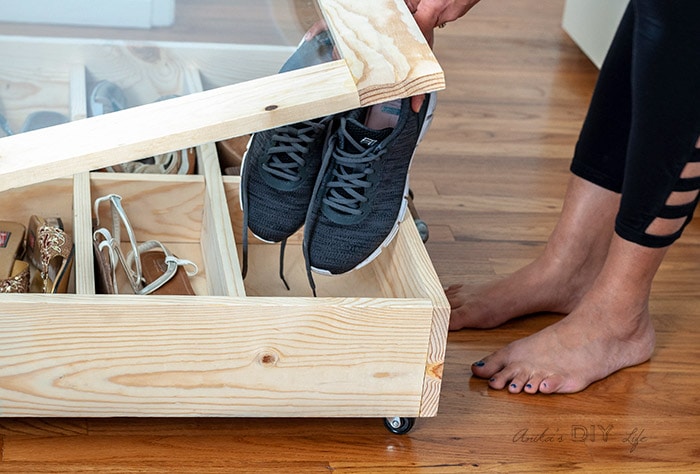 Make use of the unused floor space under your bed with this DIY Shoe Storage project. Not only does this box free up space in a small home and store your shoes, but it protects them from dust as well. Learn how to make it at Anika's DIY Life.
Shoe Care Essentials
Not only is shoe storage important, taking good care of your shoes can make them last longer so you get more for your money. Shoes are your first barrier between your skin and the ground and they are exposed to dirt, weather and wear. If you want your shoes to last a long time, check out some of these shoe care essentials to keep your footwear in tip top shape.
Shoe Care Valet Kit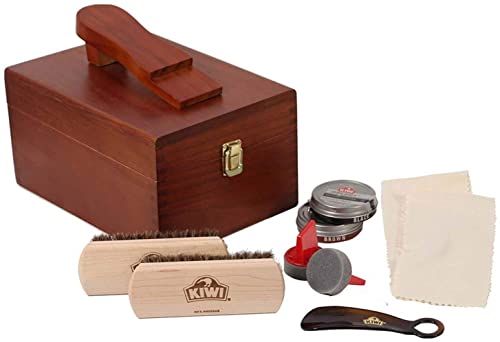 This ten-piece set features a first-class wooden valet box with a foot pedal to make caring for your shoes easy and convenient. Get a professional look in minutes. Click here to order on Amazon.
Pink Miracle Shoe Cleaner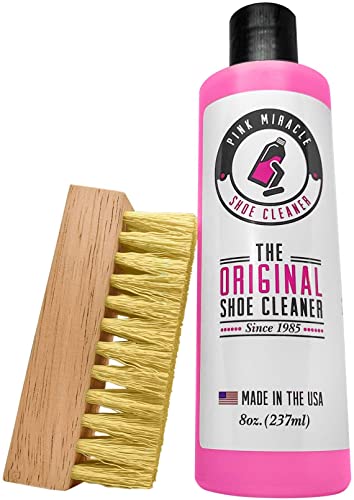 Since 1985, Pink Miracle has been the number one choice for cleaning sneakers and shoes. Whether you are a shoe collector or simply want to clean your kicks and give them a fresh appearance. Click here to order on Amazon.
Adjustable Shoe Tree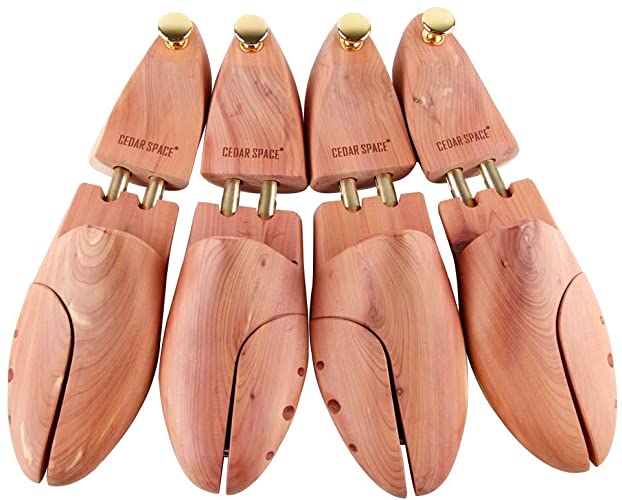 Keep your shoes in tip-top shape with an adjustable cedar shoe tree. These are made in the USA from high-quality cedarwood. Click here to order on Amazon.
Check out our under desk storage ideas to keep your office organized!