Are you hoping to escape to a galaxy far, far away? Fire up the engines as we shoot off to explore some out of this world space bedroom ideas.
A space themed bedroom is popular amongst kids and you are going to love all of these cool ideas to turn your kids bedroom into something stellar. Even if they have a small room with tight space, they will love their awesome space-themed bedroom.
This post may contain affiliate links. If you make a purchase, I may earn a small commission at no extra cost to you. As an Amazon Associate, I earn from qualifying purchases. Read more about these links in my disclosure policy.
Space Bedroom Ideas for Kids
Wall Art
These universe themed wall art pieces are the perfect way to highlight a space themed bedroom without making permanent changes. These prints prove that you can have a focal point with a decorative piece that doesn't have to be expensive or difficult!
This artwork is fun and adds a pop of color just right for a boys or girls bedroom.
Galaxy Star Projector
This galaxy lamp will turn any child's bedroom into a starry sky. The lamp has multiple settings and colors and can connect to your phone via Bluetooth to play your favorite tunes.
Adjust the brightness so you can enjoy an evening under the stars and fall asleep while floating in deep space.
Solar System Model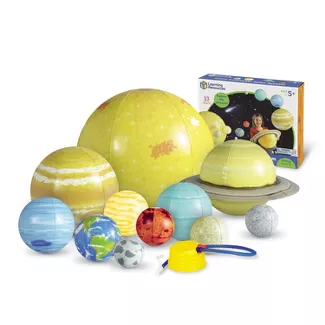 Decorate a kids' bedroom and encourage learning at the same time. This inflatable solar system model demonstrates rotation, revolution, and orbit in 3 dimensions and includes 9 planets, the moon and the sun. This is a must-have piece for any galaxy bedroom.
Glow in the Dark Stars
Glow in the dark star stickers can be applied to walls and the ceiling to create a realistic looking night sky. Extend the fun of your space themed bedroom even after the lights are off. Just 10 minutes of lamp light will provide 8-10 hours of glow time.
NASA Alarm Clock
NASA Space Shuttle night lamp makes a great gifts for space fans. The space shuttle design with light up wings and light up rocket booster base features 4 color options and 2 space themed nightlight filters for added bedtime fun.
Rocket Wall Decal
Any kid is going to love this peel-and-stick rocket wall decal. Completely transform the space in just minutes with this large, easy to apply rocket ship design.
Easily reposition or remove in seconds when no longer needed.
Rocket Toy
A rocket ship play fort is the perfect addition to any kids space themed bedroom. Ideal for boys or girls this indoor tent is the perfect reading area, hideout or space to experience hours of imaginative play.
This lightweight tent can be assembled in minutes and easily stored when not in use.
Outer Space Comforter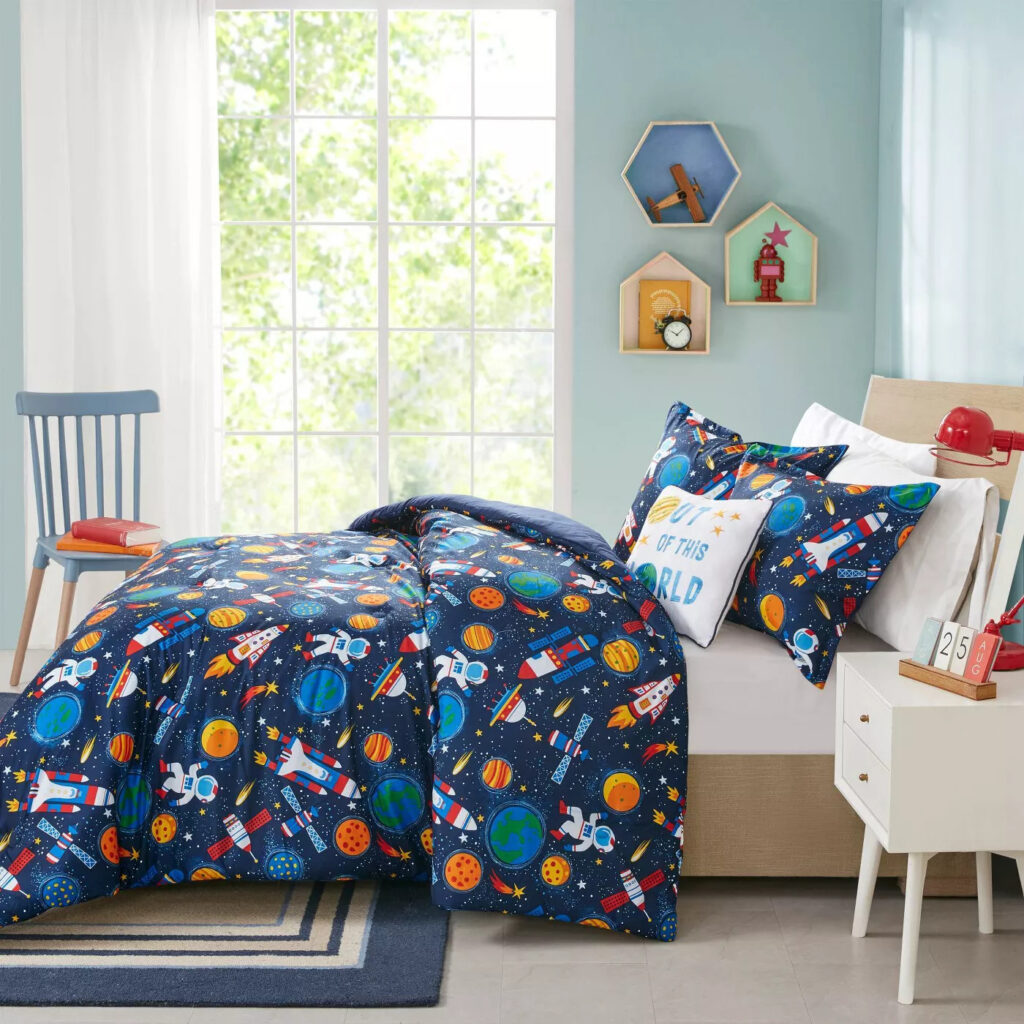 If you need a cool duvet cover or comforter, blast off to dreamland with the Bryson Outer Space Comforter Set. The ultra-soft comforter and shams (1 in Twin/TwinXL) feature a fun space print with spaceships, astronauts, and planets to create an awesome galaxy to explore.
A square decorative pillow is also included adding the perfect finishing touch to the comforter set.
Space Theme Bed Linens
These astronaut sheets are covered in tiny rockets, planets and stars. The kids bedding sets are designed with lovely elements to snuggle kids to sleep.
Make bedtime fun with playful bed sheets featuring cute little space rocket.
Moon Rug
Have you ever wanted to walk on the moon? Now you can with this ultra-realistic moon rug. This soft, non-skid rug will make you feel like you have landed on the moon.
Telescope
No space themed bedroom would be complete without a real working telescope place by the window. Once night has fallen, gaze at the stars and explore the depths of outerspace with this astronomical telescope that features 500mm(f/7. 1) focal length and 70mm aperture, provides stunning views and protects your eyes.
Constellation Chart
Learning about the constellations is a wonderful way to explore science and history and connect with the night sky. This vintage inspired star chart includes the constellations of both the northern and southern hemispheres.
DIY Space Wall
If you are great with a paintbrush, you might want to give this illusion of space wall a go. Colorful, test understated, this outer space wall is the perfect accent piece for any space themed bedroom.
Get all the details from One Mama's Daily Drama.
DIY Outer Space Mural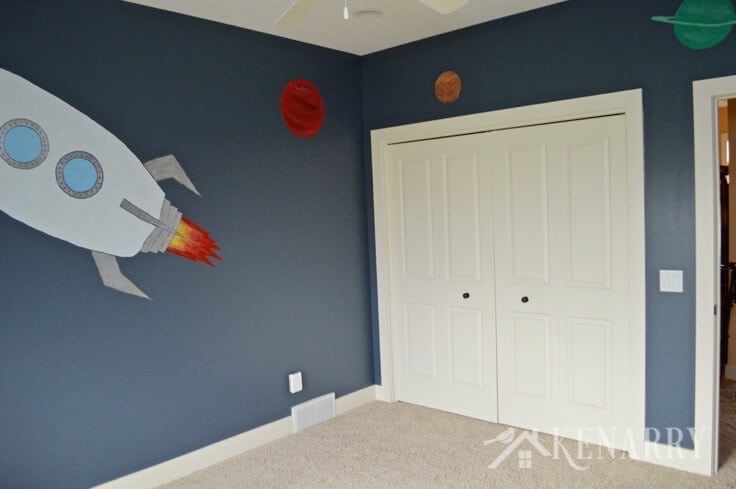 Learn how to paint an outer space wall mural for a boys bedroom using this DIY tutorial from Ideas for the Home and DecoArt paints. It's easy to create a rocket and planets that are out of this world!
DIY Galaxy Jar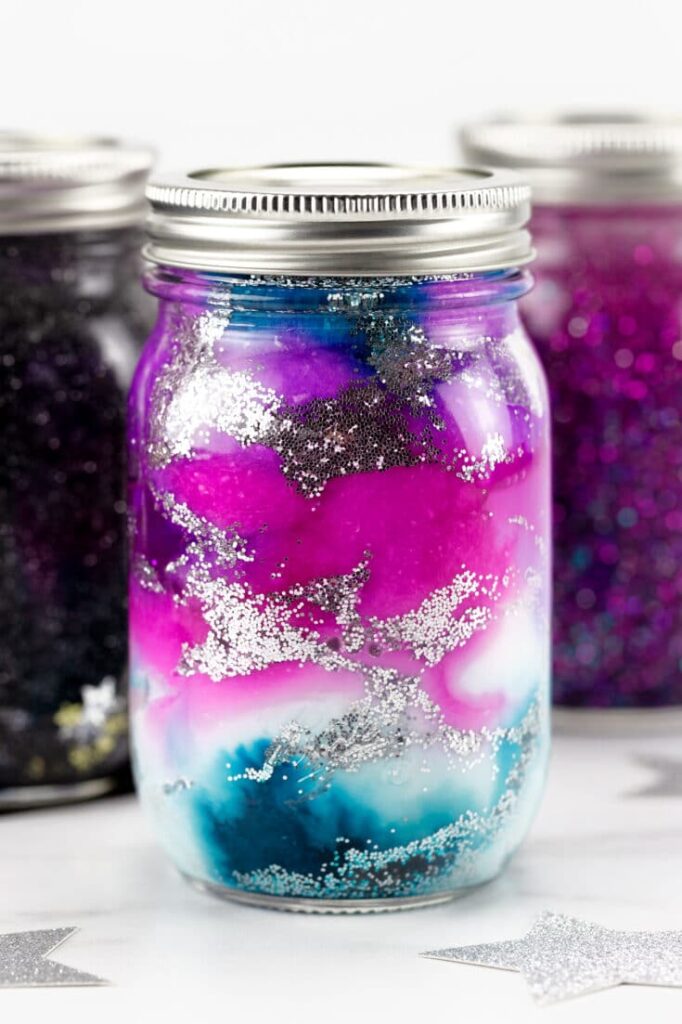 These DIY Galaxy Jars from Fireflies and Mudpies will make you feel like you are holding the universe in your hands. This fun craft is a great sensory activity but also provides some really cool decor for a space themed bedroom.
More Home Ideas You May Like:
Small Bedroom Ideas for Organization
Beach Themed Bedroom Ideas
Ideas to Organize Your Closet Space