When it comes to organizing our office spaces, we often overlook one of the most valuable spaces in the room – under the desk! If storage space is limited in your office, you really can't afford to underutilize this space. There is likely some prime real estate under your desk that would be just perfect for some type of organization tool. We've gathered up some of the best under desk storage ideas on the internet to help you make the most of your limited home office space.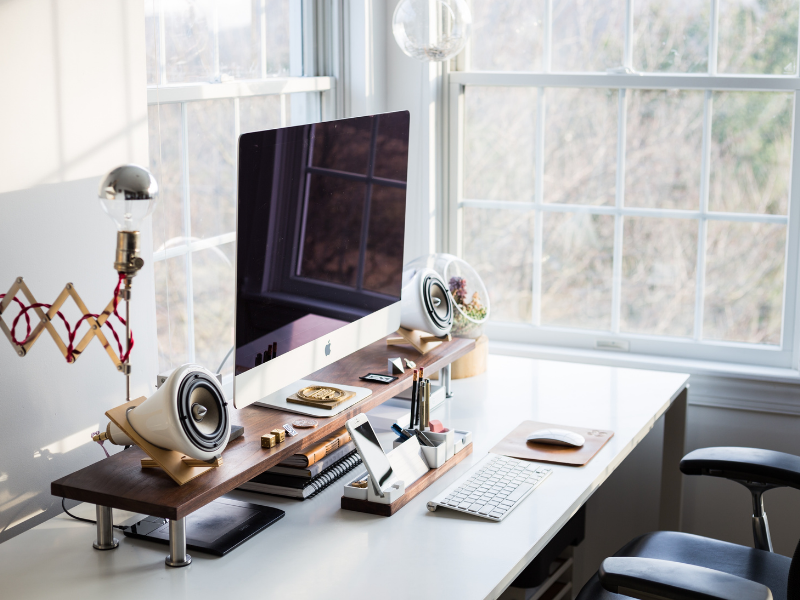 Now that you've designed the perfect home office space, it's time to get it organized. An organized office space doesn't just look nice, it's more functional which means you'll also be more productive.
And you certainly won't be very productive with messy desktops, sticky notes all over your work space, and small items scattered in your desk drawer. A cluttered work area leads to a cluttered mind (or at least it does for me).
Here I'm sharing my favorite drawer organizers, home office storage ideas, and other solutions to organize and clear up your valuable desktop space. I hope you enjoy these 12 ways to maximize your under desk storage.
This post may contain affiliate links. If you make a purchase, I may earn a small commission at no extra cost to you. As an Amazon Associate, I earn from qualifying purchases. Read more about these links in my disclosure policy.
Creative Under Desk Storage Solutions
1. Hanging Tray Organizer
I don't know about you, but to me this paper tray organizer is just oddly satisfying. No need to have a pile of papers stuffed in a drawer or closet when you can sort your papers, card stock, colored paper, and sheets of labels with this paper tray.
A hanging tray organizer is strong enough for repeated use and keeps important documents at your fingertips but out of the way so they won't clutter the surface of your desk.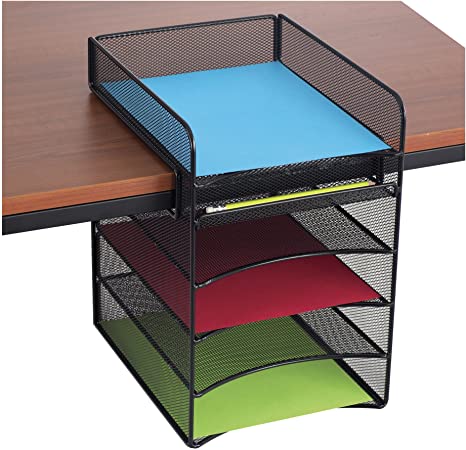 2. Clamp-on Organizer
Why have a desktop tray when you can have an under-desk tray? This sturdy clamp-on organizer rotates out and provides you with a simple under desk storage solution for pens, pencils, paper clips and more.
I'd say this is the best option for an organized desk if you have a workspace like me that doesn't have built in drawers for all those little clips and bits.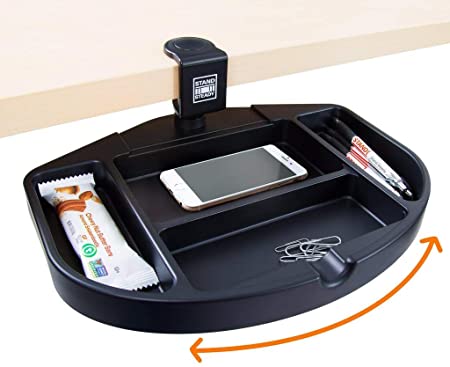 3. Printer Stand
If you have a printer on top of your desk, you are definitely missing out on tons of available space to work! Store your printer and all of your extra paper neatly under your desk with this printer stand. It holds up to 44 pounds so it's perfect for even larger printers, plus has additional storage with enough space all your printer supplies.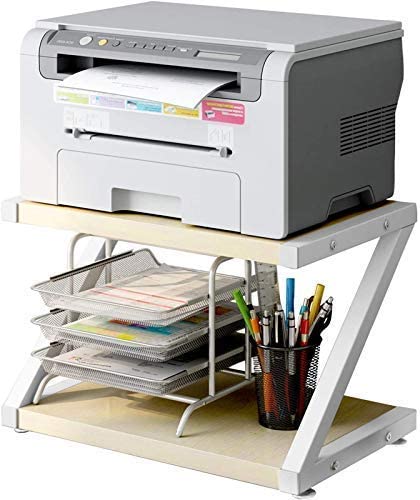 4. Small Filing Cabinet
This small 3-drawer filing cabinet is perfect for tucking underneath your desk space. Its modern look is beautiful (I mean really, this filing cabinet is cute) and it comes in an array of colors. Plus, it's on casters so you can easily roll it around so it's exactly where you need it.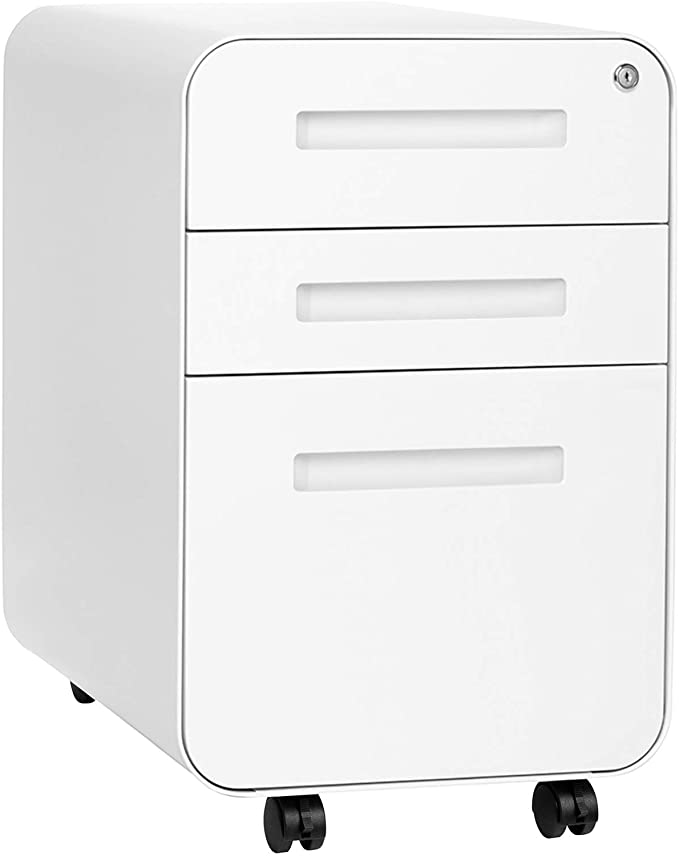 5. Under Desk Cord Management
While I'm pretty sure you know the importance of surge protectors for your office equipment, that really does nothing for all the cord clutter that you still inevitably have. And let's be honest – there is nothing worse than having the space beneath your desk cluttered with unruly cords and cables.
You could probably use a binder clip to keep all your cords bunched together, or you could go for a great alternative. This under desk cable management system tucks everything in nicely so you have a clean and clear under desk space.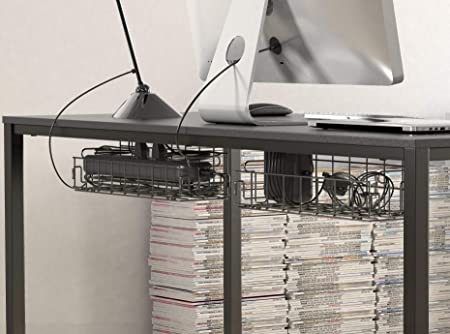 6. Cable Management Box
For another good solution to organize your electrical mess – this alternative cord storage system hides power cords, keeps your cords organized and doesn't require you to attach anything to your desk. Pretty sleek if you ask me, and a good idea for those small spaces.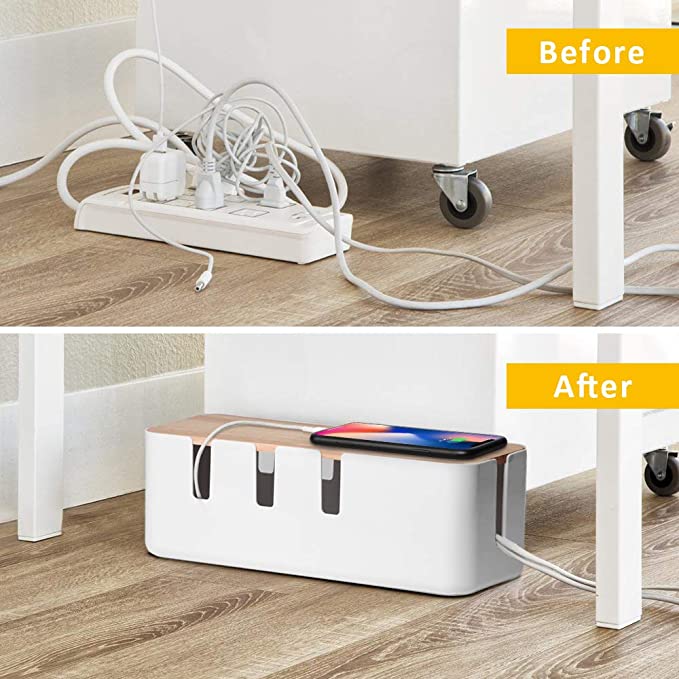 7. Slim Cart
Even if you don't have space for this in your office, I think a rolling cart is a great little organizer for almost any room! This rolling slim cart lets you take advantage of front-to-back space under your desk while still providing you with ample legroom. Plus the open shelving lets you have storage options and easy access to a variety of small accessories and small office supplies – all within arms reach.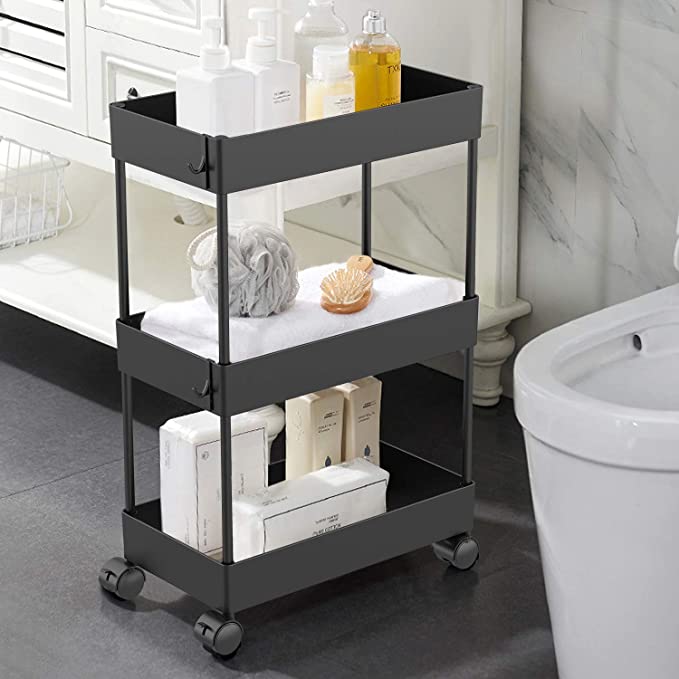 8. Vertical Hanging File
Think magazine holders, but under the desk and with more visual appeal. Don't lose any desktop space with this handy hanging vertical file. The storage unit quickly connects to your desktop providing file and document organization below the surface that's always within easy reach.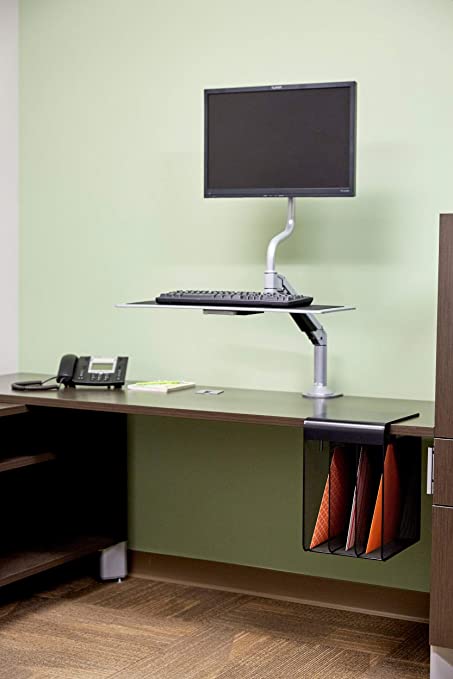 9. Keyboard Tray
This handy keyboard tray frees up a ton of desktop space and also places your keyboard and a more comfortable level so you avoid fatigue when working long hours.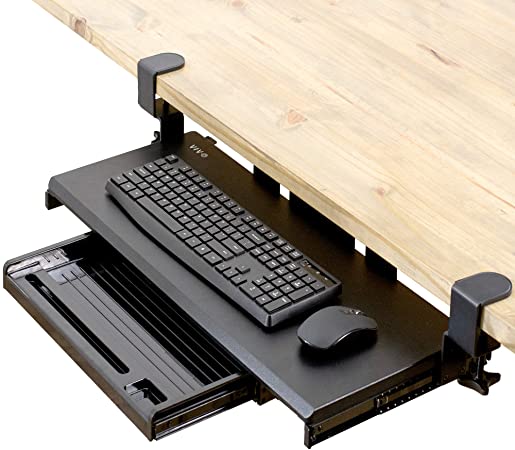 10. Under Desk Charging Station
The under desk charging station comes with three ports and  includes two cable clips that install underneath your desk to ensure no wires can be seen for a clean and organized workspace. Perfect for charging smart phones, ear buds, and other important gadgets.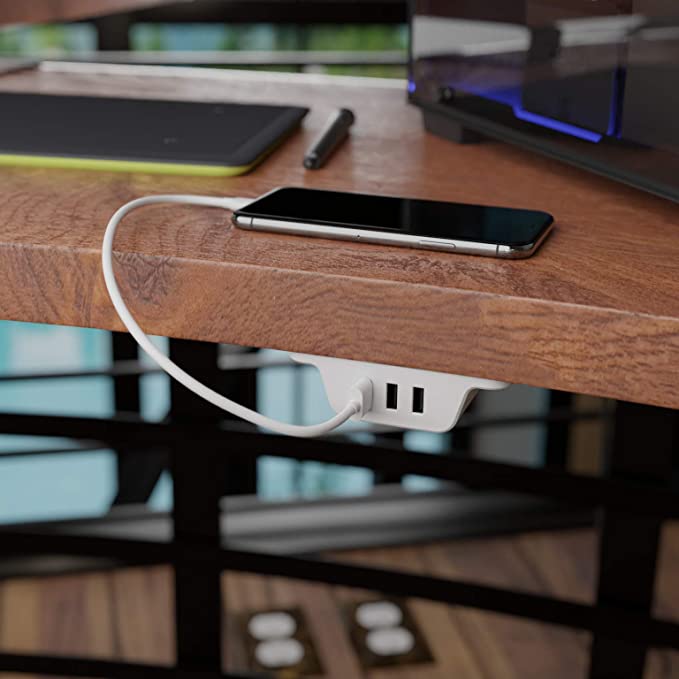 11. Wall Outlet Shelf
This wall outlet shelf and surge protector is a brilliant way to add storage above a wall outlet under your desk. It's perfect for setting a computer speaker, electric pencil sharpener or other small tool that's not often needed.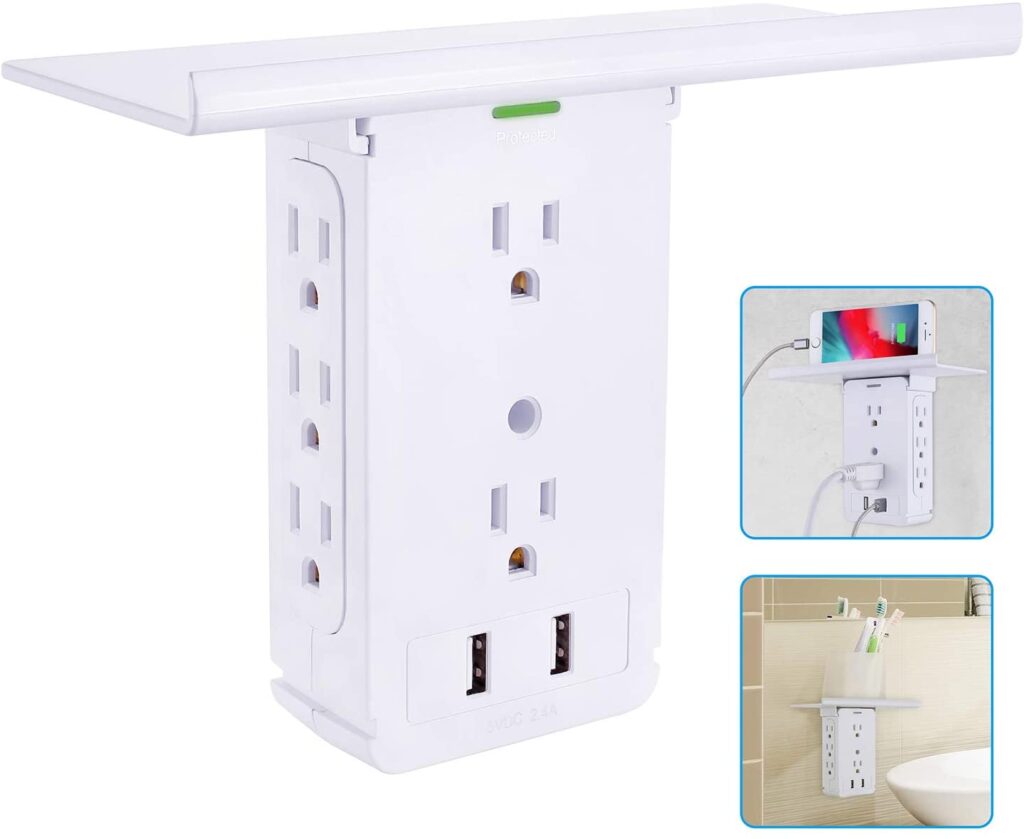 12. Monitor Riser
Although not quite an under desk storage hack, this handy monitor riser sits under your laptop or desktop monitor and adds storage without losing any surface area. I actually have two monitor risers on my desk (for my dual monitors) and they have been super helpful for helping me keep a tidy desk!