Hello and welcome to The Old Summers Home! Today I want to tell you all about our crazy sock conundrum. First off what is it with companies selling children's socks that have one matching pair in a six pack? Are they trying to make us all go insane? Sigh, I recently found these socks on Amazon for children and they all match. You are welcome hahaha. So I needed something to put all our unmatched single socks in and that's how I came up with the wire basket tutorial for socks! This is a pretty simple project just a bit slow going with the wrapping. But it is worth it in the end.
Supplies
hardware cloth
2 pieces metal wire approx. 7″
work gloves
wire cutters
needle nose pliers
twine
paint stick or thin piece of scrap
vinyl letters or fine paint brush and paint
How to make your wire basket
Step 1 – Cut out your wire basket
First you need to lay your hardware cloth down on a flat surface and determine the height, width and length you would like. I chose to go 8 little squares for height, 8 for base width and 25 for length. Therefore I needed 25+8+8 for my total length of hardware cloth by 8+8+8 for total width. Mark from the edge 8 squares up and repeat from other edge to make a square. I simple just notch where I want to start and end then go ahead and cut out the corners. Once you have all four corners cut out make sure to trim any longer pieces back.
Step 2 – Shape your wire basket
Second step is to fold your hardware cloth into your sock box. You can use a flat hard object like a metal ruler or square in order to help bend the sides up. Do this for all four sides, this step can be a little bit tricky to get perfectly flat sides. Once you have your box shaped double check for any more long wires because you do not want to get scratched in the next step.
Step 3 – Tie your wire basket
Thirdly, you are going to take some twine and knot it starting in which ever corner you would like. Then you are going to wrap all of your sections with twine holding the sides together. TIP: use thicker twine to make it go faster, my twine was pretty thin there for my wrapping took a very long time. However you could always do this while watching your favourite show and within an episode or two you'll be done haha. I wrapped twine around all of my edges because I wanted it to have as much twine as possible in order to bring out that farmhouse feel.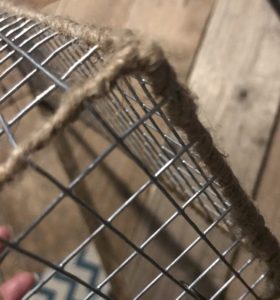 Step 4 – Make handles
Fourth step is to take some metal wire and shape into handles and wrap the ends around the sides of your basket. I actually used two pieces of tie wire for rebar because they have the perfect little loops in the ends and the size is perfect for.
Step 5 – Decorate it
The fifth step is to take a thin piece of wood like a paint stick and cut it down to size to fit on your basket. I have tons of thin scrap wood so I utilized a piece of that instead. I then cut out my saying using my silhouette cameo onto permanent vinyl and attached to the wood. If you don't have a cutting machine you can use paint and a brush just as easily. Drill two tiny little holes and insert some twine through them and then secure to your basket.
Make a wire basket for any room
That's all there is to completing this simple wire basket. You can use this method to make any size of basket you want for any place that needs a little 'catch all' with some decor value. Because this basket is so versatile and easy to make you could use them for every room in the house!
Thanks so much for joining us at The Old Summers Home . I hope you enjoyed this simple decor project, be sure to check out some of our other DIY projects like our cheese grater up-cycle. If you would like more ideas delivered straight to your inbox, then sign up for our newsletter and join our journey!
Until next time;
Jenn Summers
The Old Summers Home