Creating the perfect bedroom for your little girl doesn't have to break the bank! With a bit of creativity and ingenuity, you can design a fun and stylish space that will grow with your child while staying within your budget. Here we are sharing some beautiful toddler girl bedroom ideas on a budget that are both easy to achieve and delightful for your little princess.
In each home we've lived in, decorating my little girl's bedroom has been one of my favorite projects to do. I just love creating the perfect place for her, and I came up with so many cute ideas that didn't cost a ton of money! Between second hand furniture and fun DIY projects, you'd be amazed at what you can do (even if you are working with a small bedroom and not a lot of creativity haha).
So come along and check out these budget-friendly ideas for toddler girl bedrooms, from accent walls to DIY projects and unique decor tips. I hope I'm able to give you plenty of inspiration to turn your toddler's room into a space that both you and your child will adore.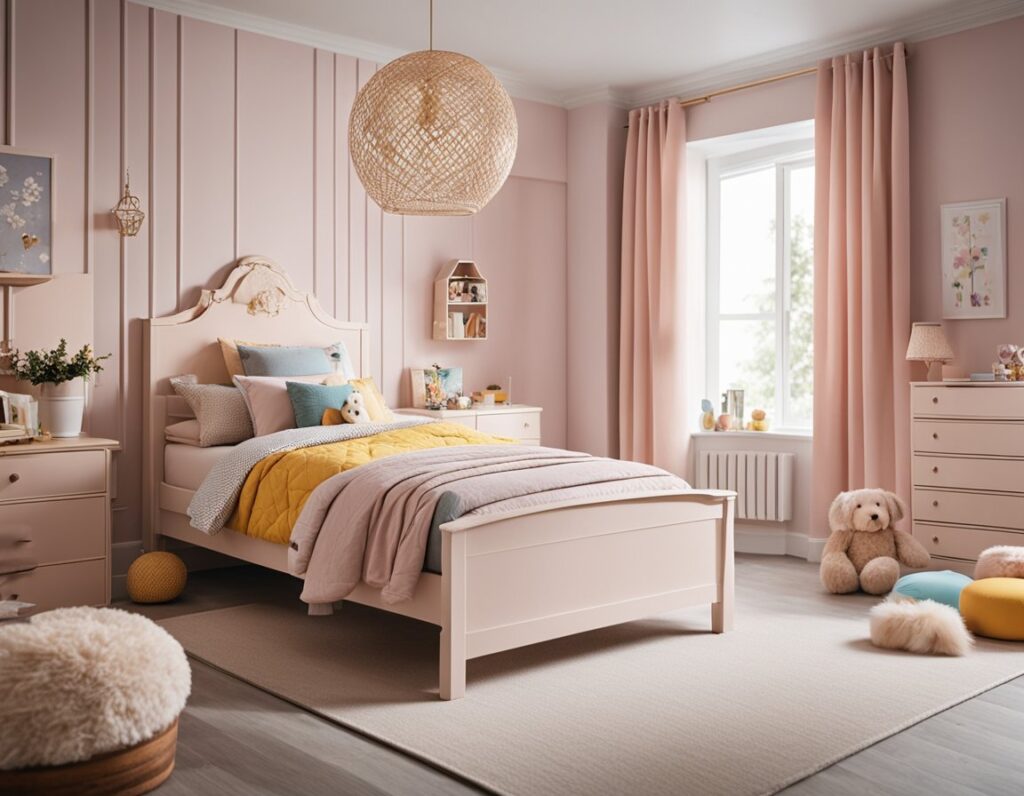 This post may contain affiliate links. If you make a purchase, I may earn a small commission at no extra cost to you. As an Amazon Associate, I earn from qualifying purchases. Read more about these links in my disclosure policy.
Establishing a Budget
When it comes to decorating any space in your home, creating a budget is crucial. And with all of the adorable bedroom furniture and decor options out there, sticking to a budget for this project can be HARD. But by setting a realistic budget ahead of time, you can find exactly where you want to splurge a little and where to cut costs.
First determine how much you're willing to spend on the project. Make a list of essential items such as furniture, bedding, and lighting, as well as additional decor like wall art and storage solutions. Allocate specific amounts to each category, keeping in mind that certain elements might be more expensive than others.
Next, prioritize which aspects of the room are most important to you. If you're keen on a particular theme, focus your budget on items that will help bring that vision to life. Remember, there's no need to buy everything new; second-hand stores, Facebook marketplace, and local garage sales can lead to unique and budget-friendly finds.
And don't underestimate the power of DIY! Even if you don't consider yourself a "handy" person — many creative and budget-friendly ideas can be achieved by using a little paint. By taking on some projects yourself, you'll not only save money but also add a unique and personal touch to the room.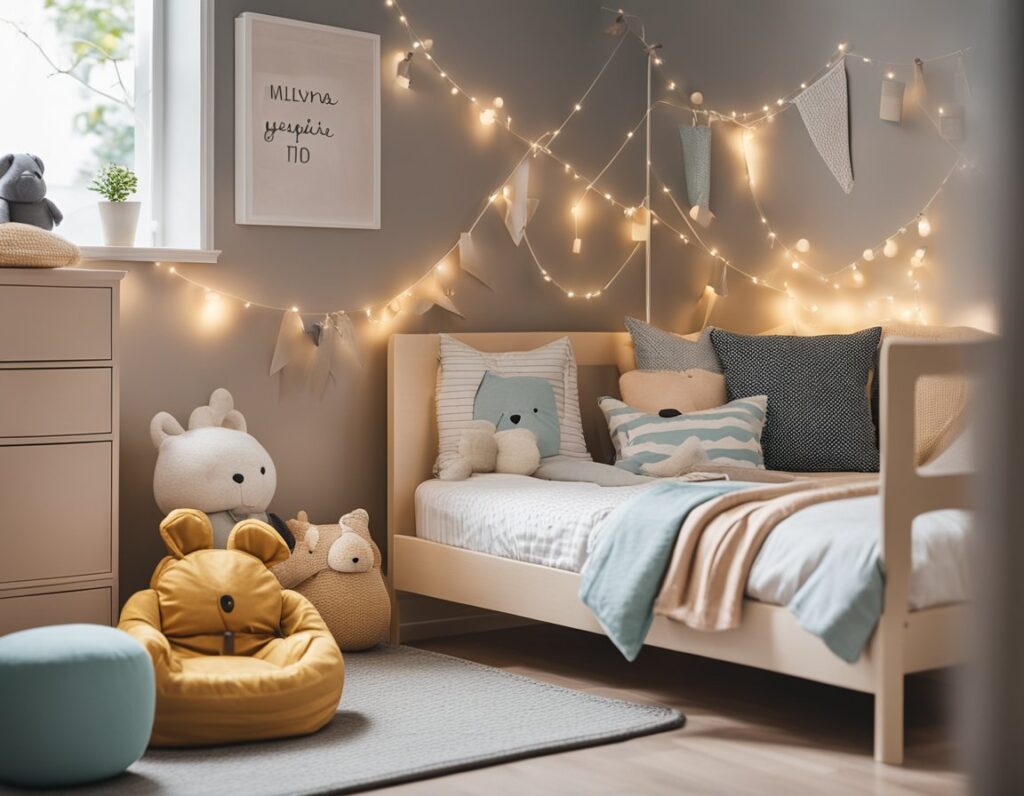 Choosing the Right Color Palette
When it comes to creating a magical space for your little girl, choosing the right color palette is essential. By selecting a few complementary colors, you can easily transform her room without spending too much money.
(I like to scan Pinterest or Instagram for inspiration, and then I take those ideas and put my own spin on them to fit our needs and preferences.)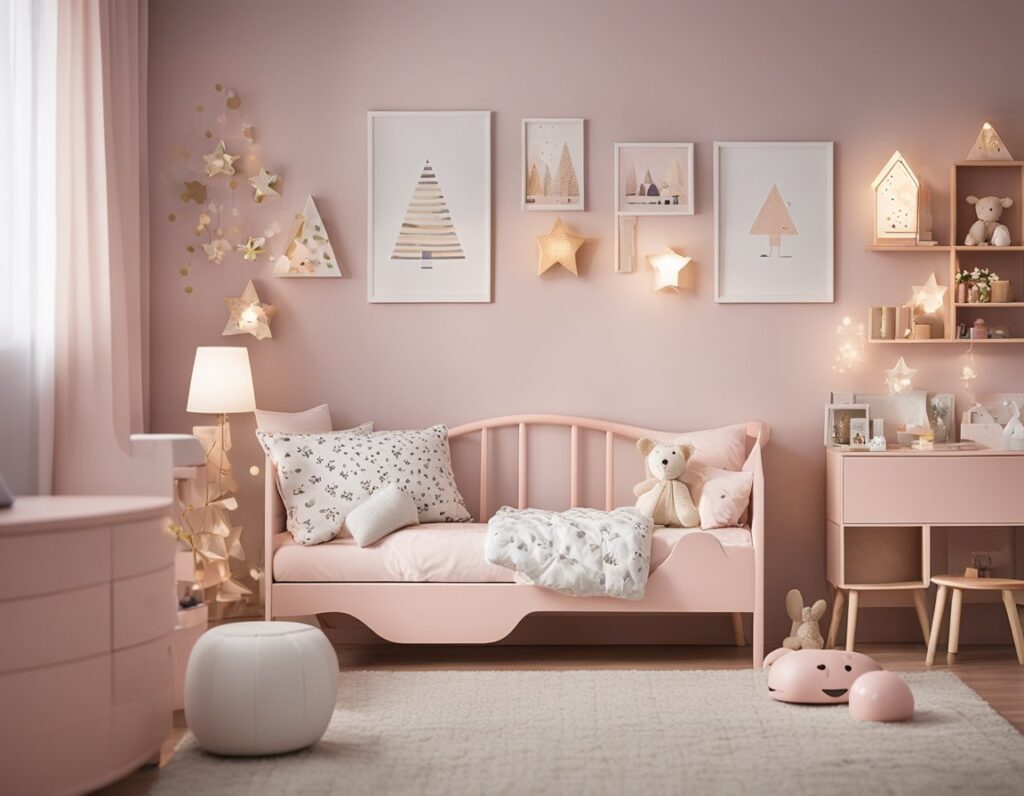 Pink is always a popular choice for a girl's room, but you don't need to go overboard. Opt for lighter shades of pink, paired with neutral colors like white, gray, or beige. This will create a fresh and clean look that your toddler girl will love. Accent this main color with pops of more vibrant colors, like ocean blues, sunny yellows, or soothing greens.
If you want to add a little excitement to her space, consider using a rainbow color scheme. Use pastel shades of multiple colors, and be sure to balance them out across the room. A fresh coat of paint on a single accent wall or even stenciled patterns can make a big impact without breaking the bank. Wall decals are also budget-friendly (and temporary!) options to add character to the room.
When picking the paint color for your toddler's room, it's crucial to choose a wall paint that's easy to clean. Look for washable, low-VOC (volatile organic compound), and non-toxic paints.
If you are feeling courageous, let your little one be in charge of the wall color selection process. It could be interesting, but it's a unique way to give her the room she will love!
Meanwhile, here are some ideas for a color palette that work well together:
Light pink with white and gray
Pastel rainbow with neutral tones
Ocean blues, sunny yellows, and soothing greens as accent colors
Creating a beautiful bedroom for your toddler girl doesn't have to be expensive. By selecting the right color palette and using budget-friendly decorating ideas, you can easily transform her space into a cozy, inviting space she will adore.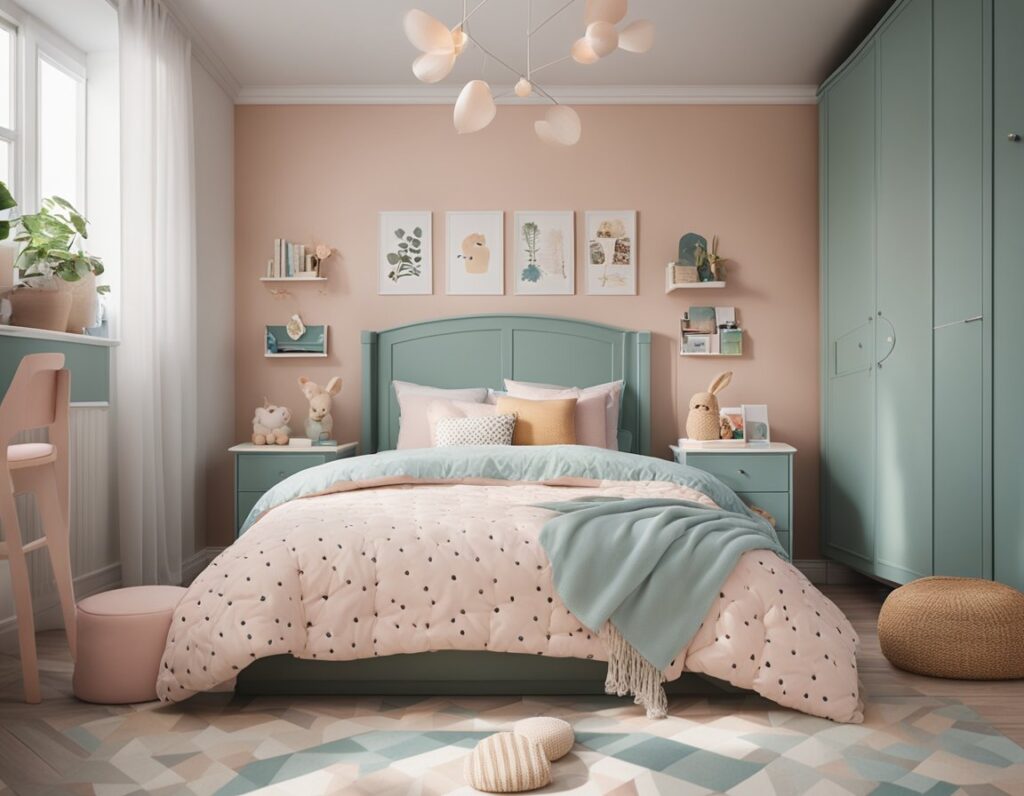 Creative and DIY Decoration Ideas
I admit I am not the most creative person on the planet, but I'm all about some DIY projects that can save a little money! Here are my top tips:
First, repurpose and upcycle older furniture and decorations from different parts of the house. Look for old shelves, cabinets, or chairs that can be repainted or refurbished. A fresh coat of paint or some cute decals can help renew their charm and make them perfect for your toddler's room.
Use your imagination to create unique and playful accents for your child's bedroom. One great idea is to craft a DIY rainbow accent wall using low-cost acrylic paint or even using colored removable vinyl stickers. This colorful statement not only adds an element of fun, but it can also be a learning tool for your little one as they get familiar with the different colors.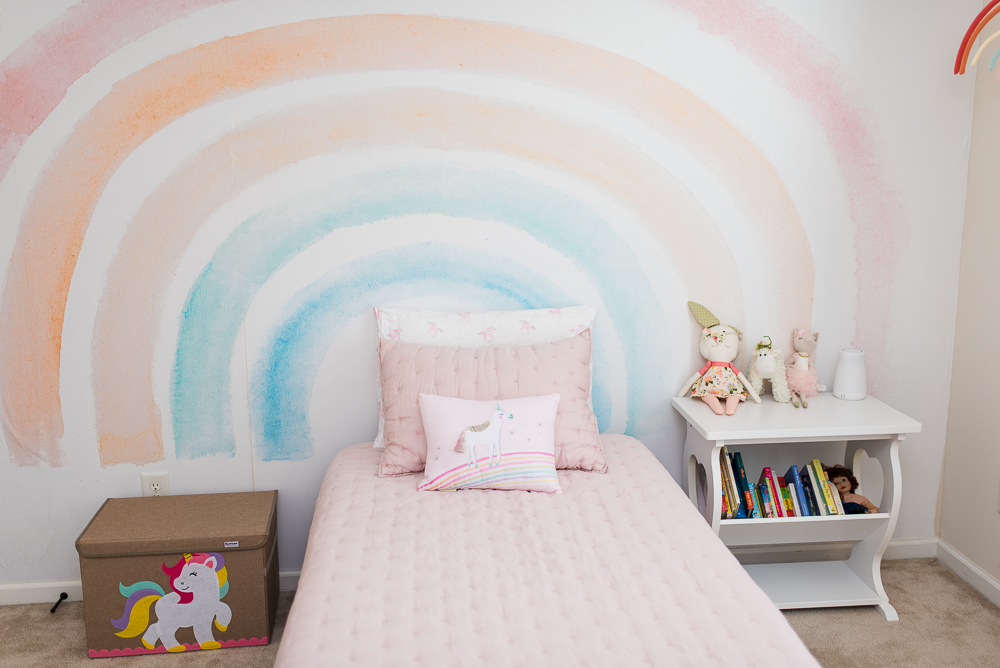 I bought rainbow mural wallpaper for my daughter's room, but that can be pricey. You can recreate the watercolor look by using a sponge and watering down paint!
Get crafty and make your own decorations, like using balloons as a part of your kid's room decor. My son once had hanging jellyfish made from paper lanterns and crepe paper streamers. (I bought those from etsy, but I think they'd be simple to make!)
Incorporate creative storage solutions, such as turning old crates into wall shelves or a rope and wood swing shelf for a touch of whimsy. These additions are practical yet cute, keeping the room tidy and stylish at the same time.
I really love personalizing the space with handmade or meaningful items. Create a cozy reading nook using cushions, blankets, or a repurposed canopy to inspire a love for books and stories. Add your child's artwork, family photos, or favorite knick-knacks on shelves to make the room truly their own.
Wall Art and Decorations
Adding wall decor to your little girl's room is a fantastic way to tie the whole room together with whatever theme or color palette you choose. Just a few little details can really make a big statement!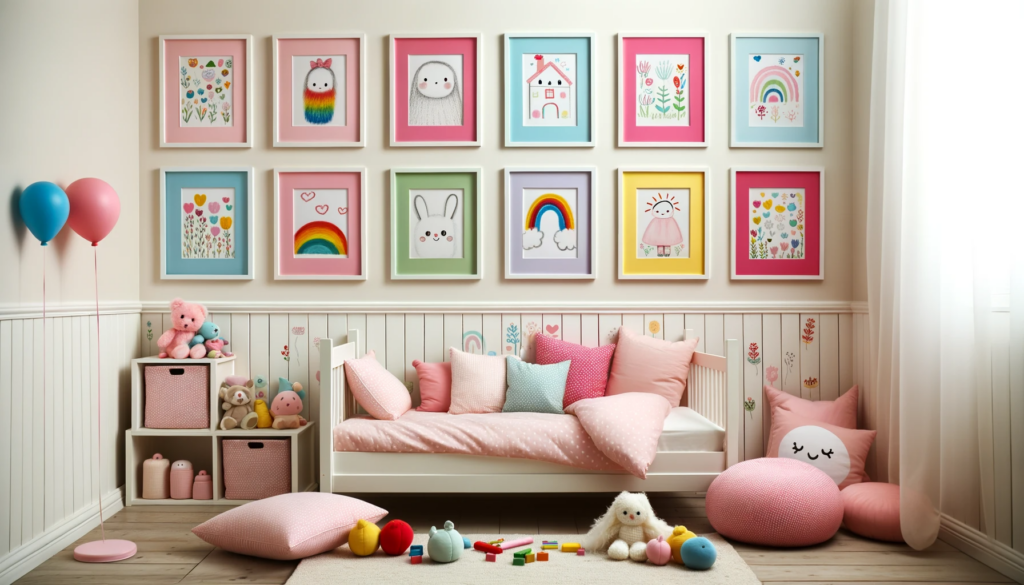 Start by creating a wall gallery to showcase your child's art and personality. You can mix and match colorful frames that you may already have or find at thrift stores. Fill them with your toddler's artwork, family photos, or inexpensive prints to add a personal touch. This way, the wall comes alive with cherished memories and colorful designs.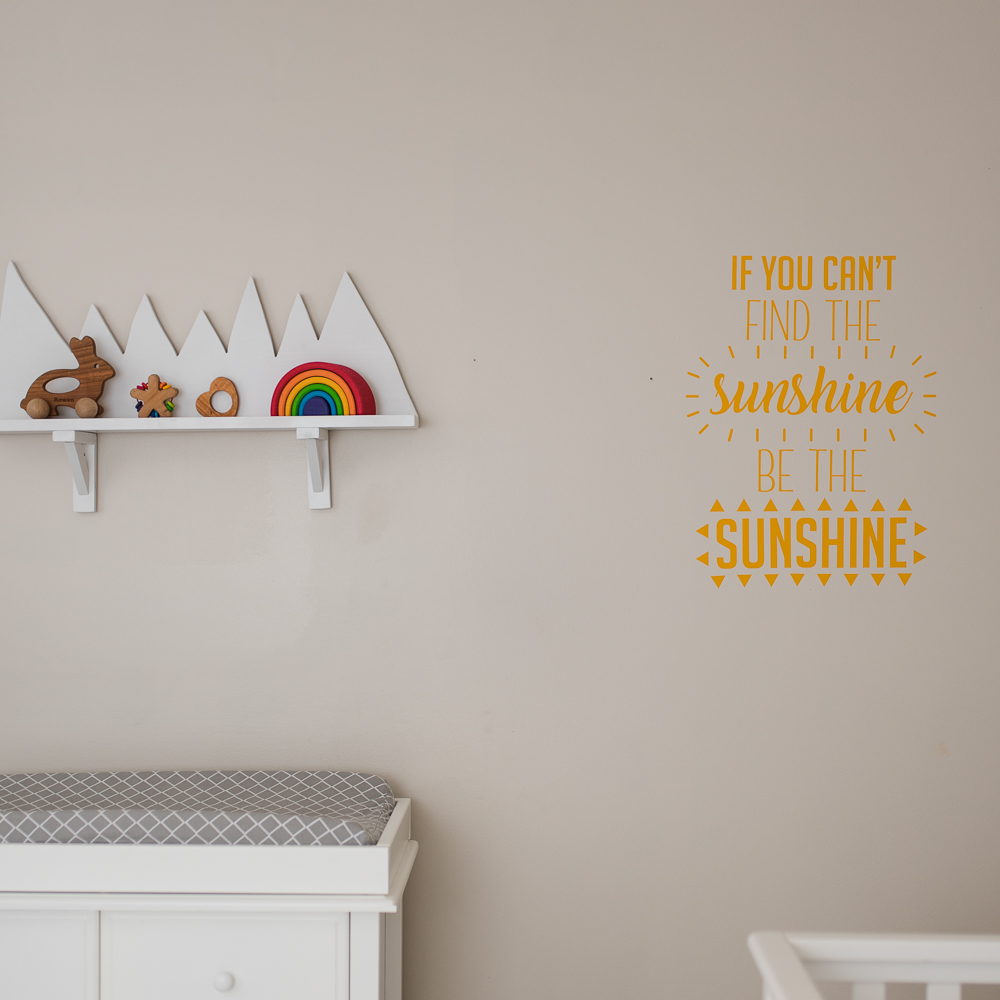 Wall decals are another affordable option to brighten up your toddler's room. You can find them in a variety of themes, such as animals, flowers, or even a favorite cartoon character. Simply peel and stick them to the wall to create a unique and easily changeable scene. Glow-in-the-dark stars can make a fun bedtime atmosphere.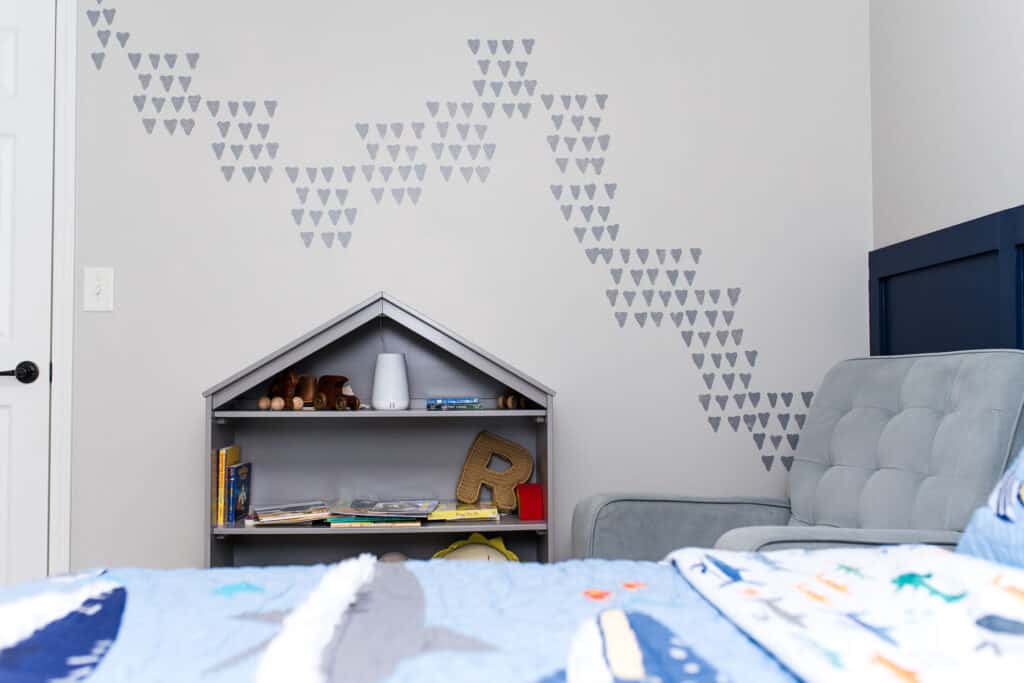 How about a feature wall?? Unleash your creativity with a wall mural or wall stencil to make a big impact on your little girl's space. Draw a nature scene, a rainbow, or her favorite characters using paint or washable markers. You can also use a reusable stencil to create geometric patterns or shapes that match the room's theme.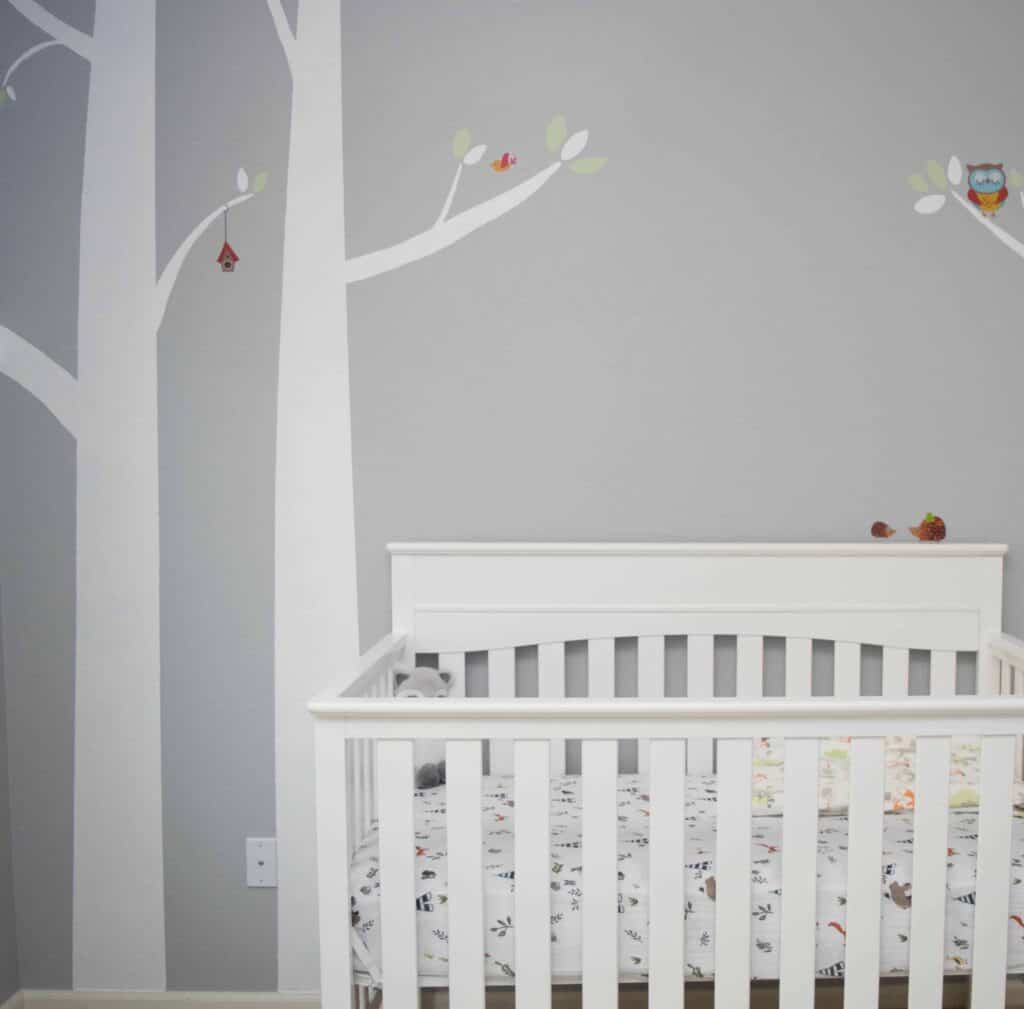 I painted this woodland scene in my son's baby nursery. It was super easy, and I added vinyl stickers of woodland creatures.
A fun and functional addition to your toddler girl's room is a chalkboard wall. Use chalkboard paint to transform a small section of the wall into an erasable canvas. Encourage your child to draw and express herself while also having an ever-changing decoration in her room.
Finally, don't overlook the power of simple wall decorations such as banners, garlands, and posters. A homemade or store-bought banner can bring color and charm to the room, while a simple string of fairy lights adds a magical touch.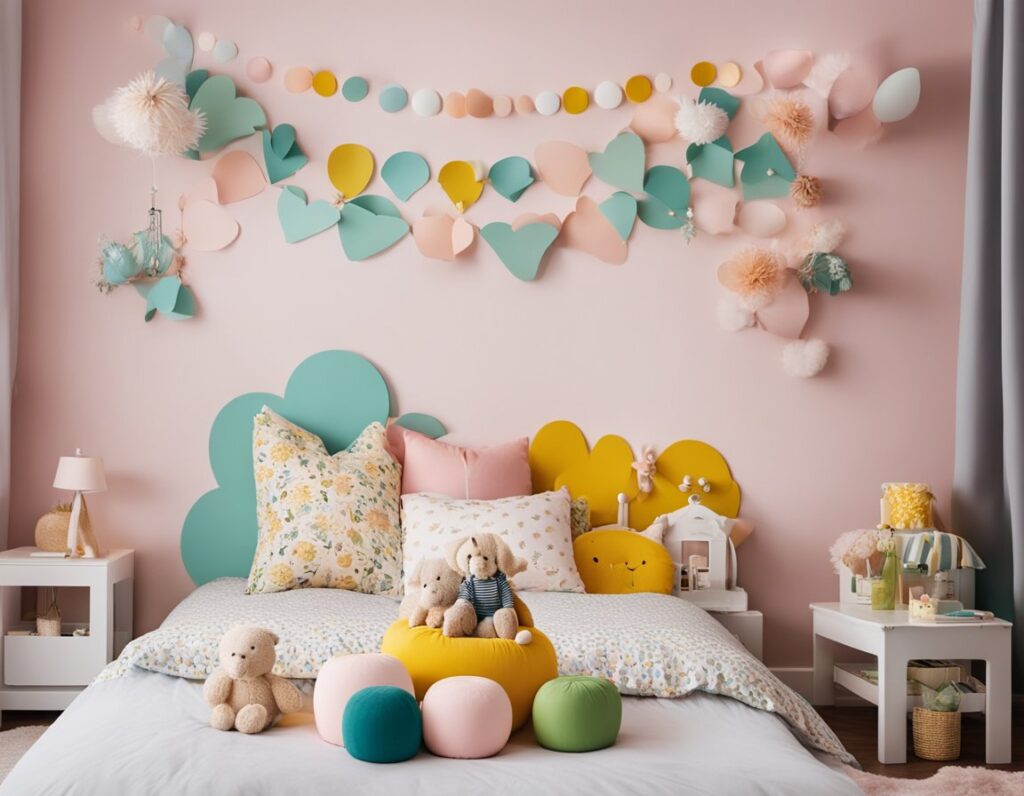 These colorful garlands are super easy to make with some colorful cardstock paper or pieces of felt, and some string or yarn!
Even if you have plain white walls, some wall art and decorations will surely make your toddler girl's bedroom a cozy and inspiring place for her to grow and learn.
Choosing Toddler-Friendly Furniture
When furnishing toddler bedrooms, it's important to focus on furniture that is both functional and appealing to your little one. Here are some suggestions for budget-friendly furniture:
Canopy Bed: A canopy bed adds a touch of whimsy and charm to any little girl's room. You can find affordable options online or even create your own using a simple bed frame, some fabric, and a few nails.
Nightstand: A nightstand is a functional piece of furniture that provides space for your child's lamp, books, and other bedtime essentials. Repurpose a small stool or side table as a cost-effective alternative to a store-bought nightstand.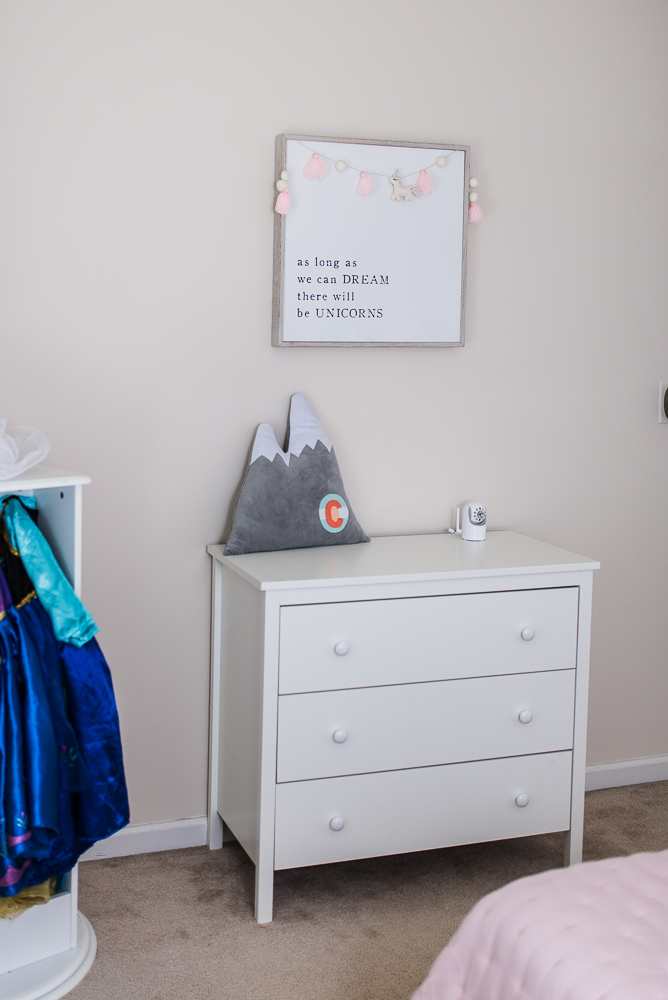 Chest of Drawers: Storage is key in a toddler's bedroom, and a chest of drawers is a practical solution for organizing clothes and other belongings. Look for budget-friendly options at secondhand stores or garage sales, and personalize it with a fresh coat of paint or new hardware. Another alternative is using a cube shelf with fabric cube storage baskets instead of a dresser. These are often more affordable than a dresser or chest of drawers, and are easy for a young child to use when choosing their clothes.
Daybed: A daybed is an excellent choice for a little girl bedroom because it can double as a seating area during the day. To keep costs low, consider converting a twin bed into a daybed by adding decorative pillows and a cozy throw blanket.
Bunk Bed: If space is limited or you're planning for siblings to share the room, a bunk bed is a functional and space-saving solution. Shop around for budget-friendly options, or consider building your own using a DIY bunk bed plan.
Whatever you choose, keep in mind that this toddler room will soon be a big girl room. For this reason, I would avoid going with a toddler bed or other furniture that will be quickly outgrown (unless you are getting hand-me-down furniture for free!).
Storage Solutions on a Budget
Even toddlers start accumulating a lot of different things, and you want to make sure you have a place to store them all.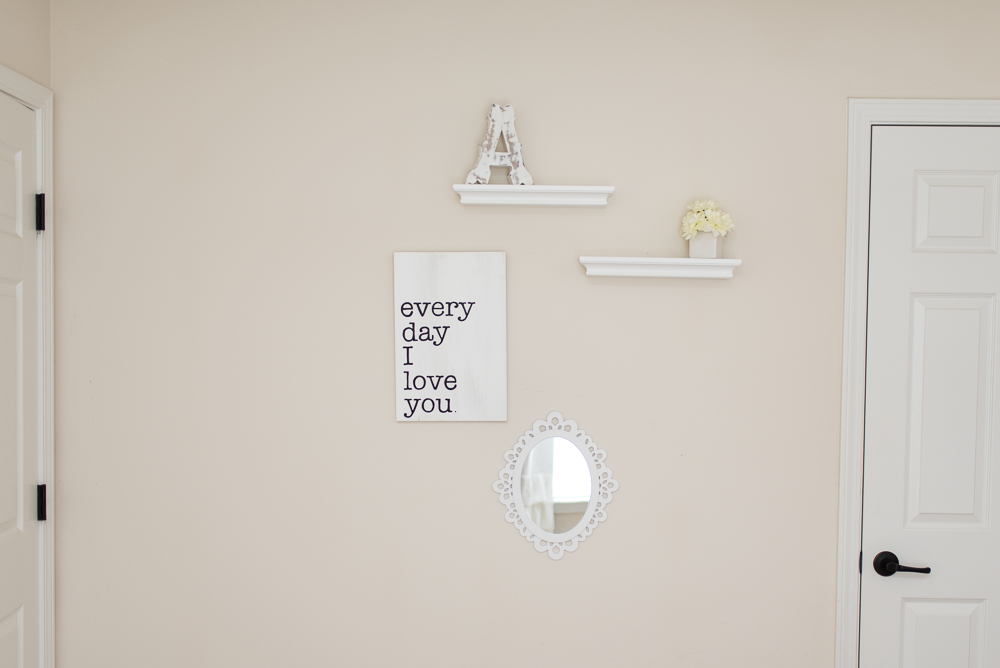 Shelves are a versatile and low-cost option for storing toys, books, and other items. Choose simple, affordable shelves from stores like IKEA or even thrift stores. You can also repurpose old furniture like bookshelves or dressers. Customize them with a coat of spray paint to match your toddler's bedroom theme.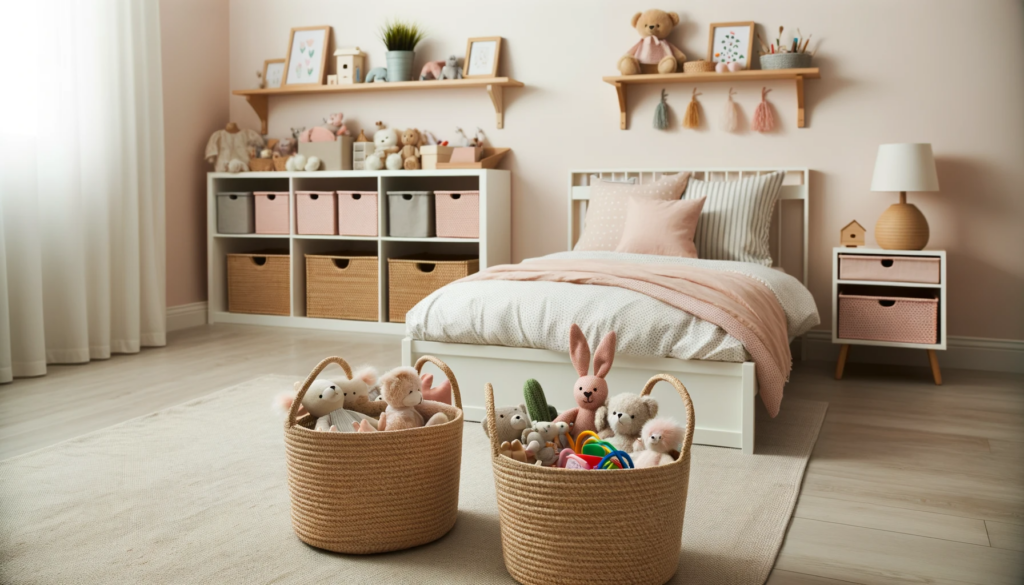 I love using baskets to organize toys and small items. You can find inexpensive, colorful baskets in dollar stores or discount stores. Place them on shelves or hooks on the wall. This will also help teach your toddler to tidy up their space and make it easy for them to find their favorite toys.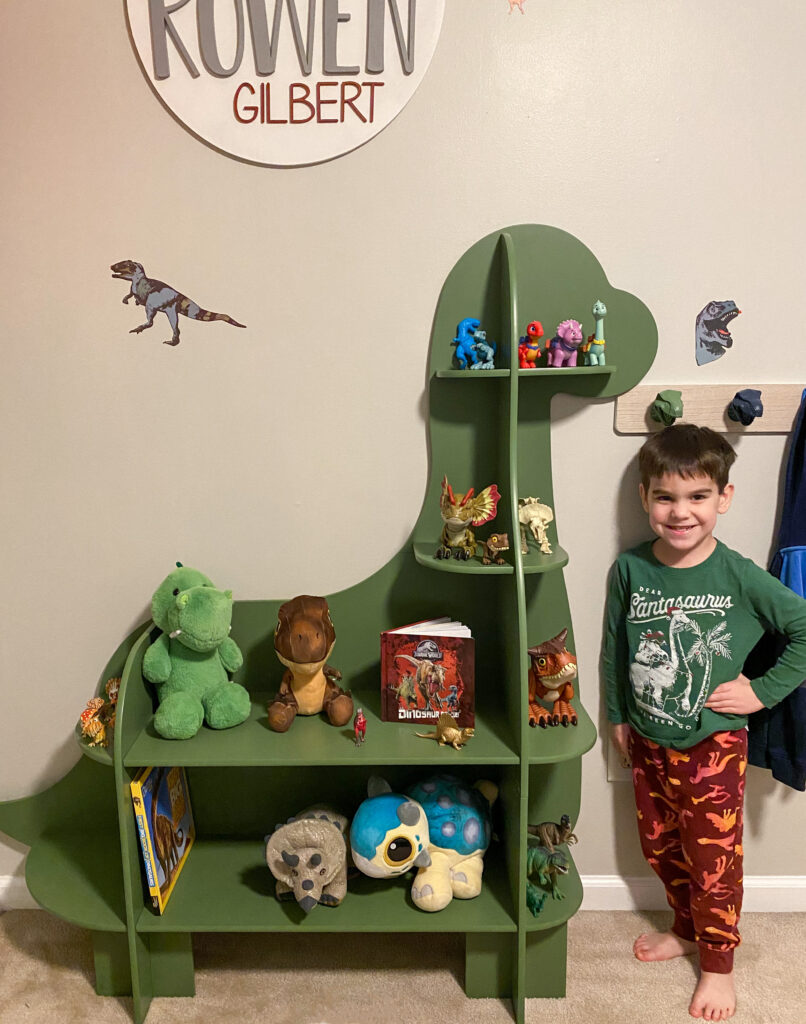 Speaking of hooks, wall hooks are an excellent way to maximize storage space and keep items off the floor. Mount hooks on the walls to hang accessories, clothes, or even the baskets mentioned earlier. You can find decorative and playful hooks that add personality to your toddler's room.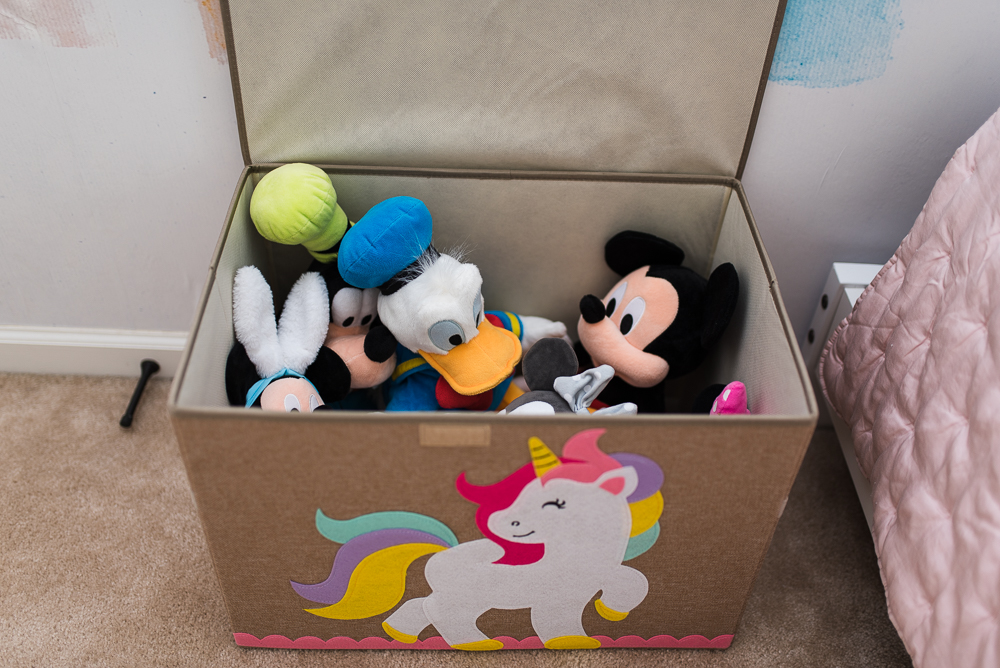 Fabric storage boxes are another inexpensive option for toy storage. Both of my younger children used these for their stuffies or other toys.
Finally, think vertically and make use of all available wall space. Install shelves higher up on the walls, use pegboards, or hang items from the ceiling. This smart use of space will give your toddler more room to play and keep their belongings organized.
Planning ahead for toy storage and organization of everyday objects is the easy way to keep things tidy and looking nice!
Lighting Ideas for a Toddler Girl's Bedroom
Creating a cozy and magical atmosphere in your toddler girl's bedroom doesn't have to break the bank. Here are some affordable and charming lighting ideas to transform the room into a whimsical space.
A cute table lamp can serve as a fun and functional décor piece in your little one's bedroom. Look for lamps with adorable designs like animals or fairytale characters. Make sure you choose a lamp with a warm, gentle light to provide a calming atmosphere for bedtime stories and winding down.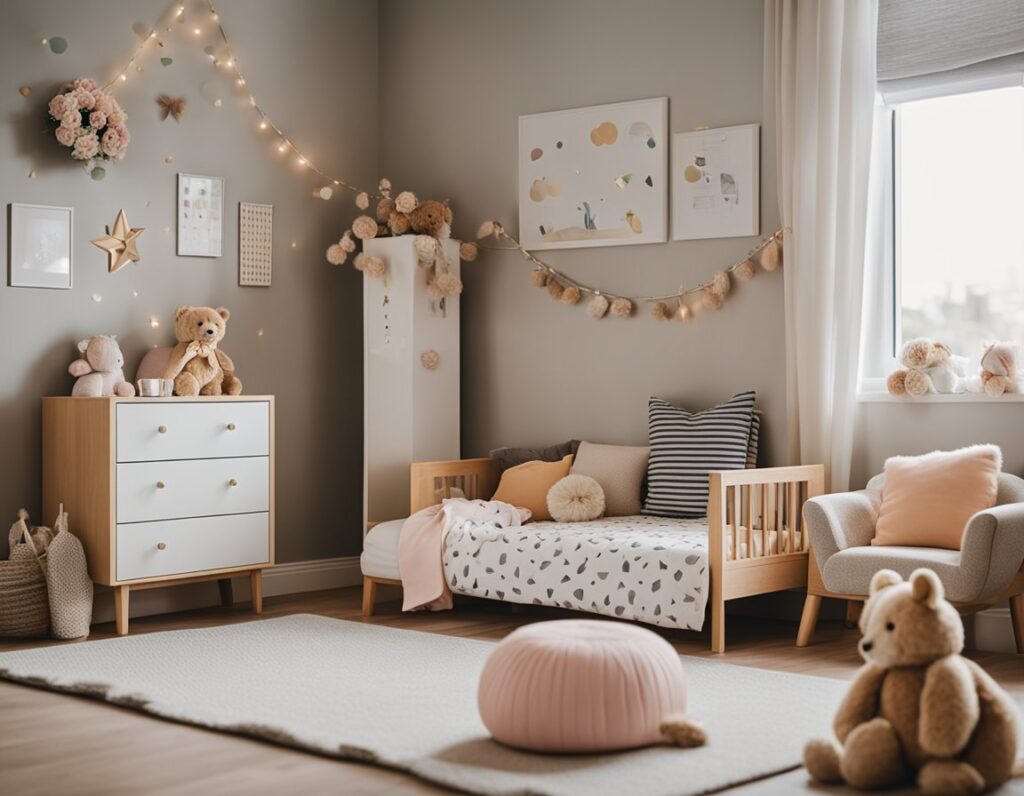 Fairy lights are a great way to make kids' rooms feel a little bit magical. These tiny, delicate lights can add a touch of enchantment to any toddler girl's room. String them around the headboard, curtain rods, or picture frames to compliment your theme and create an inviting ambiance.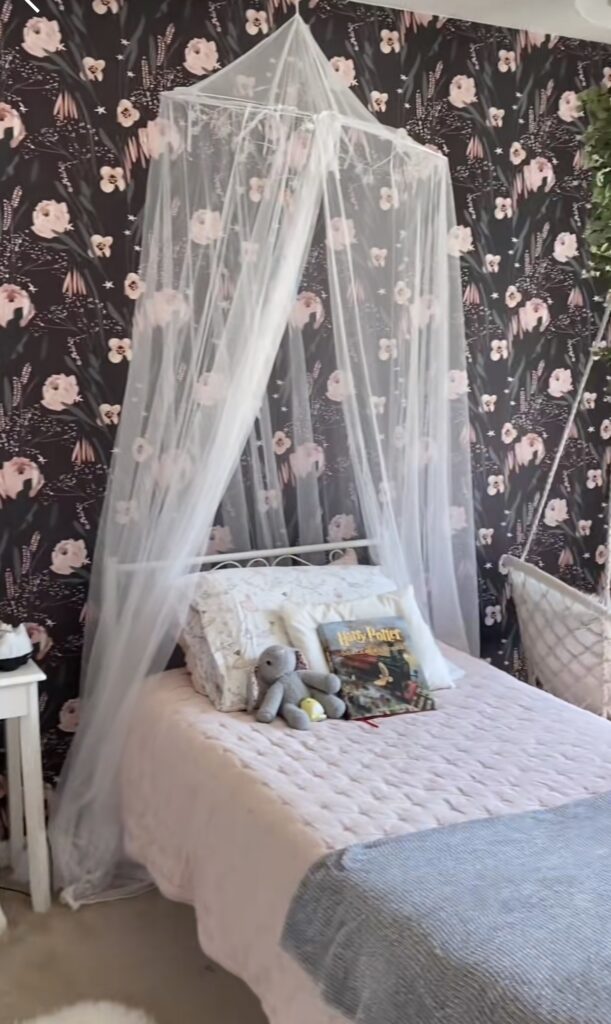 I added a thin set of fairy lights inside my daughter's closet, and one with star shaped bulbs on the canopy over her bed.
Incorporating Fun and Functional Accessories
Decorating a toddler girl's bedroom on a budget can be fun and simple by incorporating affordable yet functional accessories into the design. Mirrors not only serve to embellish the room, but they also help create an illusion of space. You can easily find inexpensive or even second-hand mirrors in stores like Hobby Lobby. They come in various shapes and sizes that you can customize to fit your toddler's room theme.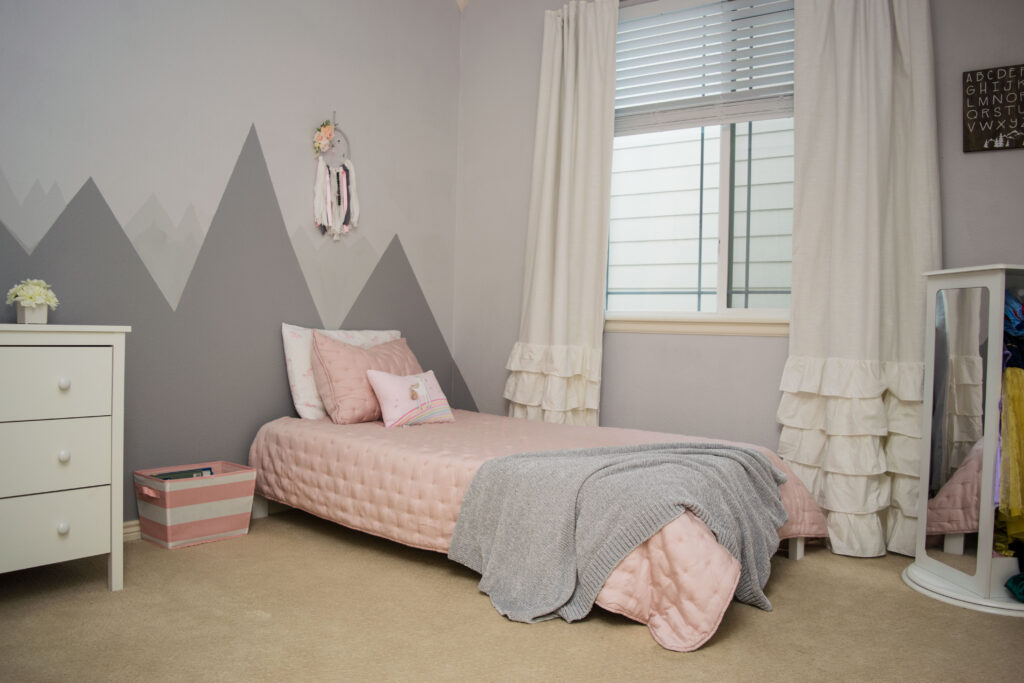 Curtains add a finishing touch to your toddler's room while providing privacy or blocking out sunlight during daytime naps. Opt for colorful tulle curtains that create a whimsical and dreamy atmosphere. If you're feeling a bit crafty, you can even create your own by purchasing tulle fabric in various colors and simply sewing a hem at the top for the curtain rod.
Here are a few more ideas for budget-friendly accessories:
Stars: Create a starry night theme with glow-in-the-dark stars, which are inexpensive and easy to install.
Throw pillows: A throw pillow in a fun shape can be fun — or you can easily make a small throw pillow out of an old baby blanket for a personal touch.
Rugs: Adding a nice rug next to the bed or in the corner for a reading nook can make the space feel extra cozy and complete.
Felt: Use felt to create DIY decorative pieces, like garlands, banners, or even a personalized name sign.
Adding personal touches to your daughter's bedroom will make the rest of the room feel extra special!