For lovers of a natural, low-waste home, My Simply Living Well book review details just how Julia Watkins helps you develop your eco-friendly home.
I've been working on developing my natural and eco-friendly home for some time now. It's not perfect in the slightest and I definitely still struggle sometimes, but it's working. I have my kitchen garden in development, and we are all trying to reduce waste and how much plastic we consume.
Still, I know we could be better.
A lot of my struggle has to do with not knowing how best to reduce waste. As a mother of 4 kids (even though one has moved out) and having my own job that requires a lot of time and focus, it feels as if I can't do much or simply don't have the time and energy to do a lot.
This is when I discovered Simply Living Well.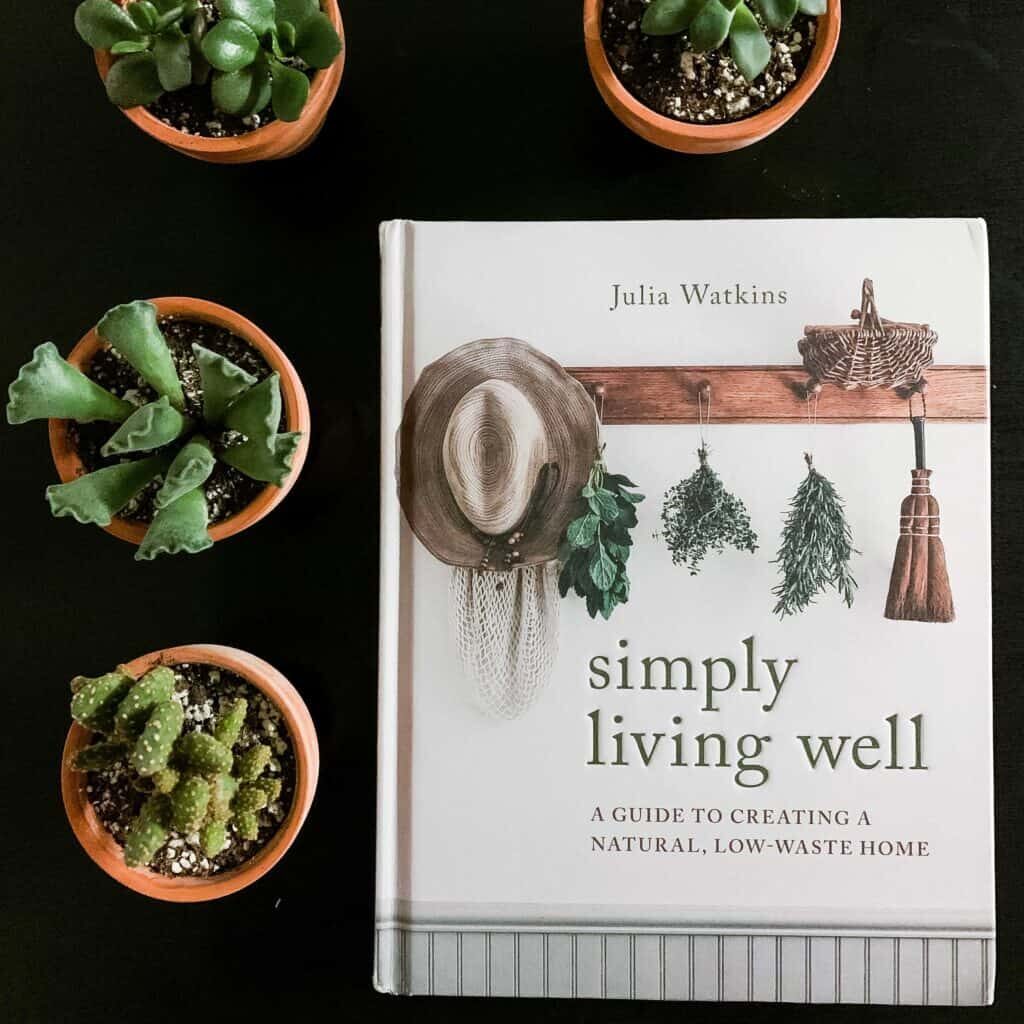 This post may contain affiliate links. If you make a purchase, I may earn a small commission at no extra cost to you. As an Amazon Associate, I earn from qualifying purchases. Read more about these links in my disclosure policy.
Simply Living Well – A little context
Julia Watkins, to me, has the kind of home you'd aspire to have. Eco-friendly, natural, and low-waste, she's managed to produce a fairly self-sustainable home. A home that helps produce your food, that holds reusable items to help prevent the use of plastic, and that provides the materials you need to DIY your own natural cleaning and wellness supplies. Everything has a use, even after it's been used. And she explains how and why.
Something important I'd like to note that Julia Watkins mentions: we're always going to have waste. We're always going to consume plastic. It's nigh impossible to live a life where you don't.
You don't need to be a DIY, natural-living master to profit off Simply Living Well. You just have to be willing to try new things and want to better your waste management. I'm certainly not a DIY master, but I want to try my best to be more eco-friendly for myself and my family. And thus, I present to you my Simply Living Well book review.
Simply living well Book review
I will say one thing about my review: as much as I love Simply Living Well, I don't think I'm in a place where I could do EVERYTHING she does. I aspire to it, but I doubt I'd be able to for a very long time with where my life is right now. Low-waste living is a process, a mindset that you have to develop. What I CAN do is tell you my favorite parts and what I hope to be able to add to my home now with where I am in my own process.
Natural living in the kitchen
As I've mentioned before, I've been trying to create a more natural kitchen, both in the products we use, the foods we cook, and what we do with our food after we're finished. It's very important to me that we eat (some) nutritious foods and limit our plastic and food waste at the same time.
To start, we have our own reusable bags. Each time we shop, I bring cotton bags to store food. We shop in bulk and store our food in containers in our pantry. We freeze fruit for protein shakes when it starts to go a little bad. We don't necessarily eliminate waste entirely, but we swap out disposable items for reusable ones and don't buy what we don't need.
Watkins does something I absolutely love: she makes a list. A list of disposable items and what they can be replaced with. How nice of her!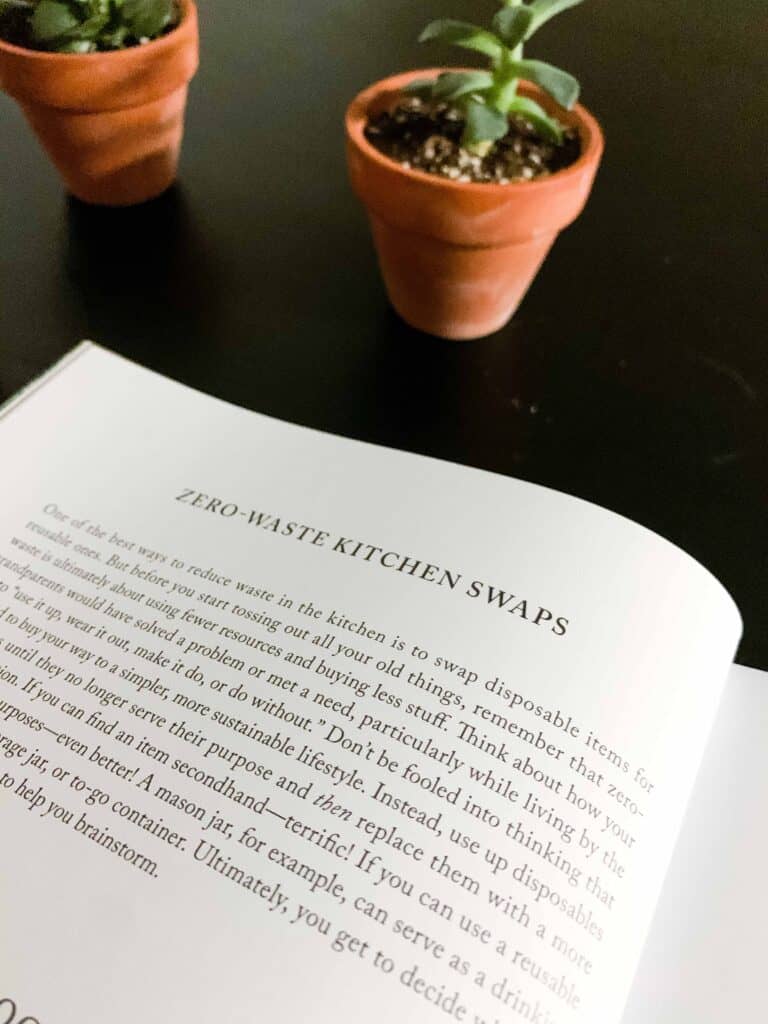 In all seriousness though, it's an incredibly useful tool. She also bullets out other ways you can adjust your mindset to use less waste, such as shopping with glass jars when you buy bulk, buying certain baked goods and produce using your own containers and where to find them, even shopping at stores that support zero-waste.
You know what's even better? She includes recipes. For food, but also for reusable bags and wraps to cover your food. Genius and helpful for if you don't know how to obtain these items yourself.
On the food side, she explains how to reduce food waste as well – low-waste living isn't just about wasting plastic. Watkins covers storing and preserving food, tidying your pantry, preventing spoilage, and gives an in-depth guide on how to reuse and repurpose food scraps. One of my personal favorites is her section on coffee grounds, where she explains multiple different ways you can repurpose your coffee grounds after using them: for fertilizer, compost, deodorizing your fridge or hands, and for cleaning your kitchen or your hair and face.
Also, I had no clue you could use eggshells for skin irritants.
If you want to create a veggie stock, she covers it. A no-knead artisan bread or a simmer pot, she's got you covered. And the actual FOOD recipes? Oh my goodness. Each one is to die for. And for snacks, she gives ideas on natural ways to have and eat those too.
Natural living while cleaning
I won't lie, this wasn't one I had really thought much about. I've used natural and eco-friendly cleaning supplies, but I hadn't considered specific supplies I'd need nor that I could make my own or be more natural about it. I have to clean up after four people in the house, so for the longest time whatever got it clean was all I cared about.
Knowing that there's a more natural way of cleaning – at least, what supplies you're using the clean – is relieving to know and help make sure I'm protecting my family's healthy (and budget).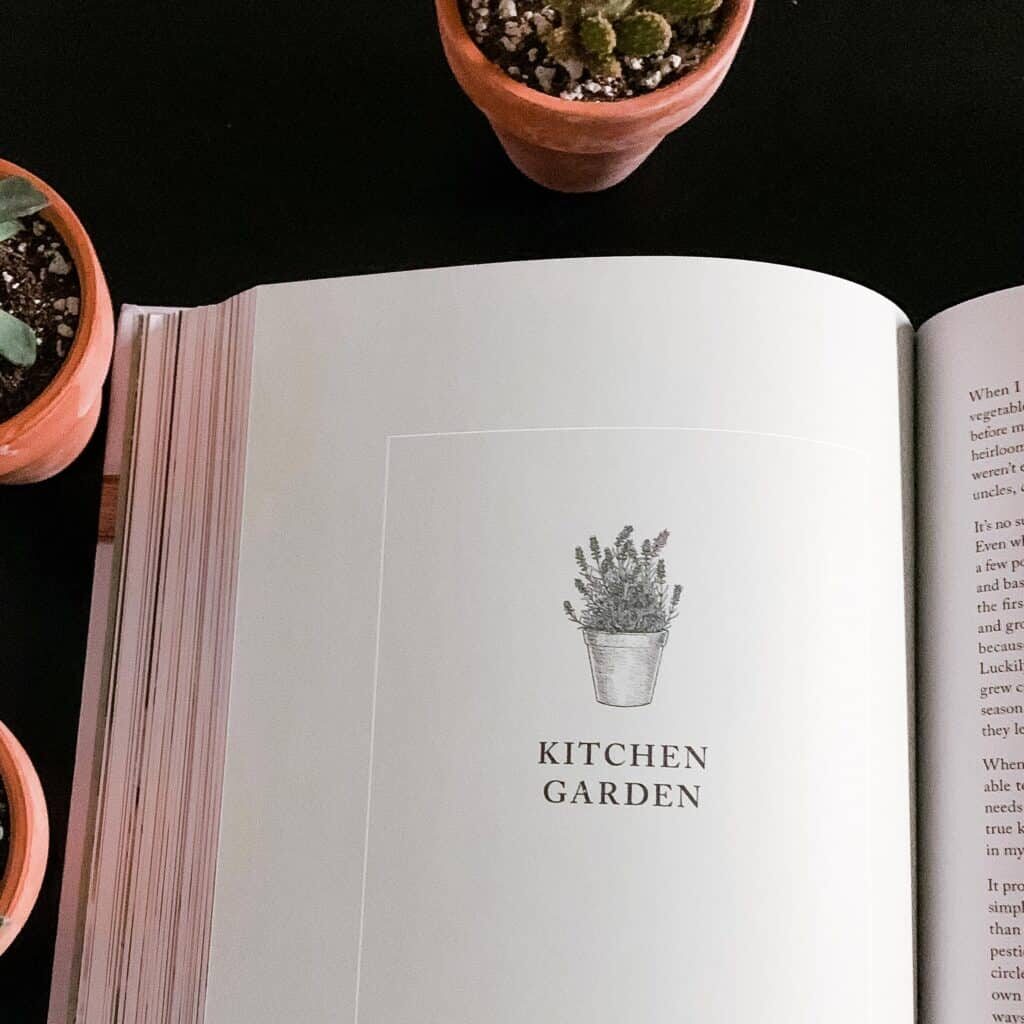 Watkins makes another list (yay!) of all the cleaners you'll ever need, as well as some natural cleaning tools. And, to ensure you're as natural as possible, she even includes recipes of how to make some. Cleaners for each surface, natural scrubs, even food washes are included.
If you want to save energy, she includes some tips for line-drying, as well as stain removers.
This section is definitely on the more DIY side, but if you love a good challenge then it's perfect for you. I really think this one shouldn't be overlooked, as a lot of waste does come from the making and using of cleaning chemicals – especially laundry pods, which she has an alternate recipe for.
Natural Living for health and wellness
My son Theo and I are fairly serious about wellness, although I'm not sure which one of us is more so. I can't say which one of us got the other into having an established routine, but we\'ve definitely bounced off of each other when it comes to expanding our natural wellness. This section makes me think of him because of that.
Without going into the properties of every single herb and spice, she does list the qualities of each recipe she makes with them and how they're good for you or could help. Watkins explains how to gather and source your herbs locally, as well as how to dry and store them safely. She does the same for essential oils and cautions you on sourcing for quality and sustainability, as they are heavily concentrated and take a lot of land mass to produce.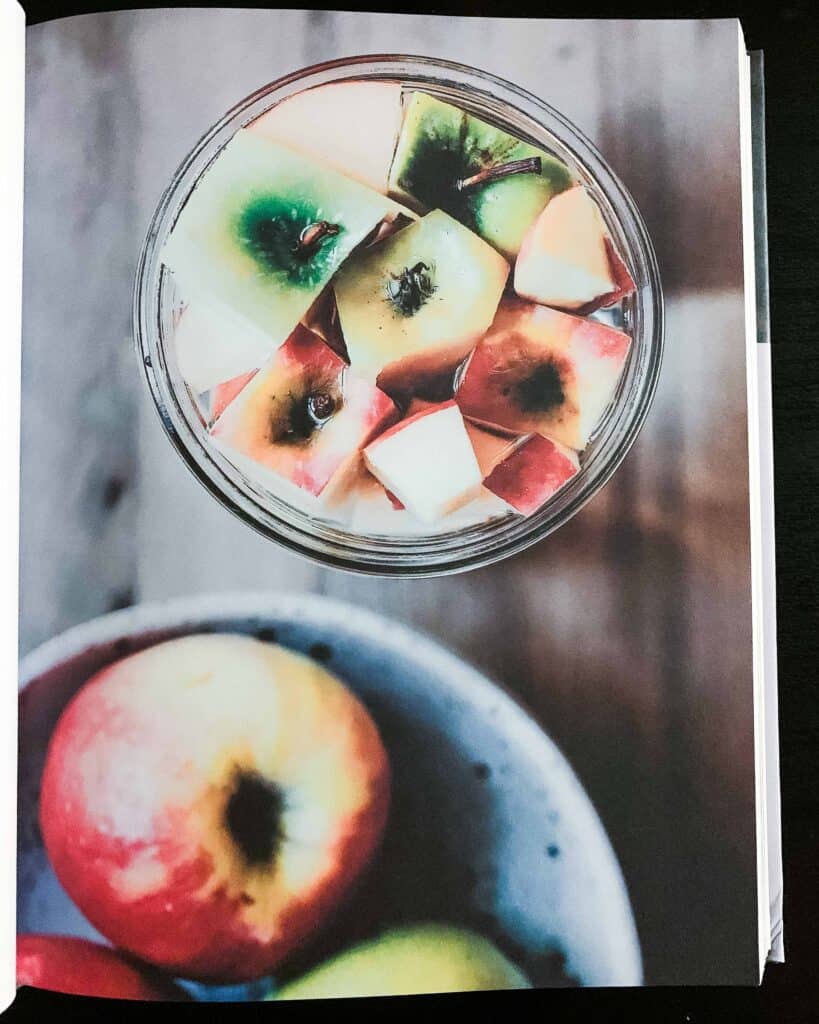 There are multiple tea and drink recipes, as well as how to make your own oils, balms, and scrubs. She also lists out all your standard bath and body products and how they can be replaced with reusable products instead.
There's even how to make your own toothpaste, hand sanitizer, and deodorant. Omg.
I personally focused more on the essential oils, tea blends, and bathroom swaps, but I'd love to try the bath and body in the future.
Natural Living Kitchen Garden
Ah yes, gardening. I have my own compost bin I've been learning to use, and my tomato plant. Not much, but a start. Here I learned how to expand.
Watkins explains composting much better than I could have, going very in-depth and giving the perfect how-to guide. With discussions on how to dry your herbs, organic weed control, and even how to attract beneficial bugs, I'm confident I (and you!) can help my garden prosper. Although I don't think I'll be making my own insect hotel, I'll definitely be saving my seeds and creating a bird feeder for my backyard friends.
I'd like to really improve my natural home and truly believe that you can too. If you'd like to change your mindset to that of a natural, low-waste one, I highly recommend Simply Living Well by Julia Watkins. It's definitely the best guide for you and will help you even with the little things.