When it comes to keeping clothes, shoes and personal effects organized, small bedrooms can create some serious design challenges. Lack of storage in a small room can lead to a big mess that seems overwhelming and difficult to tackle. Your bedroom should be relaxing and comforting, no matter how big or small.
Fortunately, there are a ton of solutions available to help you maximize your floor space. Without spending a ton of money, you can easily regain control of the clutter and create a space that is well-organized and inviting. Whether you are looking to purchase some organization aids or set out on a weekend DIY make-over, we've gathered up some ideas that fit every budget and style.
Today we're going to look at some small bedroom organization ideas that will have you living large in no time.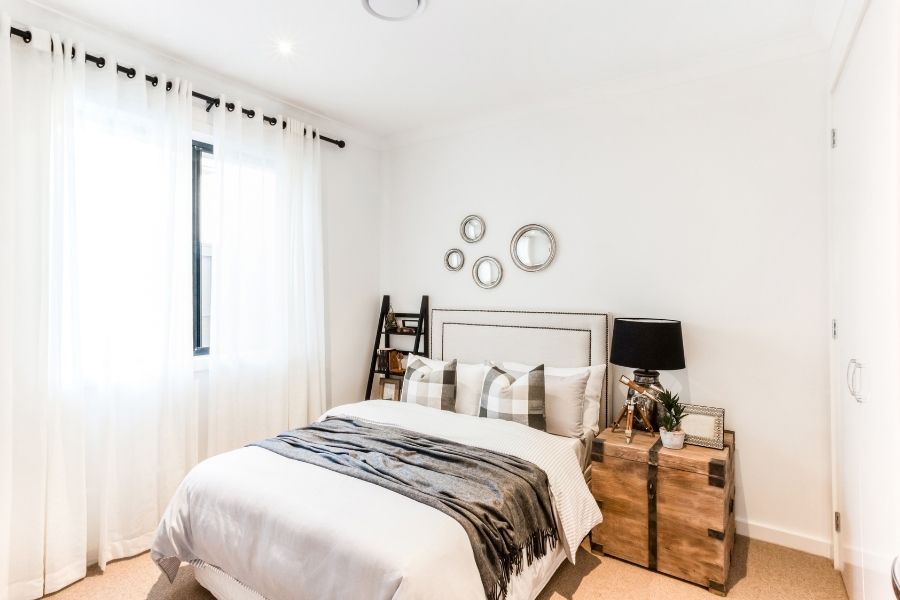 This post may contain affiliate links. If you make a purchase, I may earn a small commission at no extra cost to you. As an Amazon Associate, I earn from qualifying purchases. Read more about these links in my disclosure policy.
Bedside Table and Dresser
Horizontal surfaces like your bedside table and the top of your dresser can be both a blessing and a curse. They offer extra space for keeping things right where you need them, but they can become unsightly very quickly if not organized well.
Tabletop organizers and drawer organizers are a great way to help you stay on top of the clutter and have your essentials within easy reach.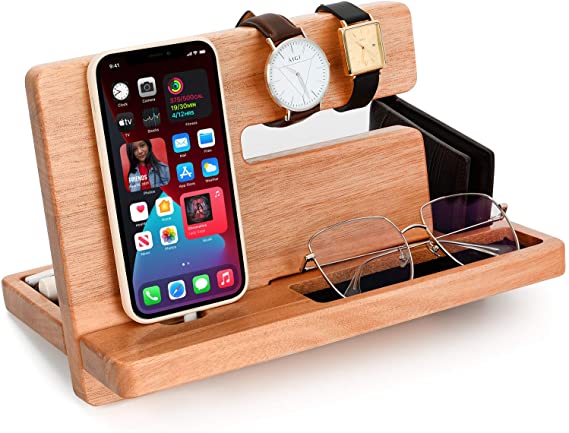 A wooden phone docking station sits right on top of your bedside table or dresser, hides the charging cord and keeps all of your pocket essentials together so you can easily grab everything in the morning.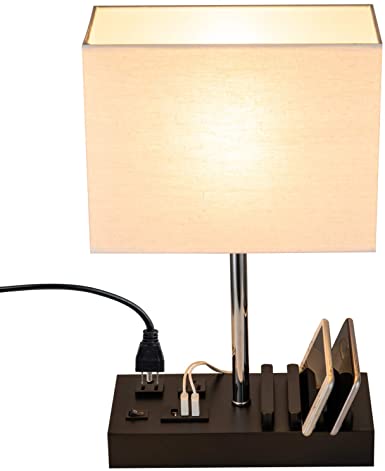 Pieces that serve a double duty are essential in small bedroom organization. This USB lamp doubles as a charging station for your electronics and cuts down on the number of outlets you need to use as well!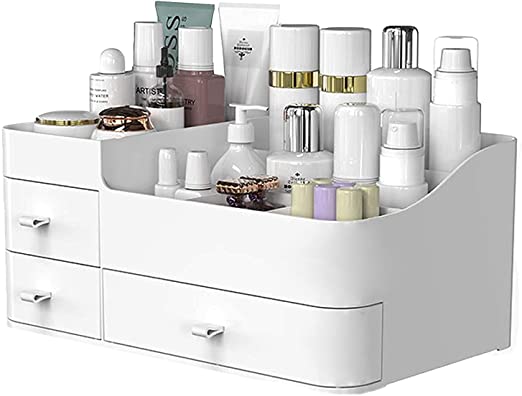 Makeup and jewelry seem to multiply and wander on their own. Keep everything together and looking nice and neat with this pretty makeup organizer. The compartments on top are perfect for foundation and perfumes, while the draws can hold lipstick, compacts and jewelry.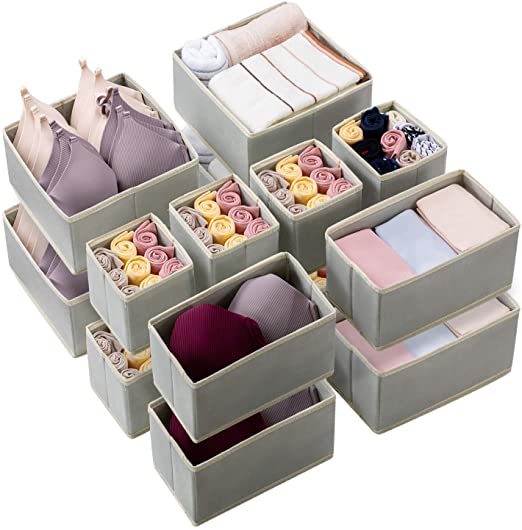 Even though no one else can see the clutter once the drawers are closed, having organized drawers set the mood for a more organized room. I love these foldable drawer organizers because they keep all of my socks and underwater contained. I'm no longer wasting time digging through drawers to find what I need.
Closet Door and Bedroom Door
People who are good at organizing realize that some of the most valuable spaces are often the ones that we overlook – like the closet door or the bedroom door. So many cool and functional organizers can be hung over a door or tucked into that unused space behind a door.
Here are a few great storage solutions to help maximize your space in that small closet – even when you don't think you have much room.

I love the variety of pockets in this over-the-door organizer. Some organizers have pockets that are all the same size, and the variety of this one makes it easier to store lots of items of different sizes and hide them neatly behind my bedroom door.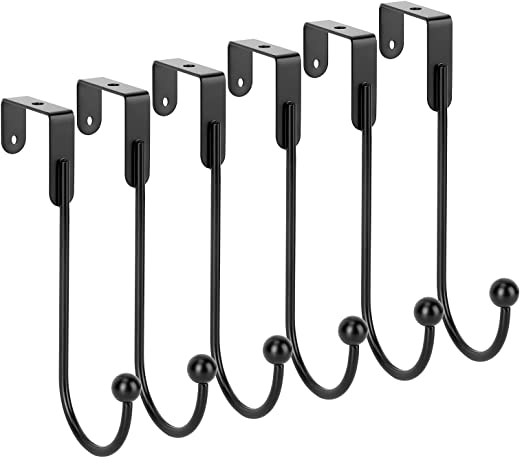 For larger items like purses, backpacks and coats, I like to use over-the-door hooks.
They slip over the top of the bedroom closet door and don't interfere with the door opening or closing. You can even hang them on both sides of the door or move them when not needed.
Door hooks are such a great idea because they are really versatile, especially when you don't have much space. (I even use them to keep random exercise bands organize in my home gym!)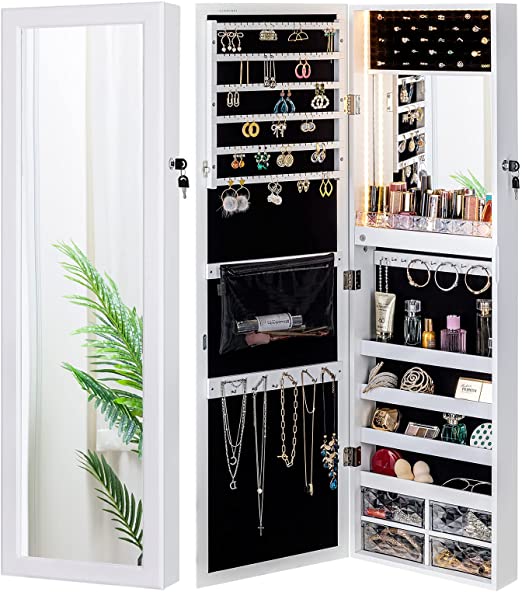 Although you could mount this to the wall instead of the back of a door, I love this mirrored cabinet organizer! There are so many spaces for hanging jewelry and accessories, and once you close the door, everything is tucked away! Plus, the mirror front is brilliant for checking my appearance before I head out the door!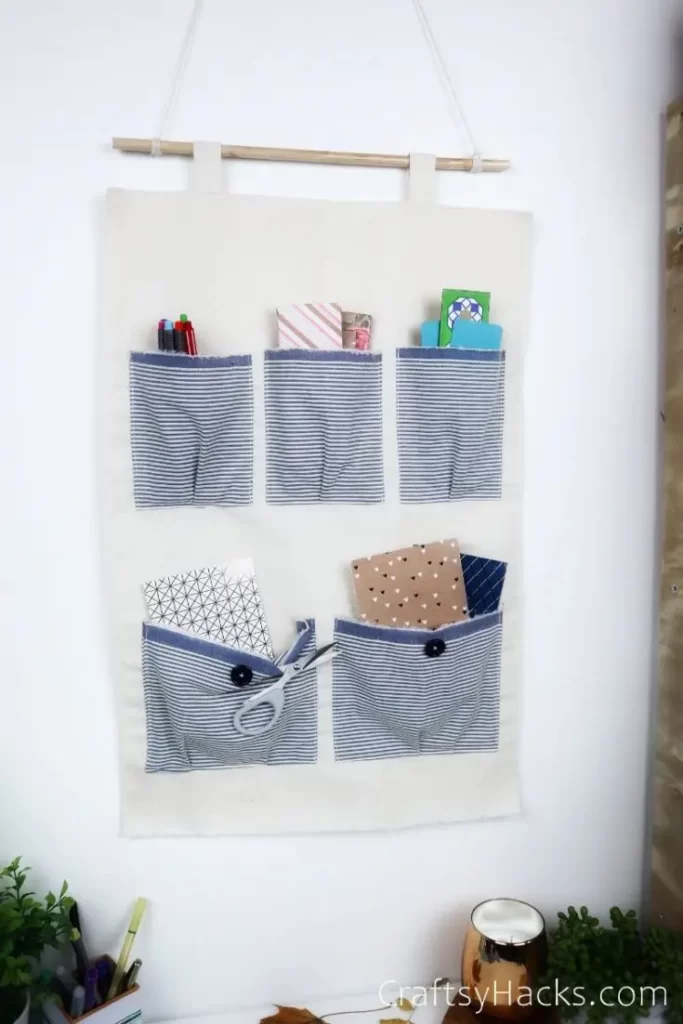 A beautiful DIY hanging organizer is easy to make and can be hung on the back of a closet door, bedroom door, or hung on a wall for easy access to shoes, accessories, or any small items that need organizing. If you like this idea, you will also love this DIY Bedside Caddy.
Shoes
People seem to fall into one of two categories. You are either the type of person who wears a pair of shoes until they are falling apart, or you have shoes in every color, style and season.
If you fall in the latter group, keeping those shoes organized is likely one of the biggest challenges in your small bedroom.
Luckily, I know a thing or two about shoe racks and I have a handful of smart ways to keep your shoes organized. I dedicated an entire post just to shoe organization ideas where you can find a ton of easy DIY ideas to keep your shoes organized.
If you don't have time for DIY, I recommend this closet shoe organizer, this over-the-door shoe rack and this under-the-bed shoe storage container.
Small Closets and Shelving
Small closets don't seem like they would have that much bearing on organization until you find yourself in a home with small closets in every room. You need to maximize the space, and these closet shelf ideas are are the best way to do that.
In addition to making the best use of your closet space, you may want to consider adding corner shelves or floating shelves in other areas throughout your room. Even with open shelving, you can easily hide items with canvas storage bins.
Wall Space
When we organize, we tend to hide everything away by tucking it into a closet or under a bed. Embrace your collection of jewelry, books, or musical instruments and hang them on the walls!
Wall space is the most overlooked when it comes to organizing a small space, and it can be an easy way to create a little space when it comes to small bedroom organization.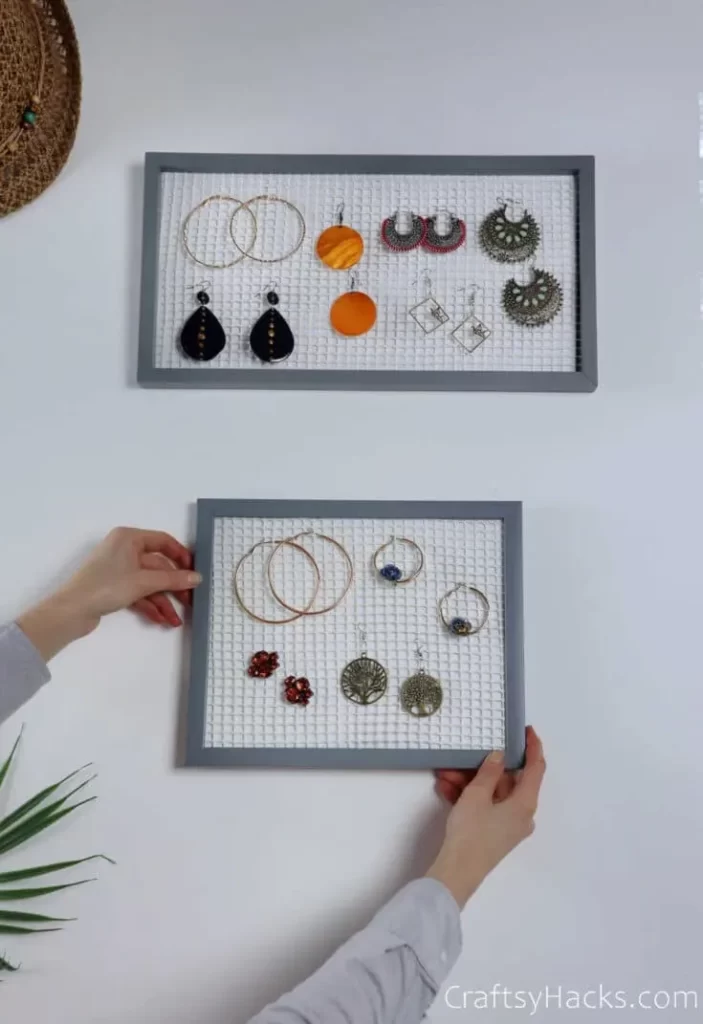 Repurposing items and making all of the decor in your room have a purpose is the key to organizing a small bedroom. Turn picture frames into a DIY earring organizer. It's cute and practical and so easy to do.
Beds
College kids have perfected the art of raising their beds and making great use of the space underneath. Platform beds and loft beds allow you to enhance the space below where you sleep so you can reclaim valuable real estate in your small bedroom.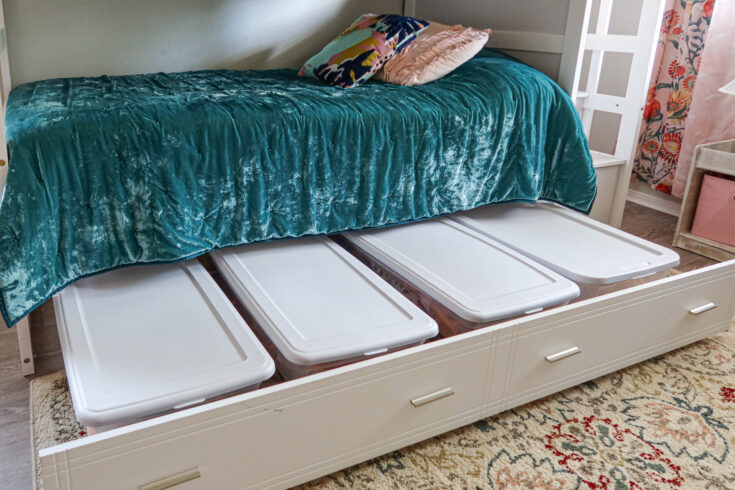 Have an old trundle bed that you rarely use? It's so simple to turn that space into rolling storage with this tutorial from Crafting With Kids.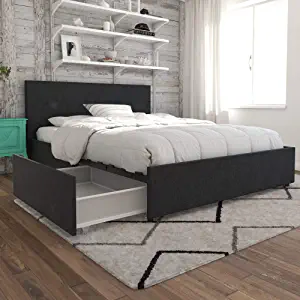 Look for a bed with built-in drawers like this platform bed from the Novogratz store. The drawers underneath can provide extra storage and possibly eliminate the need for a dresser.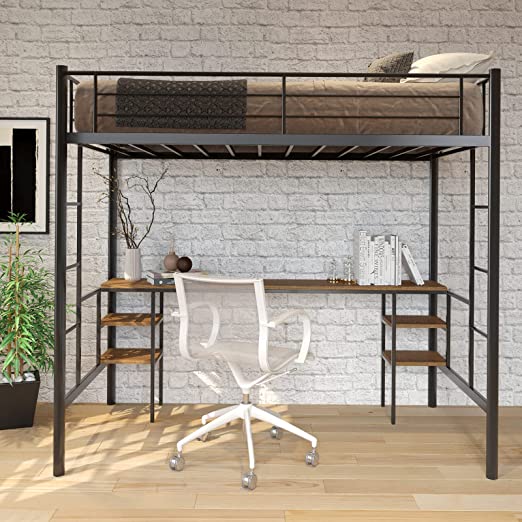 A loft bed is the perfect solution when your small bedroom also doubles as an office space. Loft beds take the concept of bunk beds but creates lots of space that is functional and usable underneath. This bed with a built-in desk makes a pleasing work environment without having to give up a comfortable sleeping space.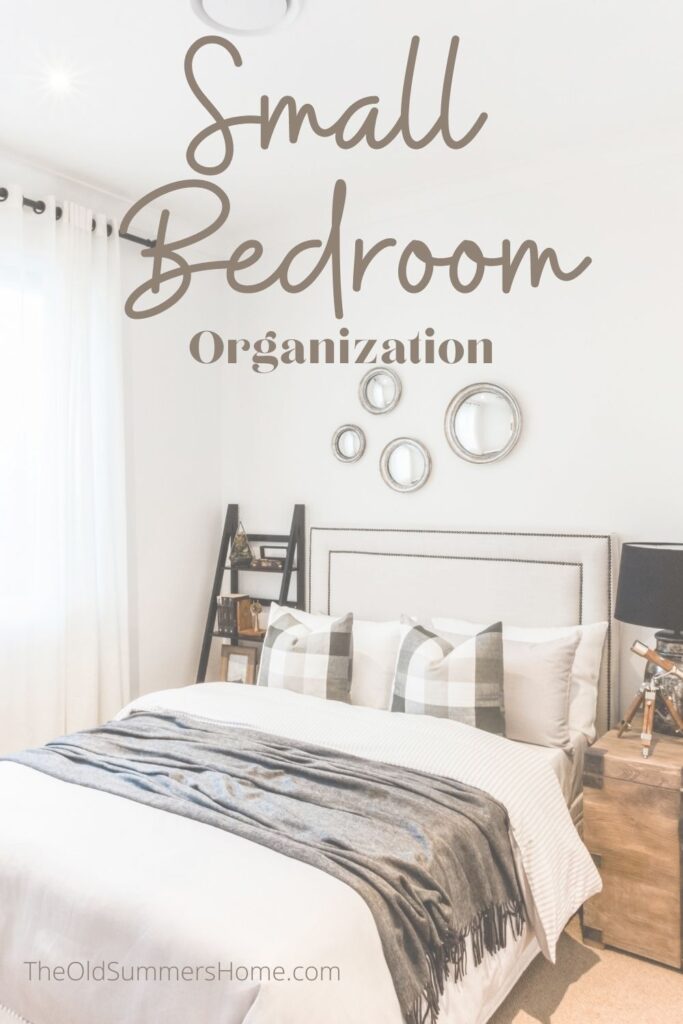 How do you plan to take back some overlooked space in your small bedroom?