If you are ready to make the most of your available closet space, you will love these closet shelf ideas.
The linen closet shelf is a small space overrun with holiday decor, cleaning supplies and towels. The bedroom closet rod is full of last season's clothing, and it's like playing Tetris every time you try to close the door. Your shoe racks are cluttered with too many pairs of shoes, and where did that ironing board even go?
A closet makeover is long overdue.
If your closet space is limited, a closet organization system and shelf dividers will help you use available space wisely. If you have closets galore, storage bins and a shoe organizer may help keep seasonal items at the forefront while still making it easy to find everything you've stored away.
No matter your current situation, there is always room for improvement, and these closet shelf ideas are just what you've been looking for. We've collected a variety of options that can easily be implemented in the bedroom, hallway or craft closet.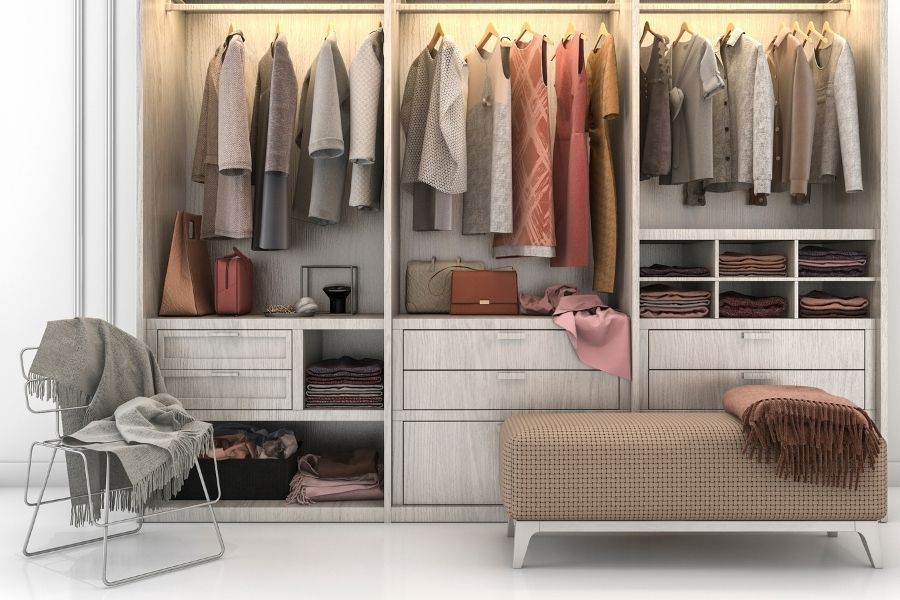 This post may contain affiliate links. If you make a purchase, I may earn a small commission at no extra cost to you. As an Amazon Associate, I earn from qualifying purchases. Read more about these links in my disclosure policy.
Hang Purses and Bags
I love this easy access option for a handbag collection, especially if you don't have tons of extra space on your shelves. Add ceiling hooks under a shelf to keep your purses off the floor and easy to find.
Use Clear Storage Bins
Here's a great idea that I actually used in my kitchen pantry – these clear plastic bins are the perfect solution for bathroom, hall, crafting and cleaning closets. Keep supplies well organized and easy to find.
For a child's closet, these cute storage bins and baskets for kids are both functional and fun!
Use Wall-Mounted Hooks
Here's a good option for accessories if you only have a tiny closet! Small items like hats and jewelry can make wonderful wall decor. Wall-mounted hooks make them easy to hang, so you can grab them to accessorize an outfit.
Install A Corner Unit
A corner storage shelf is the best option to make use of space that is otherwise lost. Corner closet rods are also a great way to great some extra hanging space in an awkward place.
Build a Laundry Cubby
Installing an under cabinet pull-out laundry hamper or adding a rolling laundry shelf is the best way to keep dirty clothes in their place.
Design Hidden Shoe Storage
Shoes are all different sizes and don't stack well, so hidden shoe storage is a great way to keep shoes organized and tucked away until you need them. A cabinet with fold-out shoe storage drawers is a great addition to any closet. If that's not your style, try one of these Shoe Organization Ideas.
Use Cube Organizers and Storage Bins
Using storage cubes is a great way to keep like items together. Storage cubes with labels are an excellent option for knowing exactly what's inside with a quick glance.
Add Lighting
Adding lighting is a great way to brighten up a closet and make things easy to find. Taking on a lighting project may be more than your budget allows, but you can achieve a similar look with dimmable strip lighting. The lights come with a remote which can be attached to the wall near the main light switch with removable command strips.
Create A Space For Folded Clothes
Hanging space is important in a closet, but don't overlook the space needed for folded clothes. A wall-mounted closet system will provide many storage options, but open cube shelving and hanging shelf units are perfect for those on a budget.
Install A Closet Island
For large closets, an island is a wonderful way to add extra storage. Additionally, you create a flat surface perfect for folding clothes or laying out accessories for an outfit. An island with drawers and shelves can store shoes, jewelry and foldable clothing.
Install Closet Shelf Dividers
Closet shelves are often long, which makes it difficult to use the space wisely. Closet shelf dividers easily slide into place and help create spaces that are easy to organize. Plus, they are inexpensive and attach without having to drill any holes!
DIY Closet Ideas
Are you ready to take on a weekend project? These DIY closet ideas are perfect for organizing your space, especially if you want to do it on a budget. Grab your tape measure and toolbox and get organized!
Which closet organization tip will you be implementing first?